Tips on How to Use AirPlay on iPad iPhone 11/XS/XS Max etc
Written by Kaylee Wood | Last update: April 28, 2020
Wanna AirPlay iPad iPhone to stream your videos and songs on iPhone (11/XS/XS Max/XR/X/8/7/7 Plus/6S/6/SE etc) iPad (Air/Mini/Pro 2) to a larger screen but don't know how? This article provides a detailed tutorial on how to use AirPlay on iPad iPhone as well as tips to AirPlay iPhone iPad to Mac/PC and Apple TV. In addition to use its built-in AirPlay feature to put media contents on iOS devices to Apple TV, you can also learn how to AirPlay iPhone iPad to computer (both Mac and PC) with the help of 5KPlayer.
How to Use AirPlay on iPad iPhone to Stream from iPad iPhone?
You need the freemium video streaming software 5KPlayer to AirPlay videos, movies, film clips, music and songs from iOS 13 iPad (Pro 2/Air/mini) iPhone (11/XS/XS Max/XR/X/8/7/7 Plus) to Mac or PC. As the best free streaming software, 5KPlayer will AirPlay video music from iPad iPhone to computer without any hassle.

The emergence of AirPlay has revolutionized the way Apple users enjoy videos and music. Works with an iPhone, iPod Touch or iPad connected to the same Wi-Fi network, this wireless video streaming feature can AirPlay iPhone (11/XS/XS Max/XR/X/8/7/7 Plus) and iPad to an Apple TV or a computer with a third party AirPlay receiving app, which allows users to freely watch movies on TV with friends and family, or play and control music while in the kitchen or bathroom, turning the iPhone iPad into an ultimate media controller. With AirPlay, sharing media contents between iPad iPhone and larger-screen devices gets incredibly easy. Here the tips below will guide you through the process of how to use Airplay on iPad iPhone and AirPlay iPad Pro (2), iPad mini, iPad Air, iPhone SE, AirPlay iPhone 11 to Mac/PC as well as Apple TV.
Part 1: How to AirPlay iPhone iPad to Mac and PC with 5KPlayer
It's easy to put iPhone iPad to Apple TV with the specialized AirPlay. However, if you are unwilling to get stuck with Apple TV and want to AirPlay from iPhone iPad to Mac or PC, things may not be that simple. Fortunately, 5KPlayer, a premium and free video streaming software, comes as a saver. It allows users to AirPlay iPhone 11/XS/XS Max/XR/X/8/7, iPhone SE, iPhone 6/6s, iPhone 5/5s, iPad Pro 2, iPad mini 4/2, iPad Air 2 and other iOS devices to computer over the Wi-Fi network, with 100% quality reserved. Follow the steps below to learn how to use AirPlay on iPad iPhone to stream contents to computer.
Step 1: For Mac users, free download 5KPlayer on Mac, for Windows users, head to the Windows version. Launch 5KPlayer to enable its AirPlay receiver functionality.
Step 2: Like AirPlay to AppleTV, open Control Center on the display of the iOS devices and tap AirPlay.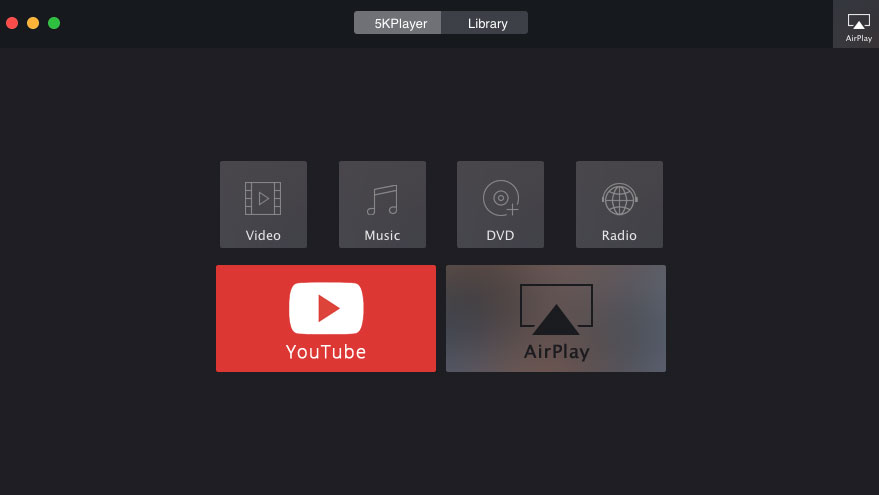 Part 2: How to Use AirPlay on iPad and iPhone to AirPlay to Apple TV
With AirPlay, the content will be streamed from the iOS devices iPhone, iPad and iPod touch directly to Apple TV and played on the large screen, with full quality reserved. Learn how to AirPlay iPad and iPhone to Apple TV below:
Step 1: Connect your iPhone iPad and Apple TV or AirPort Express to the same Wi-Fi network.
Step 2: Go to Control Center and find AirPlay. Hit AirPlay on iPad or iPhone.
Step 3: You will then see a line of AirPlay receivers. For videos and photos, choose Apple TV. For music, choose Apple TV, AirPort Express, or AirPlay-enabled receiver or speakers.
Step 4: By choosing the proper device, you can start to use AirPlay on iPhone 11/XS/XS Max/XR/X/8/7/6/SE, iPad Pro, iPad Air to stream video and music to the Apple TV or other AirPlay-enabled device.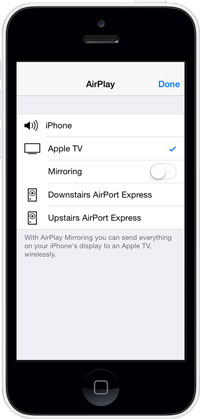 Home | About | Contact Us | News | Privacy Policy | Agreement | Site Map
Copyright © 2023 Digiarty Software, Inc. All Rights Reserved.
5KPlayer & DearMob are brands of Digiarty Software, Inc. Any third party product names and trademarks used in this website are property of their respective owners. All the related logos and images, including but not limited to Apple's AirPlay®, Apple TV®, iPhone®, iPod®, iPad®, iTunes® and Mac® are registered trademarks of their own. Digiarty is not owned by or affiliated with Apple Inc. and any of those companies.