Download Periscope on PC Windows 10 to Live Stream
Written by Kaylee Wood | Last update: September 29, 2020 | 4 Min Read
Periscope on PC will enable you to see breaking news, daily lives of somebody, sports games from NBA or NFL, etc. worldwide all in real-time. However, based on the fact that Periscope download is only available for Android, iOS and tvOS users, you may need some new ways we will introduce below to help watch Periscope on PC Windows 10. More importantly, you can broadcast your own Periscope live streams to others.
How to Download Periscope on PC for Live Streaming?
Method 1. Watch Periscope on PC Windows 10 through 5KPlayer
5KPlayer is a multimedia player combining video music playback, AirPlay, DLNA, download and live streaming functions into one utility. Speaking of Periscope live streaming on PC, 5KPlayer helps you watch Periscope live videos as well as replay highlights on PC by directly streaming Periscope live videos .m3u8 URLs or AirPlay Periscope videos from iPhone/iPad to Windows 10 computer. Get ready, and we will show you the step-by-step guide.
1. Directly stream Periscope live videos via .m3u8 URLs.
Step 1. Find a Periscope live video .m3u8 link.
Visit Periscope official site (https://www.pscp.tv/);
Click on a live video you want to watch;
When the live video is playing, simply tap F12 on your keyboard or right-click on the video to choose Inspect;
Choose Network on the video code interface and type m3u8 in the "Filter" box;
Then, there will pop a list of .m3u8 video links for you to choose from. Actually they are the same one, so just copy one of them.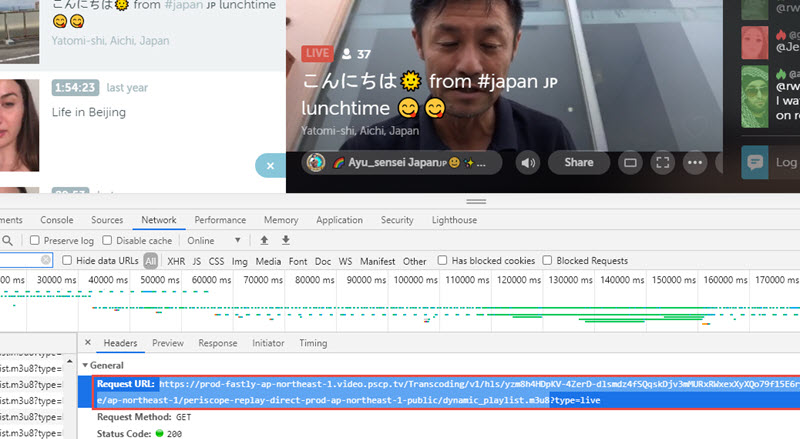 Step 2. Get live streaming player 5KPlayer.
Simply click on the "Free Download" button on this page to download 5KPlayer on your Windows 10 PC, install and launch it.
Step 3. Watch Periscope on PC with 5KPlayer
Click "Live" icon on the main UI of 5KPlayer, paste the .m3u8 URL you just copied to the "Input a URL" box, and then hit "Play" to start streaming Periscope live videos on PC desktop.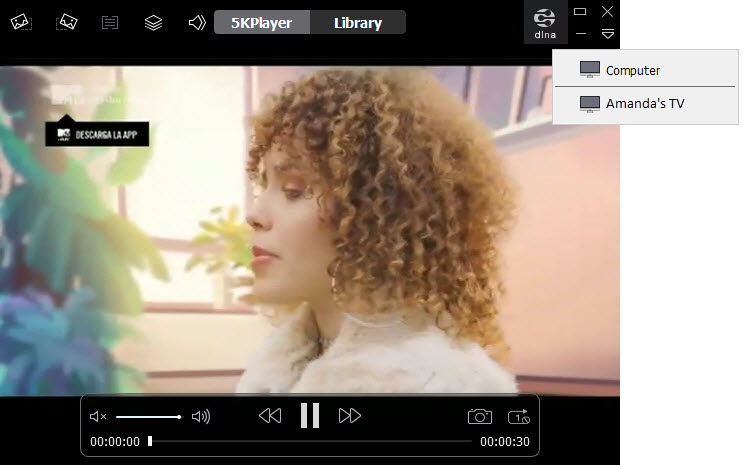 Notice!
Why not just watch Periscope videos directly with the Periscope web version? Of course, you can log in to send hearts and comments to interact with the broadcasters. But, if you need a clean playback window especially when you want to screenshot or record a clip, the aforementioned way is very ideal. BTW, when you watch Periscope video on PC through this method, you can also use 5KPlayer's DLNA function to cast the streams from PC to smart TV wirelessly and smoothly.
2. AirPlay Periscope videos from iPhone to PC.
With 5KPlayer's AirPlay function, you can cast Periscope videos from your iPhone to Windows 10 PC without need to opening your browser.
Step 1. As you have downloaded 5KPlayer on your PC, simply connect your computer and iPhone to the same WiFi network.
Step 2. Click on the "DLNA AirPlay" button to turn on the AirPlay service of 5KPlayer.
If you can't turn on it, it probably means that the Bonjour service for AirPlay hasn't been installed on your computer. Simply follow the guide 5KPlayer provides to download Bonjour service.
Step 3. Swipe down from the top right corner or swipe up from the bottom of the screen of your iPhone to access the Control Center and then turn on Screen Mirroring.
Step 4. After your iPhone discovering 5KPlayer, tap it to connect.
Step 5. Now you can open Periscope app on your iPhone and watch any live streams or replay highlights, then they will be cast to your PC instantly.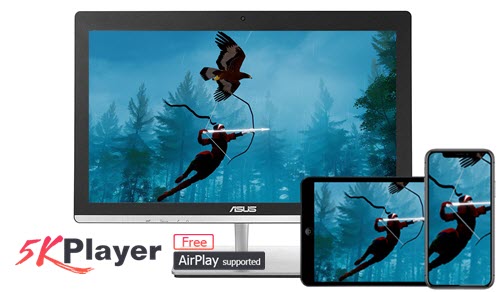 Method 2. Download Periscope on PC with Android or iOS Emulator
By installing an iOS or Android emulator to create a virtual iOS or Android system, you can directly download the Periscope app on your PC to watch videos and broadcast your own as well. Indeed, it is a good option if there is no other choice. However, you need to know it is a complicated way and not that safe as sometimes it may bring adware or malware to your computer. Also, it is a way that not very suitable for very slow PC as it occupies much storage space.
Step 1. Here we will take BlueStacks – an Android emulator, as an example. Go to https://www.bluestacks.com/ and download BlueStacks on your PC.
Step 2. Double-click on the .exe file of BlueStacks to install and launch it. (The whole installation process is quite time-consuming, so wait patiently.).
Step 3. After launching, sign in with your Google account.
Step 4. Once logged in, look for the search bar and search for Periscope in BlueStacks.
Step 5. Install Periscope and then you can use it to watch videos or broadcast live streams.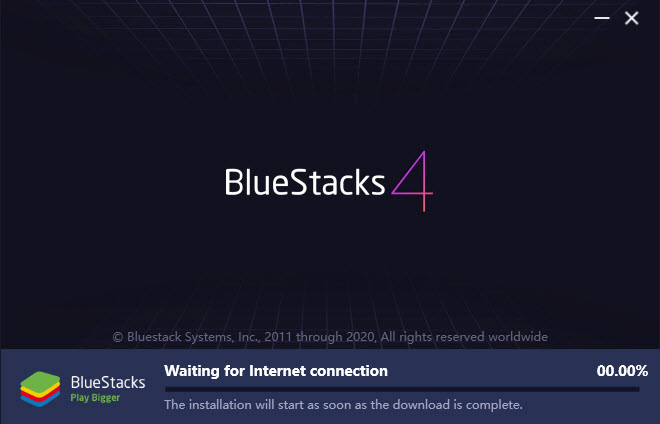 Method 3. Download Periscope for PC using ARC Welder App
ARC Welder is a Chrome extension that allows you to add APK files and run Android apps on PC easily. Thus, you can add the Periscope APK file to it to live stream videos.
Step 1. Find ARC Welder in the Chrome Web Store, and then click on the "Add to Chrome" to add it to your Chrome browser.
Step 2. Once the Arc Welder extension is added, you can find ARC Welder app in your apps folder in Chrome (just copy chrome://apps/ to a new tab to find).
Step 3. Click on Arc Welder app and then there will pop up a new window, just click on "Choose" and choose a local folder that the APK can be written to.
Step 4. Then, click on the "Add your APK", and choose the APK file. Here, to add Periscope APK file, you need to prepare it in advance by downloading the Periscope APK file online.
Step 5. Now, you will get a new window which lists you quite a few options. If you don't want to mess with any of this, just click on "Launch App" to launch your Periscope app.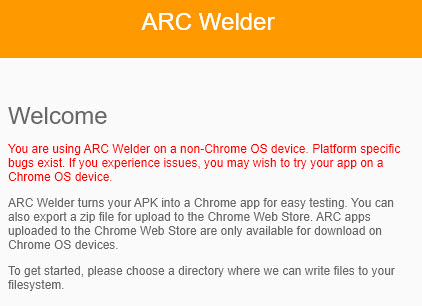 Notice!
This application is better for Chrome OS device, otherwise issues will happen like many of the APKs not loading problem. Besides, most of time, the APK files you download are from unauthorized sites which are fake and will do harm to your computer.
Frequently Asked Questions
Q. What is Periscope?
Owned by Twitter, Periscope is an American live video streaming app for Android, iOS and tvOS that allows users to watch live streams and replays, as well as broadcast their own live streaming videos. Quite the same as the similar apps, it allows users to watch videos live, or just repeat or review the highlights. It is more like a social networking service app as the broadcasters can choose their viewers, and viewers can send hearts and comments to interact with the broadcasters in real time. Also, anyone can share anything interesting on Periscope to Twitter or other social networking platforms.
Q: Can You Watch Periscope on Your Computer?
Yes, you can. Despite the fact that Periscope for PC Windows 10 download is not supported officially, you can make use of 5KPlayer to live stream Periscope videos through Periscope .m3u8 URLs or AirPlay Periscope videos from iPhone/iPad to computer, without need to download Periscope app on your PC.
Q: Can You Download Periscope on Computer?
To download Periscope app on PC, BlueStacks or ARC Welder app is necessary. BlueStacks is an Android emulator which can turn your PC OS into an Android system instantly so as to let you run Android app on PC successfully. And ARC Welder app is a Chrome extension that allows you to add Periscope APK file on PC and then live stream Periscope videos or enable broadcastings.
Sum up
After comparing the above three ways, it is really suggested that you use 5KPlayer to watch Periscope on PC for its easy operation, safety and lag-free experience. If you are interested in another two ways, be careful about the adware or malware regardless of the complicated process.
Related Articles
Super Bowl 2023: How to Watch Super Bowl Halftime Show Live?2023 Super Bowl halftime show is live! Watch The Weeknd's performance this year through CBS on your TV, iPhone, Android and computer.
Best Free Streaming Software for TwitchTwitch streaming software is needed by anyone, no matter you are a live game broadcaster, or a viewer who want to watch live gameplay. Here compiles a list of official and third-party streaming software for Twitch for you to choose from.
How to Watch Apple Music TV on Mac, PC, iPhone, iPad, Apple TV, and More?This place tells how to watch Apple Music TV on iPhone, iPad, Mac, PC, Apple TV, and more. Just feel free to enjoy the free, MTV-style and 24-hour live stream of popular music videos.
Home | About | Contact Us | News | Privacy Policy | Agreement | Site Map
Copyright © 2023 Digiarty Software, Inc. All Rights Reserved.
5KPlayer & DearMob are brands of Digiarty Software, Inc. Any third party product names and trademarks used in this website are property of their respective owners. All the related logos and images, including but not limited to Apple's AirPlay®, Apple TV®, iPhone®, iPod®, iPad®, iTunes® and Mac® are registered trademarks of their own. Digiarty is not owned by or affiliated with Apple Inc. and any of those companies.