List of Top 10 FIFA World Cup 2018 Football Wags Videos
★ 1. Lionel Messi Wife Video - Antonella Roccuzzo Football Wags Video Download
Video Resource: https://youtu.be/93_pUa7NUXQ
Born in February 26, 1988, Antonella Roccuzzo is one of the relatively low-profile football wags when compared to the rest of the hot wives and girlfriends in spotlight. You may take a look at the NO.1 viewed video in our list of top 10 football wags video – https://youtu.be/93_pUa7NUXQ - entitled Lionel Messi's Wife - 2016 [ Antonella Roccuzzo ] to see the daily tidbits and their 3 cute little sons: Thiago Messi Roccuzzo, Ciro Messi Roccuzzo, Mateo Messi Roccuzzo in this FIFA 2018 football wags video.
★ 2. Cristiano Ronaldo Girlfriend Video - Georgina Rodriguez
Video Resource:https://youtu.be/B6gc3JZiSf4
If you're a fan of Cristiano Ronaldo, don't miss this football wags video that were only uploaded to YouTube 7 months ago. Georgina Rodriguez, born in January 27, 1995, known most likely to be the Portugal footballer's most serious love interest as they appeared in a couple of most important public events together. Below is a hot football wag video of Georgina Rodriguez showing up with Cristiano Ronaldo in the The Best FIFA Football Awards.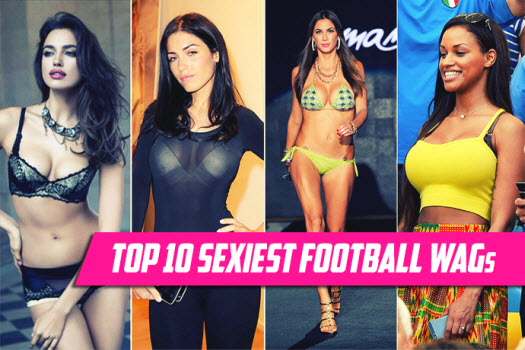 ★ 3. Cristiano Ronaldo Ex-Girlfriend Video - Irina Shayk
Video Source: https://youtu.be/83gCU0GD-bo
Old Ronaldo fans shouldn't be strange with the name Irina Shayk – the famous Russian model ranked by models.com at NO.8 for her social media following. Irina's relationship with Ronaldo was 5-year-long, making her indeed one of the most impressive football wags for any Ronaldo fan. Below is a football wags video of Shayk been interviewed by Craig Ferguson, if you want to know more about her relationship with Ronaldo, you may check out the video.
★ 4. Zlatan Ibrahimovic's Wife - Helena Seger Football Wags Video
Video Source: https://youtu.be/DVg0w_y7b-A
Another low-profile FIFA World Cup 2018 wags is Helena Seger – the former Swedish model, and actress who got married to Zlatan Ibrahimovic later. It was believe that Zlatan met Helena in 2002 and raised their first son in 2006 in Maximilian, and 2 years later Vincent, their second son was born. Below is a football wags video ft. Zlatan Ibrhimovic and Helena
★5. Bruna Marquezine Football Wags Video - Neymar's Girlfriend
Video Source: https://youtu.be/izlkZwRY_L8
As far as we can find, Bruna Marquezine, the 1995-born Brazilian actress dated Neymar not only this now but also before. She has been appearing on television since childhood and won Best Child Actress award back in 2003 in Melhores do Ano. Amongst the well-known football wags, Bruna's career both as an actress and a model made her no-less famous than Neymar at all. This video is a famous variety show that featue. Aside from Bruna Marquezine video
★6. Robert Lewandowski's Wife – Anna Lewandowska FIFA World Cup Football Wags Video
Video Source: https://youtu.be/KjBUFiqEcqY
A fan of Bayern Munich? Here we recommend a football wags video of Anna Lewandowska, the wife of Robert Lewandowski revealing his little quirks as a football player – that every time Robert makes a great goal, he celebrates it by cleaning his house. This video helps you learn more about the inspiring career of Anna Lewandowska as she's the only one athlete herself amongst the top 10 football wags we introduced today. Check below for the football wags videos of Anne Lewandowska.
★ 7. Mesut Ozil's ex Girlfriend – Aida Yespica Football Wags Video
Video Source: https://youtu.be/oyofYfiInZc
Even if this is the first time you heard about the name Aida Yespica, Ozil's ex-girlfriend, you shouldn't be too much unfamiliar about Ozil's migrating to Arsenal from Real Madrid – but why? Aside from being one of the footballers' wags we already know, Aida Yespica is also an actress and model famous for such works as UnderSense (2013), Natale in crociera (2007) and Camera Café (2003). More interested in her now? Take a look at this FIFA World Cup football wags video below first.
★8. Cristiano Ronaldo FIFA Football Wags Video Collection
Video Source: https://youtu.be/8OPmDwRsrhU
The list of Cristiano Ronaldo girlfriends can go longer than you can I can count, and this video is a collection of Cristiano Ronaldo wives and girlfriends – from Andressa Urach (been a football girlfriend of Cristiano Ronaldo since 2013 when she featured on the second cover for Sexy Magazine), Rita Pereira (Portuguese actress, been one of the football wags in 2014), Gemma Atkinson (who started her relationship with Ronaldo in 2007), Merche Romero (dating Ronaldo 2005-2006)