According to published reports, both FIFA and Sony organizations agreed that FIFA World Cup song Live It Up was a great football song supported by an all-star line-up. Will Smith, Nicky Jam and Era Istrefi will team up for a live performance to make a strong vibe a few minutes before the final match of the 2018 FIFA World Cup in Russia on July 15. At the appointed time, 'Live It Up' World Cup theme song will be hovering round the 80,000-seat capacity Luzhniki Arena and about 2 billion TV viewers will be its audience.
2018 FIFA World Cup Official Song Live It Up Download Worthwhile as Will Smith is Here
Will Smith, the Grammy Award-winning actor, songwriter and rapper, now is making a musical comeback nearly 13 years after releasing his Lost and Found, and also gets honored to be an important part of this worldwide gala.
"It's an honour to be asked to perform at the 2018 FIFA World Cup. This global event brings people from all over the world together to cheer, laugh and experience magic. Collaborating with Nicky, Diplo and Era on this track represents harmony, eclectic flavours and genres coming together. At the end of the day, we just want to see the world dance" - Will Smith.
Fans also can't wait to see Will Smith performing music again and download 2018 FIFA official song Live It Up MP3 MP4 to appreciate.
"So hyped that Will Smith is back in the studio!" – Twitter user
"I can't wait for the World Cup anthem. So excited to hear and see Will Smith perform music again." – Twitter user
Cristiano Ronaldo Skills Video Download Free ->>
Lionel Messi Skills & Goals Videos Download Free ->>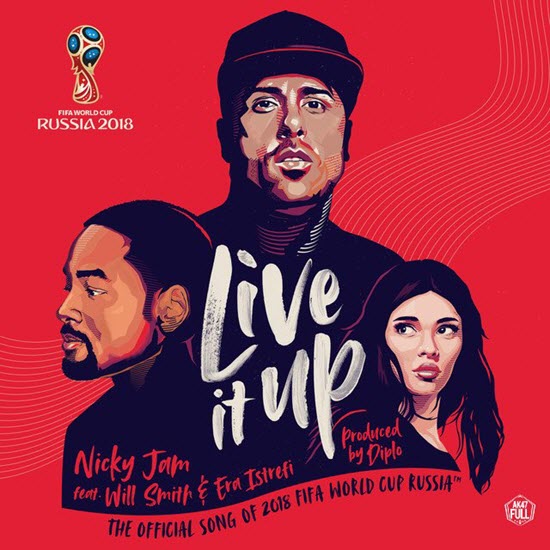 Produced by DJ and composer Diplo, 'Live It Up' 2018 FIFA World Cup official song with lyrics has been released on May 25, 2018 around the globe on multiple streaming platforms while the official video for the Live It Up anthem is scheduled to be published on June 8. So, wait for the official release and download Live It Up MP3 MP4 to learn and sing.
2018 FIFA World Cup Song Live It Up Download Info.
Song: Live It Up
Songwriter: Diplo
Performers: Nicky Jam feat. Will Smith and Era Istrefi
MP3 MP4 resource:
https://www.youtube.com/watch?v=V15BYnSr0P8
Lyrics:
[Intro: Era Istrefi] Oh-oh, oh-oh-oh-oh/ Oh-oh, oh-oh-oh-oh/ Oh-oh, oh-oh-oh-oh/ Oh-oh, oh-oh-oh-oh
[Chorus: Nicky Jam] One life, live it up, 'cause we got one life/ One life, live it up, 'cause we got one life/ One life, live it up, 'cause you don't get it twice/ One life, live it up, 'cause you don't get it twice......
Full lyrics: https://genius.com/Nicky-jam-live-it-up-lyrics