# 2 How to Update to iOS 13 Using iTunes?
Updating your iPhone using iTunes seems more troublesome than doing it over the air, but for iOS owners without enough space for an update, or that they are running a jail-broken iPhone. Nothing matches iTunes in updating to iOS 13 without any risk.
If you're in one of the above situations, follow the instructions below as of how to update to iOS 13 using iTunes.
Note: Make sure you have the latest version of iTunes running on your computer, and an original Apple USB cable (in that 3rd party cables may not be capable enough for iTunes 10 update).
Step 1: On your Mac or Windows 10.2, launch iTunes. If you're not possessing the latest version of it, try to visit "Help > Check for Updates" to download it.
Step 2: USB connect the iPhone/iPad your computer, hit "Trust this computer" afteread.
Step 3: Under iTunes, hit Device icon at the top-left, which navigates you to the tab.
Your Windows 10 iTunes problems have their fixes here.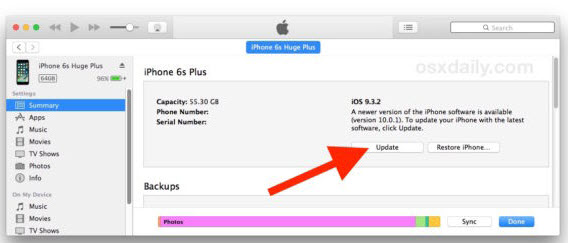 Step 4: Click "Summary > Check for Updates", then hit "Download and Update > Agree" so as to confirm the Terms and Conditions.
Step 5: Put in your iPhone screen-lock code if prompted. When the above steps are done, you may step away until the iOS 13 update process is completed.