Free Download 5K 8K Videos with the Best 5K 8K Downloader
Written by Kaylee Wood | Last updated: April 27, 2020
The best way of watching a 5K or 8K ultra HD video is to download it with a powerful free 5K 8K video downloader other than online streaming 5K 8K video contents for which require high efficiency band-width and often stumbles a lot and ruin the joy. In order to extent the pleasure of watching crisp 5K and 8K videos, you may want to download 5K 8K videos for offline watching and by doing that, 5KPlayer - a highly effective free 5K 8K video downloader is in great need!
[Warning] YouTube music & copyright-protected contents are not supported for download.
Free Download 5K 8K Videos to Extend the Joy of Playing UHD Videos
You'll need 5KPlayer, the best free 5K 8K video downloader ever with Hardware decoding technology, to fulfill your expectations of downloading 5K 8K UHD movies and videos in a non-stutter way. No ads, no waiting, this free 5K 8K downloader saves/downloads 5K 8K contents fleetly to present you best ever 5K 8K downloading experience.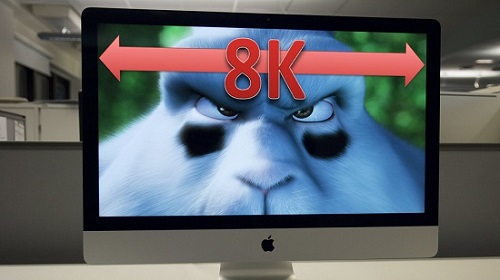 >>> Guide to 4K 8K UHD Videos Free Play/Download/AirPlay <<<
4K 5K display is marching the way into innumerable homes and 4K 5K 8K UHD video playback will become the main stream soon. A lot of 5K 8K video downloader software are willing to download 5K 8K video content from the Internet to play the impressive 5K 8K videos in the smoothest way. While most of the so-called 5K or 8K video downloader programs have defects like difficult in operating, dull in loading, or even fail to connect when downloading 5K 8K ultra HD videos with larger file size. Luckily 5KPlayer on the contrary is dedicated and well prepared to 4K 5K and 8K UHD video download in compliance with the original intension of what 5KPlayer can bring to the users.
The original intension of this top free 5K 8K video downloader is to fast download HD and ultra HD videos from Facebook and other 300 more online video sites. You need 5KPlayer to save your precious time and this fastest 5K 8K video downloader supports relentlessly download 5K/8K videos, TV shows and movies in MKV, MTS, MP4, AVI, etc. to play with your iMac Retina 5K player or Windows 10 media player. What's more, as a free fast video downloader, 5KPlayer can also function as the best 5K 8K video player on both Mac and Windows to deliver the mind-boggling 5K 8K video display into your eyes with stereo sound quality and the original video quality remains.
Downloading and playing 5K 8K ultra HD videos, 5KPlayer won't fail your expectations and even though 5K or 8K video content is not yet take up the internet, you can still use this robust 5K 8K video downloader to download 4K video or download HD videos in 1080p for now. More amazingly, this 5K 8K video downloader is also able to free download YouTube to MP3 AAC audio format by converting the downloaded 5K/8K video content to MP3 or AAC.
4K vs. 5K vs. 8K:
While becoming a mainstream video standard, 5K video content with the resolution of 5120 X 2880 pixel simply exceeds 4K ultra HD videos which at resolution 3840 X 2160 pixel. While 8K videos are taken as the full ultra HD boasting a resolution of 7680 X 4320 pixel which is 4 times of 4K ultra HD. The higher pixel the video is, the crispier image presents in your eyes and the video remains high quality even after you converted the video format many times with a video converter. Simply put, 4K is obsolete, 5K is here and 8K is coming! Grab a 5K 8K video downloader here and be in the trend!
Home | About | Contact Us | News | Privacy Policy | Agreement | Site Map
Copyright © 2023 Digiarty Software, Inc. All Rights Reserved.
5KPlayer & DearMob are brands of Digiarty Software, Inc. All other products or name brands are trademarks of their respective holders. All logos, trademarks and images relating to other companies that may be contained wherein are applied in the Internet that are not used for commercial use. Digiarty's software is not developed by or affiliated with such companies.