How to View Video Frame by Frame in VLC on Mac/PC?
There are two main ways to go through videos frame by frame in VLC media player – Hotkeys & Advanced Control bar.
Method 1. Use Shortcut Key "e"
Step 1. Open a video with VLC media player.
Step 2. Hit the shortcut key e on your keyboard to get to the accurate place in the video.
Note: This shortcut can be applied either when your video is playing or pausing. If the hotkey doesn't work for you, maybe another shortcut key is doing the task. You can simply go to Tools > Preferences > Hotkeys and search for frame to edit it or just keep it as it is. To edit the shortcut, just double-click the hotkey "e" and type a new key to reset.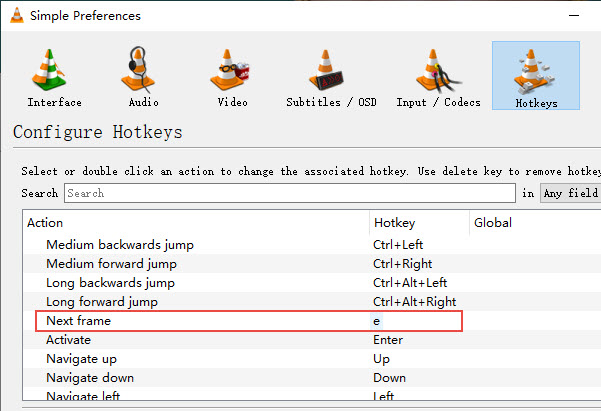 Method 2. Use Advanced Controls Bar
If you want to see the next frame of your video with your mouse, you can add the frame by frame feature to the interface of VLC.
Step 1. Go to View and then click on Advanced Controls to turn it on. Now, you will see another line of player controls appears.
Step 2. Play a video with VLC player and press the last button in the advanced controls to let VLC frame by frame play your video.
Note: In the older version of VLC, the frame by frame button looks like a film strip. Whatever, when you hover your mouse to the button, you will see the "Frame by frame" information. Besides, if you didn't see the frame by frame button in the advanced control interface, you can go to Tools > Customize Interface to add it.
Worth mentioning, problems like VLC frame by frame freezes are inevitable. Besides, you can't play backwards the videos with VLC frame by frame feature.