Total Video Player Windows 10 Flaws & Solutions
Though Total Video Player Windows 10 is claimed to play just about anything including CDs, DVDs, 3GP, MP4, H264, etc, there's little you can throw at it, either audio or video, that it won't be able to handle. The program really is a universal media player in the past, but now it lacks the ability to play movies with external subtitle files, rechange the audio track and is a bit clunky in some operations. So, there is a overall workaround for Total Video Player Windows 10 flaws.
Total Video Player Windows 10 White/Black Screen:
From my personal experience, Total Video Player Windows 10 often get choked when playing large files like HD 1080p 720p videos movies. When it slowly and grudgingly opens the files, the images are often blurred and the screen gets black or white. Even though you throw a common file with low bit rate at it, the visual effect are still frustrating. Even worse, it sometimes stops working that you have to close the program and open it again.
Total Video Player Windows 10 alternative 5KPlayer could help you. It is a HD video player supporting all common files, HD 1080p 720p and even 4K 8K videos with continuous playback, crystal clear image and Hi-Fi sound. No black screen or white screen, you can play whatever you want on PC with 5KPlayer.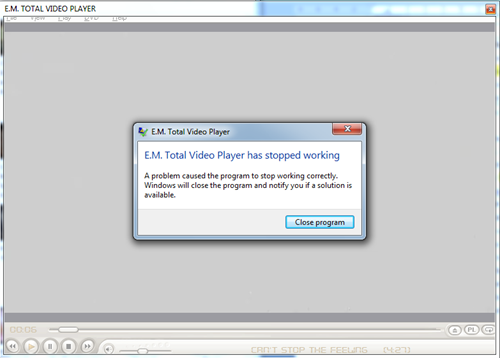 Total Video Player Windows 10 Audio Problems:
Total Video Player Windows 10 only supports using one audio track, so it is not possible to play a secondary language on a DVD with Total Video Player Windows 10. A bit annoying, indeed. Besides, audio in general of Total Video Player is limited with few equalization other than volume control that you can't choose a sound effect. Luckily, 5KPlayer can make up for all. This total video player Windows 10 is also a region-free DVD player for you to play any DVD from any country with any language, and offers you various choices of Equalizer style including Classic, Dance, Club, Live, Party, Pop, Rock, Soft, etc.
Total Video Player Windows 10 Subtitle Issues:
For some reasons, the developers of Total Video Player have not included the ability to view subtitles in the earlier versions before v1.20. You can update your Total Video Player to the latest version to see if it works. However, you may despondently find your Total Video Player Windows 10 still can't handle subtitles occasionally. Under such circumstance, you need a professional subtitle player supporting *.srt, *.sub, *.ssa, *.ass, etc to fix Total Video Player Windows 10 subtitle issues.
Sometimes, the mouse button has no effect when you click the File menu of Total Video Player Windows 10 to open a clip. Sometimes, your Windows 10 Total Video Player probably can't play a F4V/FLV file. No more worries, all the issues will be fixed by 5KPlayer.