Radio Play FM with a Free Online FM Radio Player
Posted by Kaylee Wood | Last update: April 28, 2020
Radio, as the means of communication that reaches the most people worldwide, provides info about everything for sports and other entertainment. It is one of the best ways to gather information from in and outside our place. It sounds a little bit lame to buy an actual radio to play FM, since we have stepped into the era of everything online. That's how online FM radio player becomes popular.
Best Online FM Radio Player to Play FM
5KPlayer, a simple yet professional software that specially designed with online radio FM playing ability, enables you to play radio FM as your daily routine.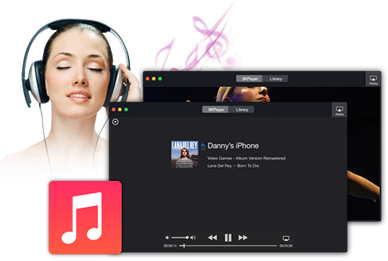 Online FM radio is not confined to territoriality, and you can access to any radio content available. As one of the fastest ways to disseminate information for mass media, radio playing FM presents a world of sound information. It's our way of entertainment at home and a really big help for the people to fill the information gap caused by space and distance.
5KPlayer makes it unbelievably easy to play radio FM online. It empowers you to tune in to radio programs as they go out live on air and listen to the best of melodious FM internet stations under one roof. 5KPlayer is for anyone who's interested in radio playing FM from their own country or from all over the world and keep you always informed thereby. No matter where you are, there are thousands of awesome online radio stations waiting to be heard. With 5KPlyer, users can play FM while continue using your computer for other purposes. Dedicated to provide users with more enjoyable user experience, 5KPlayer is designed in a way that all radio features are presented in an easy to use interface. The URL of the target FM can be pasted in the address bar and then the very radio station can be heard. BBC Sport, CBS Sports, NBC, HOTMIX and 8 other famous radio stations are listed below the address bar and can be directly visited for your convenience.
How to Radio Play FM with This Online FM Radio Player?
To set up your FM tuner, all you need is a web browser and the free FM radio player.
Step 1. Download the radio player to play FM - 5KPlayer and install it.
5KPlayer costs nothing to install and it is ads free.
Step 2. Tap the Radio icon and then the radio window will appear.s
12 famous radio stations such as BBC Sport, CBS Sports, NBC, HOTMIX are listed below the address bar. A click at the play arrow on each can directly lead you there.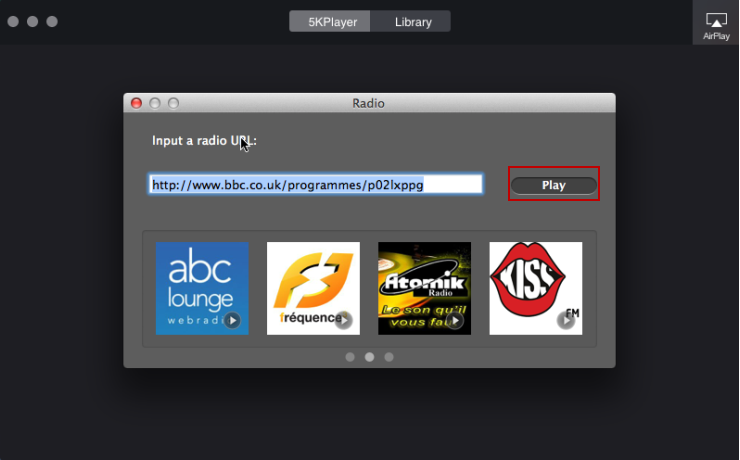 5KPlayer is a quite highly integrated software perfectly incorporating video and music playing, online video and music downloading, video (such as YouTube) to MP3 and AAC converting together with radio FM playing. What's more, 5KPlayer can also turn Mac and Windows to a free AirPlay server. With 5KPlayer, you can almost fix all multimedia problems at ease.
Home | About | Contact Us | News | Privacy Policy | Agreement | Site Map
Copyright © 2023 Digiarty Software, Inc. All Rights Reserved.
5KPlayer & DearMob are brands of Digiarty Software, Inc. All other products or name brands are trademarks of their respective holders. All logos, trademarks and images relating to other companies that may be contained wherein are applied in the Internet that are not used for commercial use. Digiarty's software is not developed by or affiliated with such companies.