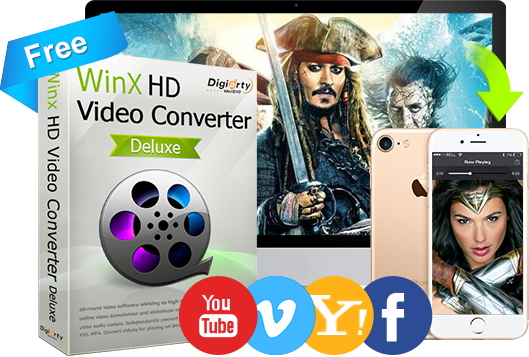 2017 New Year Blazer! Join DearMob's Campaign to Win Swift Free HD Video Software
DearMob cordially invites customers to join its spick-and-span 2017 New Year campaign by offering 50 free copies of HD video software for Windows and Mac per day. Users can get free New Year's gift by sharing the campaign on Facebook or Twitter without a dime. The special HD video software gift, competent in such functions as speedily converting videos to iPhone, Android and other mobile devices, as well as downloading online videos, is underpinned by its robust hardware acceleration technology to serve cinephiles and audiophiles at this special moment of a year.
With 50 free copies obtainable for Windows and Mac per day, customers can garner their gift and steer it to Twitter or Facebook as early as possible at:
https://www.5kplayer.com/software/win-free-copy.htm
DearMob formulates this 'Win Free Copy' 2017 New Year campaign as a chance for users to share: Sending a piece of HD video software gift online along with words of greeting is indeed a cordial token for all the special friends throughout the year to bind one another closer. Relaying the award-winning 5KPlayer - free MKV video player's capacity, the software for giveaway is an adept choice for converting videos to MP4, MOV and other iPhone, iPad, Android compatible formats, as well as downloading and editing videos flexibly. Together they'll synergize users' audio-visual entertainment both on computer and on the go.
As a trailblazer in multimedia software sector, DearMob is also home to infinite kindness and friendship. By initiating this 2017 New Year campaign to give its titular products for free, this forward-looking multimedia manufacturer wishes to leverage its role in enhancing the convenience and efficiency in multimedia life for every single user.
New Year's Free HD Video Software Availability:
DearMob offers 50 copies of this sleek HD video software for Windows and Mac users for free at:
https://www.5kplayer.com/software/win-free-copy.htm
About Dear Mob, Inc
DearMob, Inc is a vigorous software company with a forward-looking vision, which keeps pushing itself in developing new products and revamping 5KPlayer's capability. With a foothold in the mobile solutions like media playback, online video download, and AirPlay in 2016, DearMob, Inc is ready to enable more dynamic growth with compact and competitive products to Mac/Windows/iOS/Android users in the year 2017. For more information about DearMob, feel free to visit https://www.5kplayer.com/
Contacts:
DearMob Inc.
Emily Wong, +86-28-85134884
media@5kplayer.com
http://www.5kplayer.com