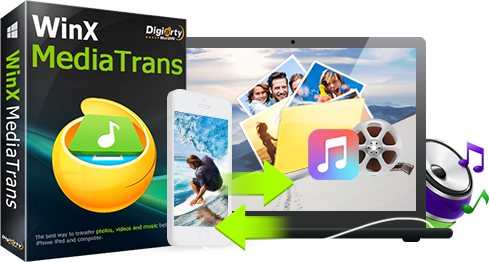 How to Transfer 4K Videos Between iPhone and Computer? DearMob Made Known the Answer
DearMob joins hands with Digiarty software to provide the solution to transfer 4K videos, photos and music between iPhone, iPad and computer, an overture for the forthcoming Apple iPhone Event on September 7th.
DearMob provides 50% discount coupon for WinX MediaTrans, an in-class iPhone file transfer software commencing on August 31. This software is designated for Windows users to make iPhone-recorded videos, pictures and other music files moved to a computer, and synced to another iOS device thereafter.
This team-up facilitates the transfer of 4K videos and pictures from iPhone or iPad to computer. iPhone owners can now sync self-made 4K videos to computer with the file manager before watching them with the free 4K video player - 5KPlayer. This also help smarten up iPhone memory so it runs more smoothly.
The transfer doesn't go one way only, because the software helps channel more high resolution videos from computer to iPhone so users can watch them on the go. In Infographic's latest report on mobile video statistics, video was 55% of total mobile data traffic in 2015, suggesting an upsurge trend that people can transfer music, video from computer to iPhone, and to that end, the file manager has DearMob's top recommendation.
Speaking of the highlights and performances of the two products, the free 4K video player for Windows 10, with full capacity in handling high-resolution videos ranging from 720p to 2160p 4K, is now the weekly most downloaded video player in the United States through Softonic, while Digiarty's iOS file manager is an expert of speed, "It transfers 100 pictures in 4K taken by and iPhone 6s within only 8 seconds, which no one else compares," says Damon Luo, the iOS development manager in charge.
Hopefully this team-up can generate better results than planned. Now that high-resolution videos, photos and other music files can be transferred between iPhone, iPad and computer freely and rapidly, users can relish the joy of making 4K videos self-reliantly and capturing more special moments of life to appreciate on a bigger screen.
Pricing and Availability
WinX MediaTrans for Windows 10/8/7/Vista will manage files on iPhone, iPad and iPod, with compelling UI, flawless quality and leading security, users can choose a 1-year license or a lifetime license, for 1 PC or multiple PCs with the price starting from $29.95
About DearMob Inc.
DearMob, Inc. is a vigorous software company aiming at developing innovative video software. In pursuing the ultimate goal of offering users with omnipotent mobile tools, it never loosens the effort to research and develop practical applications compatible with the mainstream platforms like Windows, Mac, iOS and Android. In 2016, DearMob, Inc is ready to enable dynamic growth in the fast-growing mobile software market by delivering more convenience and entertaining helper to iOS and Android users. For more information about the company, please visit: https://www.5kplayer.com