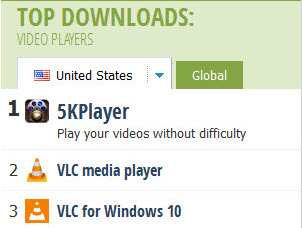 Congratulations! DearMob's 5KPlayer Tops The Softonic Chart for Best Video Players
It's already two weeks since DearMob's 5KPlayer became the most downloaded video player on Softonic. With the free multimedia player jumping to its version 4.0 for both Windows 10 and Mac users lately, DearMob, the promising developing company welcomes another boom in successful installation figures, claiming its lasting popularity and reliability. By the end of July, the AirPlay-sided video player is the most downloaded multi-media player in the United States, and the second most worldwide.
5KPlayer is an all-you-can-eat multimedia player. By design, it fits high-demanding and storage-effective video formats including H.264, H.265, MTS, MKV, DAV, AVCHD and more into its basket. Users with it installed on Mac or Windows can now upgrade their audio-visual experience with 5KPlayer to play videos of all formats, download 4K videos online before directly watching them on TV.
Unlike some closed-source video players which won't support the much-welcomed video formats like Matroska, or may require external codec-packs to do so, the self-reliant 5KPlayer blends ample muscle for nearly all formats that matter, such as VOB, FLV video formats, AAC and M4A music formats. Being one of the 2016 best universal media players, the free video player is a wise option to play some rarely-seen and hard-to-recognize video formats.
Speaking of the reasons behind 5KPlayer's popularity with clients on Softonic, Houston Xu, product manager of DearMob explains as follows,
"It's one thing to make a credible software in the first place, but it's another thing to keep growing. We have our clients tuned by constantly popping out pleasing features, such as support for emerging media formats."
In addition, quite a part of 5KPlayer's standing users come for its HD capability: By walking the CPU-demanding and the higher-end 4K videos into everyone's home computer, 5KPlayer with H.264 support is indeed one of the best HD movie players worthy of a try.
The award-winning media player for all formats, with over 20 months of experience-gaining and function-improving, has already taken shape as a comprehensively viable and vivacious multimedia solution. Drawing from its past lessons, 5KPlayer shall keep on upgrading to be the last video player a user would need for his computer, so just stay tuned.
Free Software Availability
5KPlayer is totally free and clean. Now the Version 4.1 for Windows and Mac are available for download at https://www.5kplayer.com/
About DearMob Inc.
DearMob, Inc. is a promising mobile software developing company with the ultimate goal of giving users full-featured mobile tools for free. It strives to create useful software compatible with different platforms such as Windows, Mac, iOS and Android. Its product lines currently involve in new-generation multimedia playing, music video streaming and downloading and multi-screen video playback, and will extend to the use extension of mobile apps, mobile antivirus solution, file manager and backup solution for iPhone, iPad and Android devices. For more information about the company, please visit: https://www.5kplayer.com