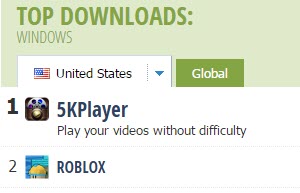 5KPlayer Takes over No.1 Ranking in Softonic Top Downloads US Chart
Only 4 short months after toping the Softonic Chart for best video player, 5KPlayer now holds the top spot of most download Windows App on Softonic. Receiving almost 200,000 downloads solely on Softonic last month, this best media player for Windows 10 outnumbers the second-place Roblox by two to one. This incredible accomplishment also marks a milestone for this new style video player who is still under 2 years old but is currently on its version 4.1.
5KPlayer wins such position not only because its multi-purpose features to help user play, download, convert and AirPlay video and music in virtually all formats, but also because its superior products quality, stability, reliability and the growing popularity among video music lovers. As part of the outstanding features of 5KPlayer, 4K 8K video playback is a definitely plus for all 5KPlayer users, in addition to 4K 8K downloads.
5KPlayer's popularity on Softonic cannot be obtained without the constant upgrade of this free software. Despite the fixes and update of the existing features such as playing 3D videos, playing DVDs, playing Matroska (H.265) without external codec-packs, to answer the calls of the times, 5KPlayer will embrace more high-end functions such as playing Blu-ray. As the Product Manager Houston Xu states:
"Relying on the development of high quality video production technology, video players like 5KPlayer becomes a rigid demand in more private use. Covering 4K, 8K, 3D playback is not enough, in the near future, 5KPlayer will be able to play Blu-ray DVDs"
No matter how the Audio and Visual industry progress,5KPlayer always follows up to meet its users' expectation.
Free Software Availability
5KPlayer is totally free and clean. Now the Version 4.1 for Windows and Mac are available for download at https://www.5kplayer.com/
About DearMob Inc.
DearMob, Inc. is a promising mobile software developing company with the ultimate goal of giving users full-featured mobile tools for free. It strives to create useful software compatible with different platforms such as Windows, Mac, iOS and Android. Its product lines currently involve in new-generation multimedia playing, music video streaming and downloading and multi-screen video playback, and will extend to the use extension of mobile apps, mobile antivirus solution, file manager and backup solution for iPhone, iPad and Android devices. For more information about the company, please visit: https://www.5kplayer.com