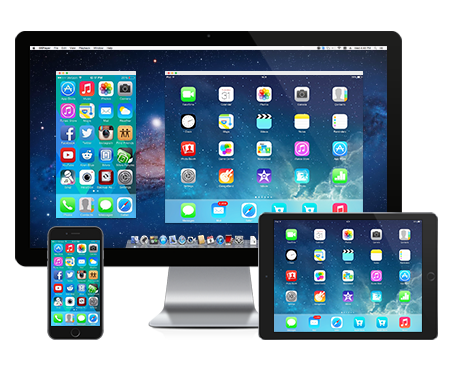 DearMob' s 5KPlayer Supports AirPlay Mirroring from iPhone/iPad to Mac Without Jailbreak
DearMob. Inc. adds AirPlay Mirroring and screen recording functions to 5KPlayer in its Version 3.0 for Mac. The screen mirroring function now facilitates instant replication of video and audio from iPhone/iPad/Mac to Mac without jailbreak. Another new utility of 5KPlayer to record iPhone iPad screen bolsters a straightforward way to capture mirrored images and audio intactly.
5KPlayer offers free AirPlay Mirroring overtures to users with OSX 10.7 or newer to mirror iPhone iPad to Mac display, meanwhile it integrates multi-media playback, 4K 5k 8k HD video download as well as video music AirPlay into one. The native Apple AirPlay without external help supports Mirroring iPhone/Mac to Apple TV only, 5KPlayer lifts the blockade and entails screen mirroring from iPhone iPad Mac to Mac which collaborates better in work place for message sending and graphic demonstration. According to Apple's fiscal report, the demand for connecting iPhone iPad with Mac overtakes that of Apple TV afar, fully tested by the 20 million sales and 75.3 million of Apple TV and iPhone respectively.
Screen mirroring of 5KPlayer empowers more Apple Store APPs to be amplified from iPhone iPad to Mac. Houston Xu, Product Manager of DearMob explained in 5KPlayer 3.0 for Mac open Beta release,
"In pristine AirPlay, only videos and music were available for streaming. While Games, Business and some Education APPs that I use everyday, have never been attended by this functionality."
The built-in AirPlay Mirroring of 5KPlayer is releasing iPhone iPad APPS of games, business and education to bigger displays in real terms.
In the meantime, 5KPlayer boosts Mirroring-based screen recording as its native feature to guarantee information expressed on iPhone to be recorded instantly. The function to record iPhone screen was previously less patronized by most AirPlay users. With screen mirroring functionality of this freeware now replicating every movement on iPhone iPad to Mac, it proves a far smoother method for demonstration and information sharing.
As a dedicated AirPlay streaming server and video music player, 5KPlayer bolsters Apple devices new features and Microsoft Windows 10 advancement swiftly and precisely: Subsequent to its latest upgrade regarding Windows 10, which offers HD video download, Windows Media Center alternative and DVD support on Windows 10, AirPlay Mirroring of 5KPlayer from iPhone iPad to Mac reserves support to screen mirroring iPhone 6s to come, and will strive to bolster future Apple devices to come. AirPlay Mirroring for Windows build is already in agenda and 5KPlayer users can expect it to come soon.
About DearMob Inc.
DearMob, Inc. is a promising mobile software developing company with the ultimate goal of giving users full-featured mobile tools for free. It strives to create useful software compatible with different platforms such as Windows, Mac, iOS and Android. Its product lines currently involve in new-generation multimedia playing, music video streaming and downloading and multi-screen video playback, and will extend to the use extension of mobile apps, mobile antivirus solution, file manager and backup solution for iPhone, iPad and Android devices. For more information about the company, please visit: http://www.5kplayer.com