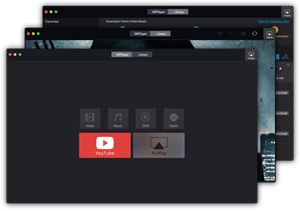 DearMob Extends DVD Video Software Favor After Mother's Day Hot Sale
DearMob extends time-limited DVD software promo from May 10th to May 20th to help all mothers and family members get more digital fun after its hot sale on Mother's Day. The DVD software gift pack can convert videos, movies, DVD to iPhone, Android and Windows Phone to watch.
DearMob extends its time-limited DVD software favor to May 20th after positive feedbacks on Mother's Day. By integrating the DVD software pack with an in-class 4K video player , this multimedia manufacturer enables users to convert videos, copy DVD movies from computer to families' iPhone, iPad, Android or Windows Phone so mothers can enjoy MP4, 3GP movies on the go as well as play 4K videos on computer . This pack containing an in-class DVD ripper, a video converter, and a backup software is both security-proof and easy-to-operate with a friendly UI, hence even family members without an adept hand in DVD video software before can fit in within minutes.
DVD Video Software packs will be available at:
For Windows Users: https://www.5kplayer.com/software/dvd-video-converter.htm
Gifts for Mac Users: https://www.5kplayer.com/software/video-converter-giveaway-mac.htm
The hot sale of DearMob's latest DVD video software pack on Mother's Day is a clear indicator that the demand for digital video content is on the rise. As a token of prompt, the promotion is extended from May 10th to May 20th to reach more users at a favorable price. According to a survey by Statista, the consumption of mobile videos based on a 400 region-specific data sets, especially among female aged above 45 years old, currently at 10.4 million units, has seen consecutive years of growth, and is expected to grow steadfast to reach 11.7 million in 2020.
Downright Favorable DVD Video Software Pack
(Windows 10& Mac El Captain Compatible)

* Flawless Video Player: 4K/8K support, play video on Mac and Windows, AirPlay.
* Superfast backup DVD to MP4, MOV, ISO, and convert to iPhone, Android, Windows Phone profile, otherwise $59.95.
* Losslessly Convert video to MP3/MP4/3GP/RMV/MKV/AVI, otherwise $49.95.
* Burn DVD, mount ISO to virtual drive, otherwise $49.95.
High quality, favorable price, after-sale service, all make this pack a second-to-none choice to help mothers and other family members obtain digital fun of watching MP4, 3GP videos, or watch DVD movies on the go.
At the time of Mother's Day, DearMob would like to help engage mothers into the entertainment of online videos and digital content one step further. Young consumers, therefore, will play an irreplaceable role to help family members as a more experience group with DVD software. To that end, it is advised to learn more about the DVD software gift pack at:
Pricing and Availability:
All-in-one Pack for Windows Users
Gifts for Mac Users
About DearMob Inc.:
DearMob, Inc. is a promising mobile software manufacturer developing useful software serving Windows, Mac, iOS and Android users. With current lineup involving new-generation software for multimedia playback, music video streaming, downloading and multi-screen video playback, it will extend into the realm of multimedia mobile player, antivirus and file backup solutions soon. For more information about the company, please visit: http://www.5kplayer.com
### MEDIA ONLY Contacts
DearMob Inc.
Emily Wong, +86-28-85134884
media@5kplayer.com
http://www.5kplayer.com