How to Record Live Streaming on YouTube?
Written by Kaylee Wood | Last update: June 17, 2020
At the beginning of the year, various events were announced to be postponed or even cancelled, and some that could not be cancelled were shown to the public as much as possible. Do you remember the historic event "One World: Together at Home" ? According to statistics, with great attention, the viewing of the major platforms reached 2.7 million.
Where did you watch the broadcast? Yes! On YouTube.com. At kickoff, reported by Wired.com, there were about 2,735 people glued to the free Bundesliga league live stream on YouTube. Then, How to record those live streams on YouTube to save them in your own empire? Here we recommend you this free and easy to use YouTube live streaming recorder -5KPlayer.
How to Record YouTube Live Stream? Try This Right Away!
DearMob 5KPlayer allows you to record anything (Periscope, YouTube live streams) on your iPhone/iPad regardless of your internal storage, because the recordings are saved to your Mac or Windows PC. iOS 13, macOS Catalina, Windows 10 compatible! Smooth and seamless, 100% quality reserved. Free download now!

Although the above examples are one-off YouTube live streams, the move has revealed a fact that YouTube is marching to livestreaming and taking the business seriously. At the infant stage, YouTube opens up live streaming service to YouTubers with 100 and above subscribers/fans, elevating and enriching the "We Media" to a new level. And it is also reported that YouTube is seeking movie/ TV shows streaming right with some Hollywood studios. Wait and see what they are going to offer in the near future, and get ready to do the recordings and saving of specific live streams on YouTube you like.
DearMob 5KPlayer records the whole iPhone/iPad screen so that everything on display can be recorded accordingly including the in-app-sound and sound round you. You can even do the recording live with your iPhone/iPad and get those saved in your computer over the air. YouTube live 4K streaming recording are also supported by 5KPlayer.
How to Record and Save YouTube Live Stream on Your iPhone iPad
With a given link of YouTube video, you can free download the whole YouTube video clip. Then how about the YouTube live streams? How to download the live streams when you are watching it on your iPhone/iPad? First thing first, you should get started with YouTube live streaming. Refer to Get Start with YouTube LiveStreaming for a quick begin.
Step 1: Download and launch this YouTube live stream recorder – 5KPlayer on your Mac/Windows PC.
Step 2: Connect your iPhone/iPad and Windows 10/8.1/8/7 PC or Mac Catalina (with this YouTube live stream recorder - 5KPlayer installed) the same WiFi network.
For iPhone X or later users, swipe down from the top-right corner of your screen, tap AirPlay icon, choose your Mac or Windows name; for iPhone 8 or earlier users, simply swipe up from the bottom edge of any screen as usual, tap the AirPlay icon to select your Mac or Windows PC.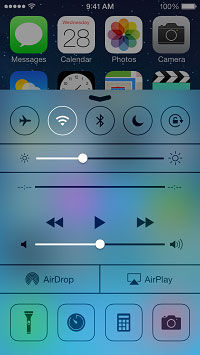 Step 3: Enable Mirroring, and your iPhone/iPad screen will show up on the desktop.
Note: You can record your iPhone/iPad by clicking the recording button below.
*Click the button again to stop recording and the recorded video file will be saved on your Mac Catalina (and the earlier)/Windows 10 PC and categorized in the playlist for a tidy video-management.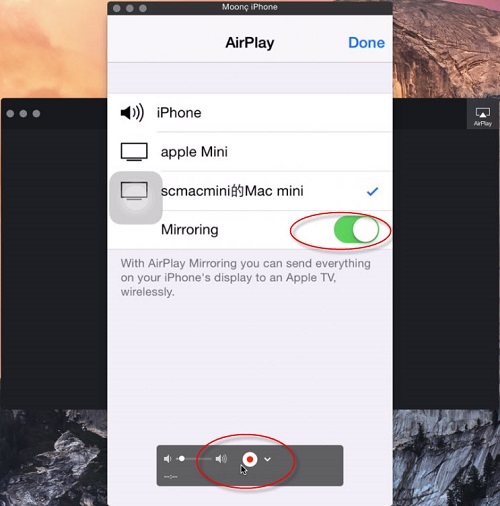 With this YouTube live streaming recorder from DearMob, you can also record User Guide for any APPs, record live video chat like facetime, record your gaming process etc. You won't regret choosing 5KPlayer since this is not only a live stream recorder, but also a potent media player and streaming server that offers one-stop solution for all your media files in MKV, AVI, WMV, H.265/H.264, VP9/VP8, etc. You can stream 4K/8K videos, stream Netflix 3D movies and the like. You can also downloa videos directly from online. Try this out for your new year video enjoyment!
Home | About | Contact Us | News | Privacy Policy | Agreement | Site Map
Copyright © 2023 Digiarty Software, Inc. All Rights Reserved.
5KPlayer & DearMob are brands of Digiarty Software, Inc. Any third party product names and trademarks used in this website are property of their respective owners. All the related logos and images, including but not limited to Apple's AirPlay®, Apple TV®, iPhone®, iPod®, iPad®, iTunes® and Mac® are registered trademarks of their own. Digiarty is not owned by or affiliated with Apple Inc. and any of those companies.