PS4 Media Player Not Working Not Streaming
Posted by Kaylee Wood | Last update: April 28, 2020
There are so many causes to PS4 media player not playing, not streaming movies, thus we orgnize the guide into 3 parts and offer solutions correspondingly.
PlayStation 4 Media Player Best Workaround - 5KPlayer!
PS4 Media Player not streaming movies? Get 5KPlayer for an emergency! This PS4 media player alternent rescues you from all possible PS 4 video player issues instantly! It supports almost all V/A formats and codec including MP4 H.265 VP8/VP9, MKV, AAC, MP3, FLAC. High-res 8bit 4K 8K videos can also be read smoothly. Get it now!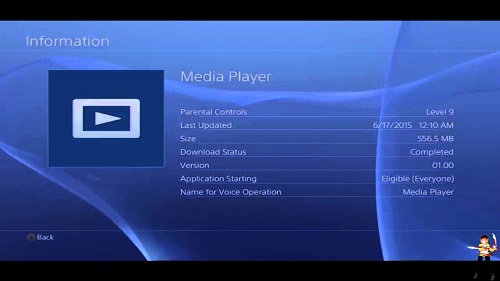 Solve PlayStation 4 Media Player Not Playing MP4/AVI/MKV/MP3
Indeed, MP4/AVI/MKV video formats are supported by PS4 media player, but why can't we play them still?
Possible reason 1: Missing folder. To view or play files from media player PS4 USB stick or external harddrive, video and image files must be saved within a folder on your storage device. Music files in particular must be saved within a folder titled "MUSIC".
Possible reason 2: DLNA server access permission. Your DLNA server has access protection. If your video file is saved in DLNA server, make sure to adjust your DLNA media server settings to grant your PlayStation 4 system access. The corresponding Error Message would be: "Cannot access this media server."
Possible reason 3: File limitation. Though PS4 media player do supports MP4/AVI/MKV/MP3 no matter in USB or DLNA media server, they have strict codec/size limitations - jump to PS4 media player strictly supported formats. Convert the media file first to make it playable on PS4 device.
The corresponding Playstation 4 Media Player Error Message to this not playing issue would be: "There is no playable media" & "Cannot play audio. The audio format is not supported." & "Cannot play the media."
Solve PS4 Not Streaming Movies from Video Sites
How to Watch Free Movies on ps4 from video sites?
PS4 movie streaming from online sites like Twitch/YouTube might bring you into connection failure. How to solve that problem?
Take Twitch as a example: When you get the Grey On Air / Live logo and Ps4 stream says Processing on its left top corner, you should check out the connections from Twitch online website: Go to Setting > Connections > Find PS4 under "Other Connections" > Click to enable it!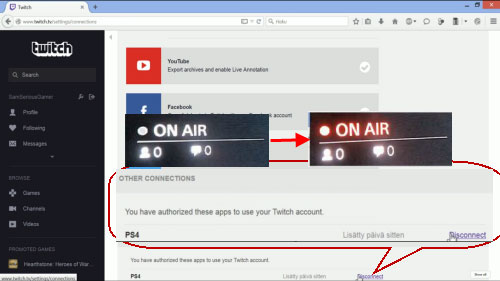 Top recommended free movie sites for ps4 streaming movies: Youtubeonfire; Kingmovies.to; YesMovies.to
To watch free movies on PS4 locally, you may have to convert the incompatible file formats into supported formats in advance. If you are using a PlayStation 4 Pro, you can also use PlayStation 4 Media Player to play 4K videos in MP4 saved on a USB stick/home server, as well as 4K VR content when using PlayStation VR. And since PS4 Pro does not have a 4K Bluray driver, high-res bluray DVD movies cannot be played by PS4 media player, only 1080p bluray.
Playstation 4 Media Player Supported File Formats
Video Format:
• MKV
Visual: H.264/MPEG-4 AVC High Profile Level4.2
Audio: MP3, AAC LC, AC-3 (Dolby Digital)
• AVI
Visual: MPEG4 ASP, H.264/MPEG-4 AVC High Profile Level4.2
Audio: MP3, AAC LC, AC-3 (Dolby Digital)
• MP4
Video: H.264/MPEG-4 AVC High Profile Level 4.2, H.264/MPEG-4 AVC High Profile Level 5.2 (PlayStation®4 Pro only)
Audio: AAC LC, AC-3 (Dolby Digital), LPCM
• MPEG-2 TS
Visual: H.264/MPEG-4 AVC High Profile Level4.2, MPEG2 Visual
Audio: MP2 (MPEG2 Audio Layer 2), AAC LC, AC-3 (Dolby Digital)
• AVCHD (.m2ts, .mts)
• XAVC S™ (.mp4)
Note: Restart PlayStation 4 system if you encounter the error message during video playback. To do this press and hold the PS4 button on your controller and select [Power Options] > [Restart PS4]
Side Note: If you are using PS4 USB Music player for music playback, do notice its limitations -
Supported codec: AAC and MP3
Supported channel number: Only 2ch.
Supported playlist: .m3u, m3u8
Supported file extentions: .m4a, .mp4, .3gp, .mp3
Sampling Frequency: 22.05kHz、24kHz; 32kHz、44.1kHz、48kHz; 96kHz
Quickest Free PS4 Media Player Not Working Solution
Using PlayStation 4 Pro watching movie videos has so many limitations and compatibility issues. To quickily solve the PS4 media player not working trouble/PS4 not streaming movies and resume smooth playback in no time, we suggest you pick the reliable 5KPlayer. This media player plays back almost all file formats including incomplete files in its row form, 4K 3D bluray videos. It employs AirPlay tech to free mirror movie/DVD videos to Apple TV from Windows & Mac to realize movie watching on TV. Besides, it downloads online movies/music from Dailymotion to MP3 or to iPhone/Android compatible formats.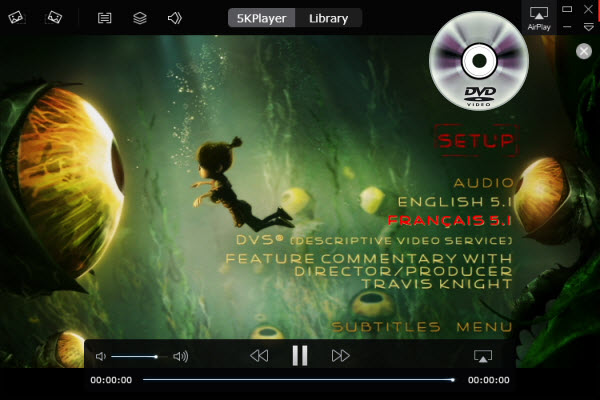 Related Articles
Best 3 Free FLV Player Software for Mac Check out the best 3 free FLV player software for Mac to play FLV files that are not supported by QuickTime!
Best Media Player Software for Alienware Check out 5 best Windows 10 Home media players for Alienware 13/15/17 laptops and Alienware Alpha/Aurora/Area-51/Area-51 Threadripper desktops shipped with Core i7/i9/Ryzen Threadripper processor and NVIDIA GeForce GPU.
Top 3 SWF Players to Play SWF FilesThis article shares you three robust SWF players that support opening online/local SWF files on Windows and Mac OS.
Home | About | Contact Us | News | Privacy Policy | Agreement | Site Map
Copyright © 2023 Digiarty Software, Inc. All Rights Reserved.
5KPlayer & DearMob are brands of Digiarty Software, Inc. All other products or name brands are trademarks of their respective holders. All logos, trademarks and images relating to other companies that may be contained wherein are applied in the Internet that are not used for commercial use. Digiarty's software is not developed by or affiliated with such companies.