How to Extract Audio from Any Video in Best Sound Quality?
Posted by Kaylee Wood | Last update: April 28, 2020
When watching a movie, sometimes we are not only attracted by the scenes and plots of the movie but also impressed by the tune and song. But how to extract audio from video for saving or using them in your own project? Download or convert video into MP3 or AAC format with the help of powerful desktop software, of course.
You Might Need to Extract Audio from Video for Some Situations:
Situation 1. Download and save online video soundtrack as ringtones.
In general, you can buy or download music for free on some music APPs, but some music cannot be played due to copyright and distribution regions, let alone download and set it a ringtone. If you have met such a situation that you like the soundtrack from a movie or a trailer and want to save it, the best way is to download the video into an audio file format.
5KPlayer supports extracting sound from video and downloading it from over 300 online video sites such as YouTube, Vevo, Facebook and so on, and it can keep the original sound quality of the video.
How to extract and download video audio?
Step 1: Download and install 5KPlayer, then launch it on your PC.
Step 2: Copy the URL of the video you want to download from the online video site.
Step 3: Click on the "YouTube" icon on the interface and press the "Paste URL & Analyze" button.
Step 4: After analyzed, click the settings icon next to the small video picture, scroll down to choose quality: Audio.
Step 5: Click on "Done" and then press "Download" button. Usually, the audio will be downloaded in m4a audio format.
Also, if you want to save videos for offline watching, you can choose download it in video file format.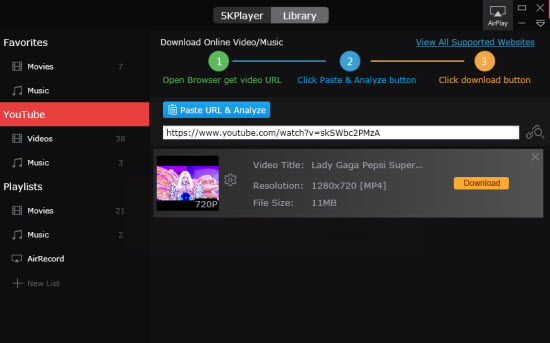 Situation 2. Want only the music from saved movie file for enjoyment.
When you want to collect wonderful but unknown music heard in saved movies, or collect different songs to form playlists in different styles to enjoy them anywhere anytime, or make an audiobook for listening practice, then, you need to transfer the video into an audio-only file format.
Only a few clicks, 5KPlayer can help you convert any downloaded video to AAC or MP3 video format with default best sound quality.
How to extract audio from a downloaded video?
Step 1:
Download and install 5KPlayer, then launch it on your PC.
Step 2:
Click on "Library" button at the top of the user interface, then click on "Movie" on the right navigation section and click on "+" to add video on your computer.
Step 3:
Left click on the video you have added, and then you can see the "Convert" option box, and you can choose the video format MP3 or AAC.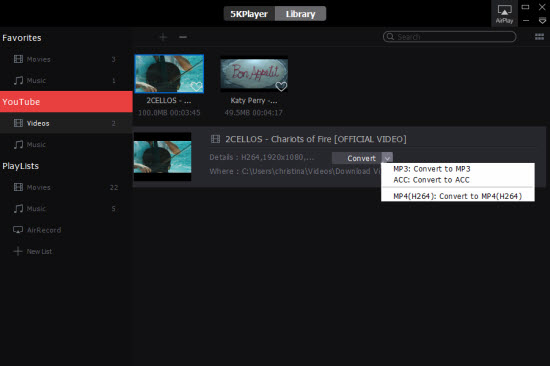 Situation 3. Want only the music from saved movie file for enjoyment..
Music does not always run through the whole film, if you want only the music from part of the video, you need to cut the video into small clips and then extract the audio from it. With the help of a video editor, it is no sweat at all to cut a video into several clips, but to find an editor which is safe and easy to use is another thing.
5KPlayer is not only a powerful multimedia player but also a light-weight video editor. 5KPlayer with the basic video editing features can cut a video into clips and convert it to MP3 or AAC audio-only file, so you do not need to install other software to do that.
How to cut video and extract audio from it?
Step 1: Download and install 5KPlayer, then launch it on your PC.
Step 2: Click on the "Video" icon on the user interface and load the video you want to cut.
Step 3: Play the video and click on scissors icon, then drag the progress bar to set the start time and end time of the wanted part of the video and click on "Save file ".
Step 4: Open the saved video and repeat the steps of "extract audio from downloaded video" above to separate audio from video.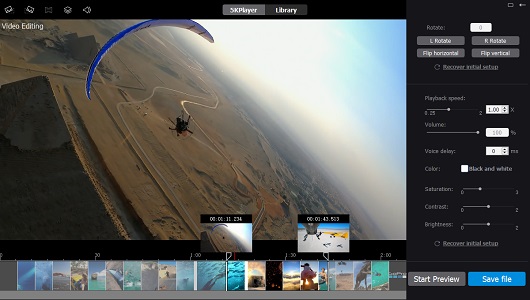 As a professional media player, 5KPlayer concentrates on bringing better video playing experience to users. Although it has basic video editing features, it only supports cutting MP4/H.264 video format which under 1080p video resolution, and transfer video to AAC, MP3 and MP4 video format. But if you need an all-inclusive multimedia player, download and try 5KPlayer!
Home | About | Contact Us | News | Privacy Policy | Agreement | Site Map
Copyright © 2023 Digiarty Software, Inc. All Rights Reserved.
5KPlayer & DearMob are brands of Digiarty Software, Inc. All other products or name brands are trademarks of their respective holders. All logos, trademarks and images relating to other companies that may be contained wherein are applied in the Internet that are not used for commercial use. Digiarty's software is not developed by or affiliated with such companies.