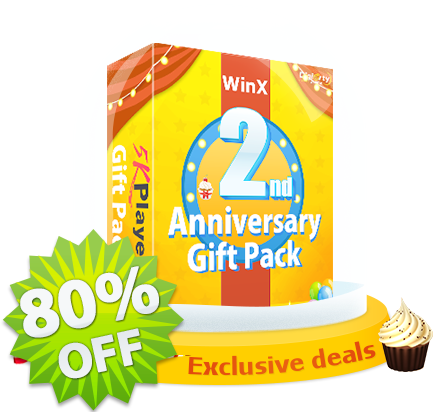 DearMob Presents Valentine's Day Gift Pack Promo for Windows and Mac Users
DearMob's Valentine's Day gift promo kicks off today - boasting a salient pack including programs to rip and backup DVDs, edit videos and more, this Valentine's Day gift specially sizes up Windows and Mac users fond of multimedia experience. Valid until February 20th, this exclusive deal stands ready to facilitate a loving holiday for every user.
Get The Deluxe Valentine's Day Gift - DVD Video Software Pack
·  For Windows: https://www.5kplayer.com/software/dvd-video-converter.htm
·  For Mac: https://www.5kplayer.com/software/dvd-video-converter-mac.htm
This tailored Valentine's Day gift cut out for even the most picky audiovisual buffs: With the 3 peerless programs delivering tier-one performance in DVD ripping, copying, burning, and video editing both on Windows and Mac, outright getting them all or sending them out as a token of affection would suit fine.
Good things come in double in this loving season - in the wake of its 2nd Anniversary, DearMob's full-fledged free multimedia player - 5KPlayer, becomes the second most downloaded APP among all Softonic's Windows users, indeed working wonders as a youthful application.
Prime Features of DearMob's Valentine's Day Gift Pack
Superfast Rip DVD Movies: Rip DVDs to AVI, MP4, MOV, and convert DVD movies to mobile phones.
Backup & Copy DVDs : Backup Valentine's Day movie DVD discs, ISO image, and DVD folders.
Convert & Download Valentine's Day Movies, Songs Online: Convert any format videos to MP4, H.264, AVI, etc, and download Valentine's Day songs from 300+ online sites.
"Valentine's Day is the festival of couples, and that's why we couple the in-class DVD video pack with 5KPlayer," said Houston Xu, product manager of DearMob, "We wish every couple of love could make the best of our salient software pack, and wish you all a very happy Valentine's Day!"
New Year's Free HD Video Software Availability:
Valentine's Day gift pack is available by February 20th, 2017 at:
·  For Windows: https://www.5kplayer.com/software/dvd-video-converter.htm
·  For Mac: https://www.5kplayer.com/software/dvd-video-converter-mac.htm
About Dear Mob, Inc
DearMob, Inc is a vigorous software company with a forward-looking vision, which keeps pushing itself in developing new products and revamping 5KPlayer's capability. With a foothold in the mobile solutions like media playback, online video download, and AirPlay in 2016, DearMob, Inc is ready to enable more dynamic growth with compact and competitive products to Mac/Windows/iOS/Android users in the year 2017. For more information about DearMob, feel free to visit https://www.5kplayer.com/
Contacts:
DearMob Inc.
Emily Wong, +86-28-85134884
media@5kplayer.com
http://www.5kplayer.com