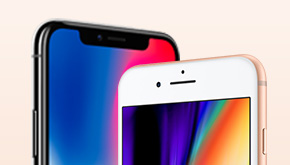 DearMob Inc. Proffers Freeware to Embrace iPhone X iPhone 8 Release on Apple 10-Year Anniversary
According to the confirmed specs of iPhone X and iPhone 8, DearMob, Inc sniffs out its tier-one product - free iPhone Photo Manager with tier-one functions to export iPhone X/8 photos to computer, and import photos back to iPhone. Considering the coming issue of iPhone X/8 storage insufficiency implanted by the enhanced iPhone X/8 camera features like 3D photography, 4K recording at 60fps, AR implementation, this product is fully capable of tidying up iPhone photos for good.
At the Steve Jobs Theater, iPhone X and iPhone 8 rear and front-facing cameras are unveiled to add supports for 3D photography effects, AR application, and 4K video recording at 60fps, such new photo types can soon drive an iPhone over-crammed, thus calling for handy iPhone data management tools like DearMob iPhone Manager. This easy-to-use iPhone Manager is a classy product to export iPhone photos to computer. With improved camera function, photos shot with the new iPhone model eats up more space than before:
iPhone 8 iPhone X will be producing even bigger photos, larger videos and bringing more space-consuming yet tempting AR APPs, and VR games on board. Note that iPhone 8 provides around 50mbps data rate for 4K 60fps recording, indicating that four 10-minutes-long 4K video recordings can eat up 16GB storage already. With this reasoning, the maximal 265GB iPhone storage could easily be exhausted within a year. The boosts of these pioneering camera-techs can excessively lead to greater need for internal storage.
Backing up iPhone photos to computer or to other cloud database would be increasingly needed ever before, since two of the greediest iPhone storage consumption culprits – photos and videos – have obviously elevated its way of storage-occupying through quality and quantity. Also eye-pleasing in this event are the refined iPhone 8/X camera features like SmartCamera, "FreezeMotion" and OIS for both the wide-angle and telephoto lenses can stir up stronger photo-taking appetite using iPhone X and iPhone 8 for posting on Instagram, as users can easily get quality selfies, better close-ups of pets, children, and pictures of sunset/sunrise, fast moving athletes and fireworks, while progressively more reluctant to delete any of them. As a result, the booming amount of photos, photo editing apps as well as the cached pictures requires an all-in-one iPhone management software to tidy them up.
To help slim up the brimmed iPhone, DearMob beforehand shares out its well-developed freeware – iPhone Photo Manager to help transfer 4K photos, wallpapers, GIF images, BMP and TIFF pictures from iPhone to PC Windows 10 at an alarming rate. According to official hands-on test, this photo backup software can batch export 100 photos in 4K within 8 seconds, 3x faster than the average photo transfer speed.
Features of DearMob iPhone Photo Manager:
- Hassle-free manage iPhone photo albums without iTunes;
- One-click iPhone to Windows photo transfer, and vice versa;
- Batch transfer, edit photo albums;
- No jailbreak, 100% free and safe.
Freeware Availability
5KPlayer can AirPlay videos and music from iOS 10. The Version 4.0 for Windows (Windows 10 compatible) and Mac (macOS Sierra compatible) are available for download: https://www.5kplayer.com/.
About DearMob Inc.
DearMob, Inc. is a vigorous software company which develops innovative video software. In pursuing the ultimate goal of providing users with omnipotent mobile tools, it never loosens the effort to research and develop practical applications compatible with the mainstream platforms like Windows, Mac, iOS and Android. In 2016, DearMob, Inc is ready to enable dynamic growth in the fast-growing mobile software market by delivering more convenience and entertaining helper to iOS and Android users. For more information about the company, please visit: https://www.5kplayer.com.