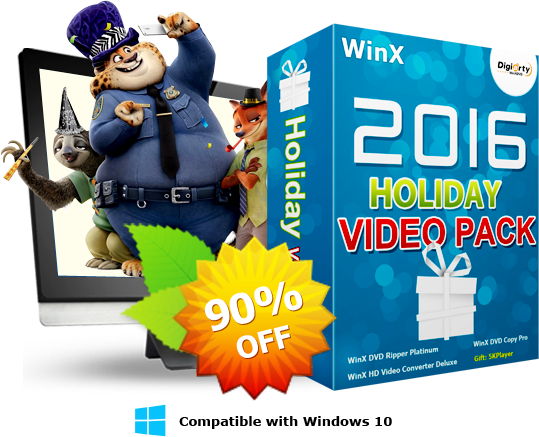 Historical Sale! DearMob's DVD Video Software Pack Rolls Out after MTV Movie Awards 2016
DearMob rolls out a multimedia software all-in-one pack for PC users from April 14th to May 3rd, alongside software gifts for Mac users, reaching the highest discount ever! This pack containing an in-class DVD ripper, a video converter, and a backup software is shipped by DearMob, the integrated multimedia software manufacturer after MTV Movie Awards 2016, supplying a downright affordable solution for movie buffs to rip DVDs, convert videos and watch the MTV Movie Awards 2016 winner list movies committees from the comfort of heart.
DVD Video Software packs will be available at:
For Windows Users: https://www.5kplayer.com/software/dvd-video-converter.htm
Gifts for Mac Users: https://www.5kplayer.com/software/video-converter-giveaway-mac.htm
Video player, DVD ripper, and video converter at your toolkit should go horse-to-horse with the star-studded MTV Movie Awards 2016 winners. With positive feedbacks from users of the DVD ripper and video converter from Windows 10/8/7 and Mac OS reporting their tried-and-true utility, it is high time that customers nab the DVD video software pack into disposal to get plenty hours of fun watching Star Wars: The Force Awakens and The Revenant, as well as 1:1 backup the DVDs videos, or change video format to watch on iPhone and iPad.
Highlights of the DVD Video Software Pack
(Windows 10& Mac OS X 10.11.4 Compatible)

* Superfast DVD Ripper: Backup DVD to ISO, VOB, MEPG2 for personal use, otherwise $59.95.
* 1:1 Quality Video Converter: (iPhone SE/iPad Pro 9.7 inch profile added)Convert video to MP3/MP4/MKV/AVI, iPhone/iPad, Windows Phone and Android, otherwise $49.95.
* DVD Copy Pro: Burn DVD, mount ISO to virtual drive, otherwise $49.95.
* Peerless Video Player: Play 4K/8K videos, play DVD media, and AirPlay.
To bring the award-winning visual performance from MTV Movie Awards 2016 winner movies to screen play, discount will extend to May 3rd.
DearMob continues to focus on effective cooperation with dynamic multimedia software. With MTV Movie Awards 2016 sorting out another list of top-quality movies including Star Wars: The Force Awakens, Mad Max: Fury Road, which worth reviewing, this video software pack comes just in time to tackle DVD ripping, Video conversion to iPhone, iPad and non-stop 4K and 8K video playback to the highest standard.
Price and Availability:
DearMob's gift pack are now at 90% off:
All-in-one Pack for Windows Users
Gifts for Mac User
About DearMob Inc.
DearMob, Inc. is a promising mobile software manufacturer developing useful software serving Windows, Mac, iOS and Android users. With current lineup involving new-generation software for multimedia playback, video music streaming, downloading and multi-screen video playing, it will extend into the realm of multimedia mobile player, antivirus and file backup solutions soon. For more information about the company, please visit:http://www.5kplayer.com.