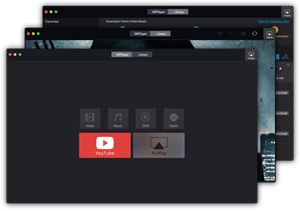 DearMob Free Products Parade on 2017 Thanksgiving Day, Welcomed by Vast iPhone X Users
DearMob dishes free software applications - 5KPlayer and iPhone Music Manager together with iPhone Photo Manager to parade on Thanksgiving Day 2017, bringing classy multi-media solutions and iPhone backup & transfer utility for all iPhone X/8/7/6 users.
What is November 23rdThanksgiving 2017 all about? Yes, it's about dining and turkey, but it's more about being together for the purpose of sharing. DearMob 5KPlayer, also rooted in this great cause, has been accompanying the users through 2 years' Thanksgiving Days and will continue sparing no effort to elevate and spread its "better sharing" concept to every threshold for the endless Thanksgiving days to come.
Followed by on-time development of new free products - iPhone Music Manager &iPhone Photo Manager , the company's free sharing ecosystem has enriched from 5KPlayer'ssharing screen, downloading online videos, songs, movies, to sharing voices/ringtones, sharing data, sharing files, sharing APPs and more between devices for iPhone users. Sharing actually makes up a great portion in digital life and DearMob Inc. aims to dig the sharing content deeper and wider for both internet surfers and iPhone X/8/7 holders to get more joy and convenience. This also means that, as of Thanksgiving Day 2017, DearMob has successfully completed its free products lineup expansion to light up Thanksgiving atmosphere for families gathering at home.
Though a growing number of 9% Americans planned to eat out this year, dining out still cannot replace the traditions of get-together at home and friends visiting. "No matter in the kitchen, around the dining table or TV set, DearMob's freeware applications can provide media solutions and transfer utility to benefit the hosting family at the time of the Thanksgiving Day," said Jack Han, CEO of DearMob.
* Need great Thanksgiving background music for dining and chat?
5KPlayer downloads and plays unlimited free easy-listening Thanksgiving songs in an endless loop.
* Need some novel Thanksgiving activities?
5KPlayer streams online radio stations for Thanksgiving nightly talk shows, and downloads favorite Thanksgiving themed moviesfor watching on big TV screens free.
* Need unconventional recipes and guides for Olympic Thanksgiving cooking?
5KPlayerdownloads and plays free Thanksgiving cooking guide videos for new dishes outcome.
* Need Thanksgiving 4K Live photo backup transfer?
iPhone Photo Manager transfers 100 4K pictures in 8 secs for free to clear up storage-strapped iPhone
* Need to DIY some unique ringtone & share songs with family?
iPhone Music Manager helps see to it for free.
DearMob strives to build the most cozy media ecosystem around customers. The 3 freeware applications offers smooth multi-media playback, download, streaming solutions and iPhone data backup & transfer utility that can not only let users fully enjoy the digital world, but also collect immortal memories of the year.
Freeware Availability
DearMob 5KPlayer Version 4.6 for Windows (Windows 10 compatible) and Version 4.3 for Mac (macOS High Sierra compatible) are available for download at: https://www.5kplayer.com/. DearMob iPhone Photo Manager Version 1.1 for Windows and DearMob iPhone Music Manager Version 1.1 for Windows and macOS are free for download at: https://www.5kplayer.com/iphone-manager/.
About DearMob Inc.
DearMob, Inc. is a vigorous software company which develops innovative video software. In pursuing the ultimate goal of providing users with omnipotent mobile tools, it never loosens the effort to research and develop practical applications compatible with the mainstream platforms like Windows, Mac, iOS and Android. In 2016, DearMob, Inc is ready to enable dynamic growth in the fast-growing mobile software market by delivering more convenience and entertaining helper to iOS and Android users. For more information about the company, please visit: https://www.5kplayer.com