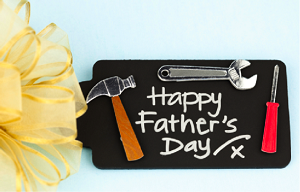 Father's Day Celebration: 5KPlayer Invites Techie Ideas for This Father's Day
5KPlayer, sends Father's Day wishes to all the beloved daddies on time and prepares a roundup of techie software gifts in case many sons and daughters still have no gift ideas. We call on people to spend time with fathers on Father's Day and keep them on track with latest software techs that might bring convenience for them. Remember, knowing about father is always the key to gift-picking.
As the world keeps going digital, in addition to a costly Father's Day Armani belt, a conventional Father's Day Alexander McQueen wallet or a Father's Day Gucci tie, DearMob Inc. hopes this special day could be made much more heart touching and sweet with the help of digital software. Take time and blend in dads' daily life to present them with something techie, something unique, and something truly helpful. Here DearMob Inc helps list 5 most useful and innovative software gifts for a unique Father's Day.
For A Fitness Fanatic Dad
What's the best way to guide and keep track of fathers' daily work-out, body state, nutrition and remind him drinking plenty of water? Apple Watch with Healthkit APP might be an elegant, cool wearable device to take this task. To be frankly, a great tracking APP installed on father's must-take smart phone would be lovely enough to record data and tour him in all sorts of fitness workouts with videos. Here, Stacked is a cool APP to track all the weightlifting; Mapmyfitness is a great workout tracker to track walk, run, bike ride and even dad's diet, sleep, and water consumption data. Carrot Fit is a warm place to get workout tips from, and Nutrients a caring APP to offer enough nutrients every day. These online APPs also gather groups to help keep father in company.
For A Music-loving Dad
Music now has so many forms of existence. Some dads not only have his favorite music DVDs for collection or playback in car, but also rip DVDs to digital tracks for enjoying anywhere. Although subscriptions to certain music streaming APPs like Groove, Spotify and Apple Music can be convenient, users can still help fathers download songs from online legally using a free music downloader software like 5KPlayer. For music DVD ripping, WinX DVD Ripper Platinum with creative editing feature is very easy to use for fathers even if they are alone. In addition, iPhone music transfer software is a very useful tool to help fathers make unique phone ring tones through one click.
For A Movie-phile Dad
Present father with subscriptions to Netflix, Hulu Plus, or Amazon, Vudu etc is no doubt a great pleasure for him, watching movie streams online on the phone/tablets wherever he goes. Do remember to help clear up dad's phone storage using MediaTrans if he doesn't know how to make room for new movies.
For A Shutterbug Dad
We might not be able to afford an expensive FUHD 3D VR camera, but photo editing and transfer software like Corel VideoStudio, Photoshop and DearMob iPhone Photo Transfer tool are totally affordable and worth keeping on computers. It's the simplest way to transfer those edited pictures from camera to computer and to iPhone iPad for father's proud sharing.
For A Game-loving Dad
The game APPs we like might differ greatly from our dads' taste. So it's okay that fathers are not interested in what we are playing. However, he might be very happy to know how to record his game playing on phones and computers. 5KPlayer's screen recording and snapshot feature might well satiate every game player father's appetite.
Whichever kind our father might be, though not the strict dad from recent hit movie Dangal, or the most patient father in the movie I Am Sam, or the tough man in Life as a House or Real Steel, he is the one who killed thousands of mosquitoes to protect his cherished little baby; he is the one who guarded us the night when thunder and lightning hit; he is the one who would love to be the ATM machine, the mentor, the friend, or the Baymax, to always be there as long as we need him. He is the superhero in our daily life and is always awesome to look up to no matter how tall we grow.
About DearMob Inc.
DearMob, Inc. is a vigorous software company which develops innovative video software. In pursuing the ultimate goal of providing users with omnipotent mobile tools, it never loosens the effort to research and develop practical applications compatible with the mainstream platforms like Windows, Mac, iOS and Android. In 2016, DearMob, Inc is ready to enable dynamic growth in the fast-growing mobile software market by delivering more convenience and entertaining helper to iOS and Android users. For more information about the company, please visit: https://www.5kplayer.com