How to AirPlay Mac OS X from iPhone/iPad/iPod with Ease
Written by Kaylee Wood | Last update: April 28, 2020
Ever had a song or video kept on an iPhone, iPod, or iPad, and wished you could play it on through the speakers and display of an OS X based Mac computer? Instead of copying the file over to the computer (which may not be allowed because of DRM anyway), you can turn to the free Mac OS X AirPlay receiver to receive the file directly from the iOS device iPhone/iPad to an OS X Mac computer. Setting up the Mac as AirPlay OS X receiveris all you need to do.
OS X, the operation system of Mac, gains great reputation for its simplicity and functionality. OS X keeps developing to elevate the experience of using a Mac, one case in point is that Apple puts ongoing efforts to upgrade AirPlay capabilities of the system. The number of Mac apps that came out promising to bring AirPlay on the desktop is quite overwhelming. An AirPlay OS X software is a program to wirelessly send media to Apple TV or AirPlay supported amplifiers and receive media from iPhone/iPad/iPod/Mac. A perfect AirPlay OS X program enables iOS to hook up to an OS X with little effort.
5KPlayer Brings Everything for AirPlay OS X| macOS Mojave
5KPlayer, compatible with OS X 10.7 or later, can receive an iOS or OS X|Sierra system video and audio directly over AirPlay without any third party apps or tweaks as well as send video and audio to Apple TV and AirPlay supported devices. Receiving the streaming media is almost in sync with sending. Updates are constantly issued for better user experience. With this free OS X AirPlay receiver, you can play Spotify, fire up Podcasts or Instacast on your iPhone/iPad/iPod, turn your OS X device as an AirPlay receiver to start a streaming session and you can listen to your favorite piece on better speakers, or to watch iMovie videos from the iPad on you OS X's giant 27-inch screen.
How to Set Your Mac as a Free macOS Mojave| OS X AirPlay Server?
Step 1: Download and run the free AirPlay OS X software on your Mac.
Setting up an AirPlay in 5KPlayer is simple enough and works the same whether you are looking to send and receive Airplay video or like in this case, audio.
Step 2: Set the AirPlay on 5KPlayer.
The overall procedures are laid out with a click on the bigger AirPlay icon on the middle right.
• Go to Preference > AirPlay > On. Name and password can also be specified here. It's best to set a password so people can't just start sending content to your screen in public places, such as a coffee shop or library.
• Or tap AirPlay icon on the top right of the main interface, or tap the AirPlay icon beside the progress bar while video or audio is playing, the icon will turn from dark to bright after successfully activated.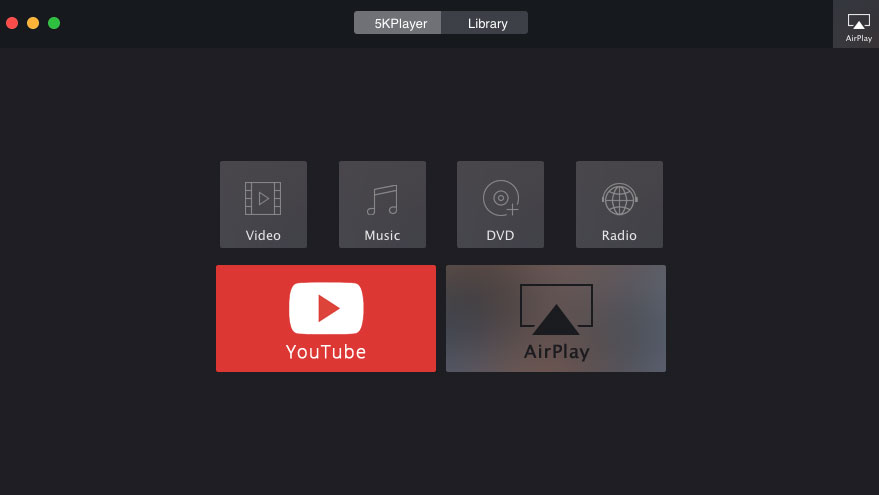 Step 3: Set on AirPlay sender and choose the OS X AirPlay receiver you have configured to receive streaming media.
Once the set up aforementioned is perfectly done, the receiving will proceed quite smoothly. Please note that the OS X AirPlay receiver must share the same WiFi with the AirPlay sender.

5KPlayer never refrains from exploring the features of being the most amazing all-around media player. Incorporated OS X AirPlay sender and receiver within the media player, 5KPlayer is often preferable if you are under the situation to receive the AirPlay media and seamlessly play it.
Home | About | Contact Us | News | Privacy Policy | Agreement | Site Map
Copyright © 2023 Digiarty Software, Inc. All Rights Reserved.
5KPlayer & DearMob are brands of Digiarty Software, Inc. Any third party product names and trademarks used in this website are property of their respective owners. All the related logos and images, including but not limited to Apple's AirPlay®, Apple TV®, iPhone®, iPod®, iPad®, iTunes® and Mac® are registered trademarks of their own. Digiarty is not owned by or affiliated with Apple Inc. and any of those companies.