Free YouTube Video Manager to Download and Manage Your Media Empire
Written by Kaylee Wood | Last updated: April 26, 2020
Can't stop downloading videos/music you like yet get messed up by those media collections saved in your computer? 5KPlayer, free YouTube video manager software, helps you get those fabulous A/V files on YouTube collected all in your pocket and have those videos well-managed.
[Warning] YouTube music & copyright-protected contents are not supported for download.
Download YouTube Videos Music with Free Video Download Manager
5KPlayer easily serves you as a powerful digital video manager that can efficiently download and organize your video files from online websites, sort out your favorite video/music files and customize your classifications.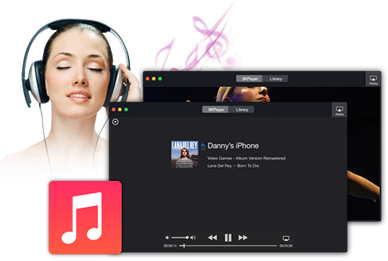 With the inborn nature of human being, we tend to by all means satisfy our desire to possess resources, acquire and squirrel something of our own. This also applies to media world especially when you are facing a whole bunch of great videos and music on YouTube. 5KPlayer is surely the best free YouTube video download manager that can help fulfill your lust.
How to Make the Best of This YouTube Video Download Manager?
5KPlayer offers not only YouTube but also over 300 online website video/music downloading opportunities. With a given URL, you can manage to download flash videos, 4K videos, MP3 music from YouTube, Facebook, Onlinemovies.pro, Sportify, Pandora, etc. to own some of those movies/music that tag you and speak for your uniqueness, and in the mean time, to get rid of the network influence and watch videos without waiting for buffering.
Simple steps to manage your video with this video download manager on YouTube:
Step 1: Download this free video management software and launch it.
Step 2: Copy the URL of the video/music on the YouTube websites.
Step 3: Past the URL in the analyze box of this YouTube video download manager and wait for analyzing.
Step 1: Click the download button after being analyzed while the info of the video/music being shown on the videostrip together with its thumbnail.
Note: You can select video format by tapping the setting icon, and free convert video clips to target formats.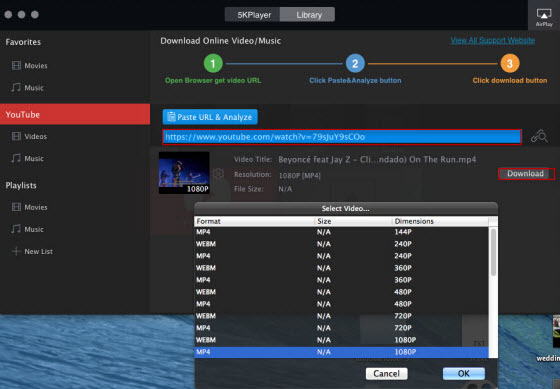 Now that you have those wanted movies and videos collected in your computer, but the problem is how to manage those fascinating movies and music ranging from Saw series, Star Wars series, Fifty Shades of Gray and all the way to Macklemore's MVs? The considerate 5KPlayer is all prepared to untie your trouble.
Free Video Management Software to Manage Your Media Collections
A good library is not defined by its collection of books, but its organization; and so is a video manager. For video enthusiasts, a powerful video manager that can well-organize all your media files is a must for easier searches and classification. By downloading this robust YouTube video manager, 5KPlayer will return you a tidy video/music collection.
What are the Video Management Options offered by 5KPlayer?
* Classification -How do i create a playlist in 5KPlayer?
By clicking the library icon on the YouTube video manager's main interface, you will see a column of list that includes Favorites List, YouTube List and Playlists classifying all your movies and music.
Tap the heart-shaped icon on the right lower corner of the video/music thumbnail (automatically generated), and it will be added to your favorites list. All the YouTube videos/music downloaded and played by this free video management software will be showed on the YouTube list, while the playlists shows all your recent playing history.
You can also create your own playlist in 5KPlayer by clicking "+New Llist" under Playlists to sort your horror movies, porn videos or music/video albums of certain stars or those that have won Grammy/Oscar awards. Any tag you like.
* Built-in Search:
You can filter anything you've played by this video manager as long as it still exists in the lists. 5KPlayer also provides detailed info of the videos/music that directly shows the location of the files in the computer.
* Take custom snapshots from videos
To take a snapshot from videos for making a unique wallpaper, you can press the hot key "F8" during vidoe playback. Snapshot floder can be found under Settings >> General.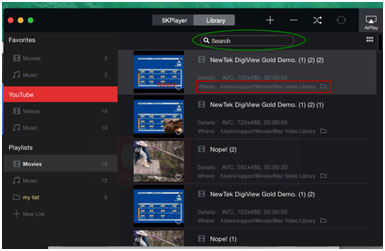 Apart from being an YouTube video download manager, 5KPlayer is also AirPlay-enabled that can stream 4k movies on Windows 10/8 and AirPlay on iMac Retina 5K, which inevitably helps you manage your videos by saving storage for more important use on both Windows and Mac platforms with their newest systems. With high resolution support, 5KPlayer provides great playback quality like playing 4K/5K/3D videos with no hassle.
However, the more video/music saved in computer, the more storage space of the computer is occupied.
Tips: You can either use the streaming function of 5KPlayer, which won't take up any storage space, or, resort to a professional video converter that can assist you in reducing file size by trimming, cutting, editing and compressing the videos you already have in your computer, and more importantly, as a video converter, it can also shrink the size by just converting the file to smaller formats like MOV, M4V with H.264 codec, or FLV, WMV, which are also suitable for playbacks on iPhone, iPad mini 3 Retina/Air 2, Galaxy S5/Note 4, HTC One M8, etc.
Related Articles
Free Download 3D MoviesLearn how to free download 3D movies online and watch it on your 3D TV with this free 3D movie downloader.
Home | About | Contact Us | News | Privacy Policy | Agreement | Site Map
Copyright © 2021 Digiarty Software, Inc. All Rights Reserved.
5KPlayer & DearMob are brands of Digiarty Software, Inc. All other products or name brands are trademarks of their respective holders. All logos, trademarks and images relating to other companies that may be contained wherein are applied in the Internet that are not used for commercial use. Digiarty's software is not developed by or affiliated with such companies.