Reasons and Solutions of YouTube Downloader HD No Video to Download Problem
1. Program bug. For some users, YouTube Downloader HD no video to download problem occurs when they update YouTube Downloader HD to the latest version, or someone confronted this problem without doing anything. This is due to YouTube Downloader HD program bug.
Solutions: these solutions seem stupid but they are worth trying as they proved to be useful in some cases.
a. Try to reinstall the previous version of YouTube Download HD if YouTube Downloader HD no video to download problem only occurs when you updated to the new version.
b. Try to update YouTube Downloader HD to the latest version if it stops downloading videos suddenly with your current version.
c. Try to click "Download" tab again and again like 3 to 6 times and downloading process will start.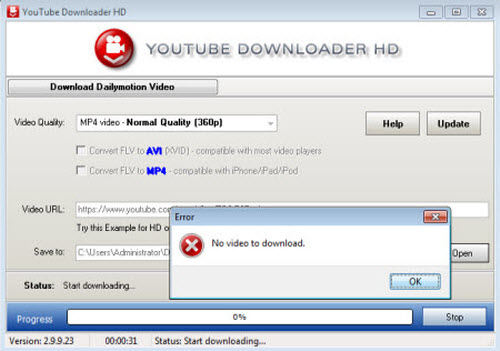 2. Not compatible with other program on your computer. It is common that one program does not function at the same time with another. Such as your media player, VPN, translating tools and so on may getting in the way while you are trying to download videos with YouTube Downloader HD.
Solutions: a. Test and find out the program that trying to stop you from downloading videos and shut it down.
b. Use all-in-one media player such as 5KPlayer to do your downloading, playing and streaming video files, lessen the program you installed on your computer as few as possible.
3. YouTube or other online streaming sites codec changing. YouTube.com constantly improves YouTube video coding, site design and layout, so does other online video streaming site. Each time YouTube updates, your YouTube Downloader HD stops working but showing no video to download, check out the frequent YouTube error and how to fix.
Solutions: a. To solve YouTube Downloader HD no video to download once and for all - try YouTube Downloader HD alternative – 5KPlayer.
b. To save copyright protected videos from YouTube, such as Disney movies, you can use Macx Video Converter Pro to screen record movies from YouTube and play offline.
5KPlayer is the best YouTube Downloader HD alternative that downloads YouTube videos and download YouTube playlist via URL. Simply paste the URL to the downloading window of this YouTube HD downloader and it will automatically parse the detailed information: video formats, audio formats and video definition and you are free to choose the desired formats range from MP4, MKV, AVI, WMV, 3GP, etc and video resolution from SD, 1080p, and 4K 8K ultra HD. What's more, it supports downloading 3D movies as well.
So, the best way to fix YouTube Downloader HD no video to download problem is to replace your YouTube Downloader HD with 5KPlayer, or install this top notched YouTube video downloader on your computer as your backup when YouTube Downloader HD saying no video to download again.