Top 10 Most Viewed YouTube Videos of 2015
The year of 2015 passed so quickly that you almost think it was not existed. However, the most popular YouTube videos can remind you what this year has experienced. The most viewed music videos, TV shows, or movie trailers, they are all stumped brands that we can hardly forget of 2015. Now read on to review the most viewed videos on YouTube of 2015 and to recall our memories of what we have thrilled at in the middle of the night.
Download Top 10 Most Viewed YouTube Videos 2015 for Free
5KPlayer is a free yet prominent YouTube video downloader tool that empowers you to free download the top most viewed YouTube videos/music videos and save them for safe keeping. You are free to use this tool to watch YouTube offline without extra charge.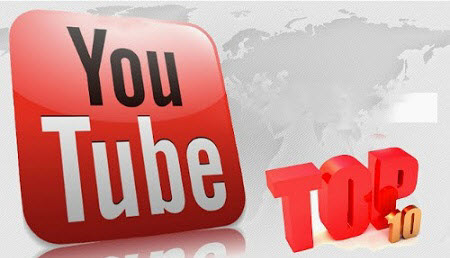 2016-2017 Top 10 Most Popular YouTube Videos [Updating]
[Tutorial] How to Download the Most Viewed YouTube Videos in 2015 >>>
Time flies, it was like yesterday that we were watching Ellie Goulding soulfully singing Love Me Like You Do in Fifty Shades of Grey, listening to Wiz Khalifa rapping See You Again in Furious 7, drowning in Adele's Hello. And right now, we are still lingering in the fight of Star War Force Awaken. Now join me to retrospect the top 10 most viewed YouTube videos in 2015, and see if you are interested to free download the top 10 most viewed videos on YouTube for safe keeping.
Top 10 Most Viewed Videos on YouTube (No.10 to No.5)

Most Viewed YouTube Video - The Hills
Artists: The Weeknd
Views: 489,941,142
Upload Date: May 27, 2015
As the second single from The Weeknd's second studio album Beauty Behind the Madness, The Hills is labelled with PBR&B genre and profound lyrics. Since the release, this No. 10 most viewed YouTube video topped the Billboard Hot 100 and lasts for five weeks, dethroning his own Can't Feel My Face and becoming his longest-running #1.

Most Viewed YouTube Video - Watch Me
Artists: Silentó
Views: 527,584,893
Upload Date: June 25, 2015
Watch Me (Whip / Nae Nae)'s singer Silentó was also chosen as the theme song for Alvin and The Chipmunks 4: The Road Chip movie. In five months, the song achieved over 50 million views which makes it the top 9 most viewed video on YouTube. It also remains at Billboard Top 100 for over 20 weeks, peaked at number 3 on the Billboard Hot 100.

Most Viewed YouTube Video - Bad Blood
Artists: Taylor Swift
Views: 684,340,443
Upload Date: May 17, 2015
This time you can see Taylor Swift did her own stunts in Bad Blood music video. This top most viewed video on YouTube received generally positive reviews from music critics, who praised its production and Lamar's guest verses. The song reached No. 1 in Australia, Canada, Israel, New Zealand, Scotland, and the United States, becoming the third song from 1989 to do so.

Most Viewed YouTube Video - Hello
Artists: Adele
Views: 837,180,873
Upload Date: October 22, 2015
Adele song Hello swept home the record-breaking view count 48 hours after its release. This latest and one of the most viewed YouTube video Hello attained international commercial success reaching number one in 28 countries including the United Kingdom, where it became her second UK number-one single, following Someone Like You , and has the largest opening week sales in three years.
Top 10 Most Viewed Videos on YouTube ( No.4 to No.1) >>>
Top 10 Most Viewed Videos 2015 that Aren't Music Video >>>
Top 10 Most Viewed Videos 2015 that Aren't Music Video
| | | | | |
| --- | --- | --- | --- | --- |
| Calum Scott's Britain's Got Talent audition | Justin Bieber's Carpool karaoke | A teaser trailer for Star Wars: The Force Awakens | The plastic ball prank | Frozen's Let It Go in real life |
| Advert for FIFA 16 | Inside Out make-up tutorial | Will Ferrell, Kevin Hart and Jimmy Fallon take part in a lip-sync battle | 6ft Man in 6ft Giant Water Balloon | Karate kid Jesse performs on Britain's Got Talent |
For most details about the most viewed YouTube videos of 2015, please free download 5KPlayer on this page to get a thoroughly looking into the most popular videos or music videos on YouTube. Plus this YouTube video downloader also playing YouTube videos in AVI, MKV, MP4, FLV, etc. Especially for its YouTube to MP3 function which allows you to convert the most viewed YouTube videos to iPhone/iPad/Andriod and to MP3 ringtone.