2016 Top 10 Most Popular YouTube Videos [Updating]
In the final stretch of the year 2016, do you remember what were popular? Another year coming to an end means another round to look back and dig out what had happened and what people focused on around the world. And the end-of-year list of most popular YouTube videos 2016 receiving millions of views and likes would help you grasp the point.
How to Free Download Most Watched YouTube Videos 2016?
You need 5KPlayer, the free and professional YouTube popular video downloader, to download most viewed YouTube videos MP4 MKV AVI 1080p HD 4K music MP3 etc and get files from other 300+ sites like Dailymotion, Vevo, Facebook, etc with fast speed and great stability.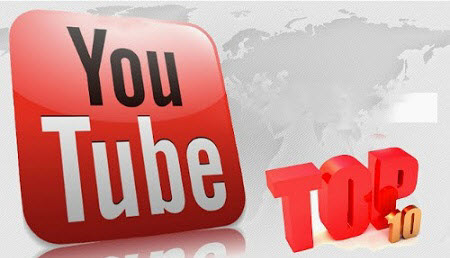 [Steps to download YouTube popular videos ->>]
Every day, a billion of people around the world watch more than 300 million hours of videos on YouTube, showing that YouTube has completely changed how we view content and YouTube popular is in a sense the world popular. So which one ranks No.1 in the YouTube most viewed videos list after 2015 YouTube popular? Who had hit the world? Here the year-end summary with a list of most popular YouTube videos 2016 will help you retrospect every hot moment of 2016 in a free way.
Top 10 YouTube Videos That Are Viewed Most with Millions of Likes
No 1. Work from Home
Artists: Fifth Harmony ft. Ty Dolla $ign
Date Published: Feb 26, 2016
Views: 1,178,257,580
As the most watched YouTube video, Fifth Harmony Work from Home ft. Ty Dolla Sign is surely the biggest hit in 2016 that has got fans crazy with its sexy cool and brainwashing lyrics and melodies, "You don't gotta go to work, work, work, work, work, work, work ; But you gotta put in work, work, work, work, work, work, work ……" Work from Home gained over 300 million views on YouTube in the first month, and also makes Fifth Harmony 7/27 album a success and helps this girl group get the winner of Best Collaborationin 2016 VMAs.
Guide to Free Download Popular YouTube Videos 2016-2017

Step 1. Free download the YouTube popular video download software 5KPlayer, then install and run it on your Mac or PC.

Step 2. Choose the most watched YouTube video you like and copy the video URL. Then click the red YouTube icon on the main interface of 5KPlayer.

Step 3. Click "Paste URL & Analyze" in the downloading window to enable analyzing process.
(PS: After analyzing, you can see the Preference icon next to the video cover. You can choose the video format and resolution you prefer to download.)

Step 4. Now you can click "Download" button to download the most viewed youtube videos in 2016.
PS: 5KPlayer is also a 4K video player that you can use to directly play these top 10 youtube videos with high-quality images and dulcet sounds. If you'd like to enjoy the YouTube popular videos MP3 on iPhone/iPad/Android etc, you can also use 5KPlayer to convert YouTube to MP3 with hassle.
Notice: You may have noticed that all of these most viewed YouTube videos are music videos, showing music is a great way to express artists' thoughts and reflect the life, and also much more acceptable to common people as you can play music on iPhone/iPad/iPod/Android anywhere anytime. Beisdes that, 2016 is also full of hot TV series like Game of Thrones 6, HBO Westworld, The Walking Dead season 7, game shows like NBA finals 2016, movies like Captain American: Civil War, Zootopia, US president debate, etc, you can also use the best free YouTube popular video downloader 5KPlayer to free download them all.
Top 10 Most Viewed YouTube Videos in 2010 - 2015
| | | | | |
| --- | --- | --- | --- | --- |
| Rank | Year | Video Name | Artist(s) | Views (billions) |
| # 01 | 2012 | Gangnam Style | Psy | 2.701 |
| # 02 | 2015 | See You Again | Wiz Khalifa ft. Charlie Puth | 2.232 |
| # 03 | 2015 | Sorry | Justin Bieber | 2.042 |
| # 04 | 2014 | | Mark Ronson featuring Bruno Mars | 2.014 |
| # 05 | 2014 | | Taylor Swift | 1.871 |
| # 06 | 2015 | Hello | Adele | 1.803 |
| # 07 | 2014 | | Taylor Swift | 1.767 |
| # 08 | 2013 | Roar | Katy Perry | 1.660 |
| # 09 | 2010 | Baby | Justin Bieber featuring Ludacris | 1.500 |
| # 10 | 2011 | The Lazy Song | Bruno Mars | 1.001 |