Streaming VS Downloading | Whether Music/Video Streaming Is Better than Downloading?
Modern technology is to serve life with faster and higher quality. Of course, practicality is the foremost element. From media entertainment aspect, which way do you prefer to enjoy video movies? Are you fond of downloading video movies or streaming them? The streaming VS downloading comparison is to figure out whether streaming is better than downloading and the difference between streaming and downloading.
5KPlayer – Offers You the Best Downloading and Streaming Quality
Streaming or downloading? No matter which one is better, the ultimate purpose it to watch movie video. To reach this goal, 5KPlayer can help you at the large extent. With the support of downloading various 4K, 8K, 1080p videos from YouTube, Facebook, Dailymotion quickly and easily, this video downloader also equipped with built-in AirPlay receiver and sender to free streaming video audio from iPhone, iPad, iPod, Apple Watch to Mac OS X and Windows 10/8/7 and vice versa.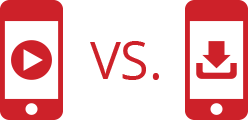 1. Streaming VS Downloading: Which One Has Better Quality?
Most people concern more about the quality when they tell the difference between streaming and downloading. In general, when streaming and downloading a SD video, the picture and sound quality are almost the same. But if the target video changed into the 4K, 8K UHD or 1080p HD video, the streaming quality is depends on bandwidth at a great extent because the clearer videos require faster bandwidth. For instance, when streaming HD videos on Netflix, it needs at least 5 Mbps on Internet speed while 8 Mbps is required for stream 4K/8K UHD videos quality. Otherwise, the streaming video would possibly stop or reduce the quality if connection is not smooth enough. Consequently in this round, downloading VS streaming contrast's winner is downloading.
2. Streaming VS Downloading: Buffering, Space, Video Source
Speaking of buffering, for the smooth video experience, it may need only a few seconds to buffer or preload a relatively huge size video like 4K 8K while downloading may cost massive time. And undoubtedly, downloading uses more specific memory for local storage. Generally speaking, to download a 4K video (4 minutes) may need more than 700 MB free space. But we have to mention that if there is no network connection, a downloaded video would be 100% better than streaming video.
In addition, another advantage of downloading is that you can download videos for playback on your devices in case of the video source is deleted.
3. Differences between streaming VS downloading: When it Comes to Music VS Video
When comparing streaming VS downloading music and video, the outcome is depends. When enjoy music, we are highly recommended you to choose streaming. Streaming music can help you choose your favorite music quickly and it doesn't take any space. However, on the video side, downloading is winning upon streaming.
To sum up, the streaming VS downloading comparison result is: downloading wins streaming. The pros are as follows: the losslessly video quality; the ability for playback on various devices; can be stored locally and use it offline; there are plenty of legitimate websites support for downloading; only needs Internet acces.
How to Free Download Videos from YouTube, FaceBook, Yahoo, etc?
Since there are many advantages of downloading videos, where is the trustworthy yet free video downloader?
5KPlayer, it's an all-in-one free video downloader supporting you to freely download 4K 5K 8K UHD and 1080p HD videos quickly and safely. After the streaming VS downloading music and video comparison, we know a fast video downloader is badly needed. Luckily, this video downloader enables you a 300% more efficient way to install and download video.
When comparing downloading VS streaming in terms of supported websites, the downloading video sites are undisputed more than streaming video sites. And this video downloader is born to meet your requirements. It helps you downloading video movies from 300+ online video sites like YouTube, Facebook, Yahoo, Dailymotion, Metacafe, MySpace, Vine, UStream, MTV and so on.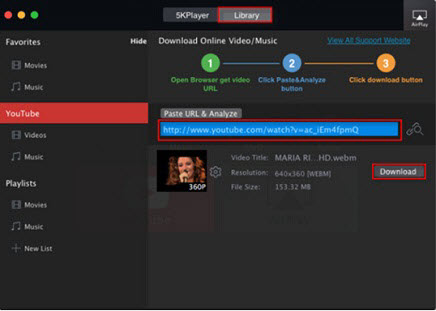 5KPlayer, a utility YouTube video downloader and perfect AirPlay Streaming Sender, allowing you to easily download videos and free stream AVI, MP4, MOV, MP3, M4V and AAC from Mac and Windows 10/8/7 to Apple TV, AirPlay speakers wirelessly. Better still, this video downloader and AirPlay sender enables you to play DVD, 4K, 8K, 1080p videos, and play radios like BBC, Heart, LBC, Kiss and so on.