Free Download Shakira Songs Try Everything MP3 from Zootopia
Shakira Try Everything MP3 MP4 takes Shakira beyond 63 million views on YouTube! This Zootopia Shakira song, a splendid part of Shakira's play is sure to linger in your mind after first hearing it from Judy Hopp's iPod on her train to Zootopia. There are tons of stories happening to Judy Hopps but keeps reminding you of yourself. Shakira perfectly puts her aspirations, passions, and dreams of life and into Try Everything lyrics, inspiring you to dream hard till dreams come true. you may either wait for Shakira songs Try Everything to come out with her 2016 album, or free download Zootopia Shakira Try Everthing MP3 here to get a fresh bite.
[Notice] Please comply to copyright law in your country&region to download Shakira Try Everything.
2016-17 Best Hollywood Movie Songs MP3 MP4 Free Download >>
Shakira Try Everything MP3 managed to jump to Billboard Hot 100 at No. 66 after Zootopia Shakira Try Everything official music video released at March 3rd, ranking utsekf in Digital Songs at No. 22 (33,000, up 921 percent).
This is a compelling clue throughout the Zootopia full movie, depicting the dreaming-chasing bunny - Judy Hopps - working hard for her childhood dream to be a policewoman. Despite ups and downs for her as a newbie, and Chief Bogo holding her back from the first sight, Judy managed to make a dent with her mini built.
This song carries lasting temperature in YouTube, with quite a few listeners comparing it to "Let it Go" in Frozen, the 2013 Disney animation theme song that achieved both popularity and duration. Shaki is sided by such remarks as " Zootopia is better than frozen!!!! --- Comments from Stephanie Winn; while also opposite views. What do you say? Guess you can only free download Shakira Try Everything MP3 to listen!
Shakira Try Everything lyrics has the magic to liven you up from weary - Remember how she managed to wag you up with the impressive "Tsamina mina eh eh / Waka waka eh eh / This time for Africa" in 2010? So does Try Everything! Play it once and you won't be able to forget the rhythm. Now, Bet you awfully want to free download Try Everything MP3 MP4 , a catchy tune presented by pop star Gazelle, the smart Cartoon counterpart of Shakira in Zootopia, and also one of the best graduation songs 2017, so scroll down to find how!
A recent Shaki's photograph on Tiwtter shows her writing songs for the eagerly-awaited 11th LP 2016. When would it actually come out? You know we are all waiting!
Where to Find Zootopia Shakira Try Everything MP3 Download?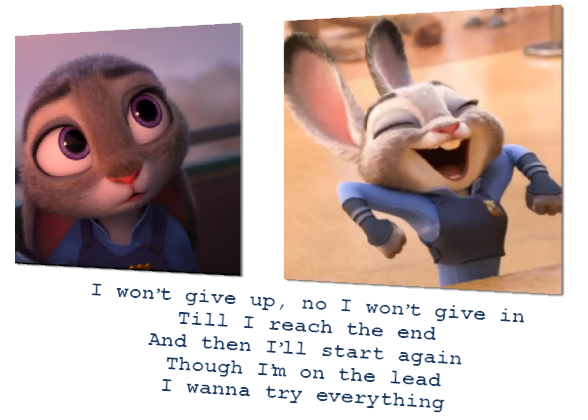 Shakira Songs Try Everthing MP3 + Zootopia - A Perfect Partner 2016

The join-hand of Shakira Try Everything music video with Zootopia makes your theater time full of laughters and melting hood.
It's almost a decade from debut of "Hips Don't Lie" to the release of Try Everything Shakira, and this Columbian beauty and supermodel is somewhat tender-soft and mother-like than before with her musical performance in Zootopia as "Gazelle".
Shakira has made Try Everything available on plenty of platforms including iTunes, Amazon Music, etc. Official video of Zootopia Shakira Try Everything has reached over 30m streams on YouTube 2 weeks since its release, but how to download Try Everything Shakira MP3, MP4? Scroll down.
Zootopia gives you the power to fight for dreams irrespective of despise, and you can tune in to the Shakira Try Everything lyrics to find the motivation driven you forward - from lines of the lyrics. So, in order to free download Shakira songs MP3 MP4 music video to iPhone, let 5KPlayer help you download Try Everything to MP3 and transfer from computer to iPhone and enjoy!
How to Download and Listen to Shakira Song Try Everything MP3 MP4?
Currently Shakira Try Everything music video is available on YouTube and Vevo already, single purchase is also available on Amazon and iTunes. If you insist downloading Zootopia Shakira Try Everything music video, 5KPlayer is the best choice. In the light that Shakira Try Everything album is still under preparation, you can easily find Shakira videos from YouTube, Vevo, and Shakira songs from iTunes, then get 5KPlayer to free download online music. In case you want to make a ring tone out of Shakira videos, 5KPlayer suit just fine to convert Try Everything music video to MP3.
Tutorial on Shakira Songs Try Everything MP3 Free Download
Step 1: Free download and run 5KPlayer - the peerless Shakira songs downloader for Mac and PC, and then click "YouTube" button on the main interface, you will then jump to Shakira video download window.
Step 2: Copy the URL of Shakira songs Try Everything from YouTube, Dailymotion, Vevo, Soundcloud or other 300 online music video sites.
Step 3: Click "Paste URL & Analyze". The detailed information of Shakira songs will show up below the address frame.
Step 4: Now press "Download" button to finish Shakira video downloads.
Notes: If you'd like to download Shakira songs Try Everything to iPhone/iPad, first use 5KPlayer to save the target video to your PC/Mac, then you may tranfer music from computer to iPhone using USB sync. Should you meet the case when your smartphone doesn't support Shakira video format, learn how to change video format because iPhone only recognizes MP3, AAC music and MP4, MOV, M4V movies.
Other Shakira Songs/Videos You May Want to Download and Listen To
1. Shakira Dare (La La La)
The third cooperation of Shakira songs with 2014 World Cup. She just never fails to impress the world with Shakira Dare (La La La). Being the unofficial theme song of 2014 FIFA World Cup in Brazil, there is every reason to believe Ola Ola was finally chosen the formal not because it is better! You may free download both Shakira La La La and watch We Are One (Ola Ola) on YouTube to see which you actually prefer!
2. Waka Waka (This Time for Africa)
Shakira Waka Waka (This Time for Africa) is the official song of the 2010 football World Cup. This catchy piece, as Shakira described herself, is " an unforgettable part of the global excitement - 2010 FIFA World Cup". Her join-hands with South African band Freshlyground injects a kind of unity and openness into this 2010 event.