Part 4. www.kissanime.io Information
KissAnime Wiki: KissAnime is a free anime sharing website offering high quality, high-definition anime videos online, ranging from 720p to 1080p. Established in 2002, this website became an instant hit in providing Japanese animation videos with English subtitles for free. More than one URLs redirect to www.kissanime.to, known as the main domain so far. During its development. KissAnime suffered from a shut-down in 2015 before it regained stability and popularity.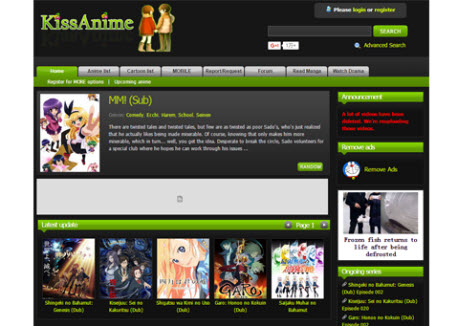 KissAnime video resolution: 720p to 1080p videos take up the majority of the videos provided online, while KissAnime mobile site also provides 360p videos (html5 video).
KissAnime Security Issues: KissAnime is regarded as safe on the consumer level. But you should watch out for malicious code coming through the advertisement.
[Note] Please comply to copyright law in your country & region when trying to download from KissAnime.
KissAnime Free License: Registration, anime streaming and downloading are offered for free on KissAnime.
Part 5. Why Choose 5KPlayer as KissAnime Downloader for Windows 10?
If you're an old KissAnime visitor, you might have run into such problems like "KissAnime Down" or "KissAnime not working". It's time you resort to a free and reliable online anime video downloader that helps you save anime 1080p 720p in MP4 to computer while the website server functions properly. Among all options out there, 5KPlayer stands out among the rest as a KissAnime downloader for Windows 10, drawing from its previous successful experience as a 4K video downloader, it can download online movies, video clips and TV player from 300+ video sharing websites. Filtering all virus&malware for your computer, you can rest assured and download KissAnime videos like Dragon Ball Super superfast.
Part 6. Why You Shouldn't Choose KissAnime Download via KissAnime Downloader Online?
Though there are plenty of ways to achieve KissAnime download, and a KissAnime downloader online is indeed a frequently-used choice, here's why you're less recommended to use one of them: Unlike 5KPlayer, the standalone KissAnime downloader that relies on Internet sniffing technology, the performance of most online downloaders are less stable, thus resulting in such problems as Clipconverter down, or Keepvid not working.
To achieve stable KissAnime download in 720p/1080p, 5KPlayer is still a top-of-the-line choice.
Part 7. 2016 KissAnime Official APK Info
Instead of an official APK from Google Play there're only unofficial KissAnime apk provided by 3rd-party companies - which you'll need to use at your own risk. Released on December 13, 2016, the 455kb downloader works seamlessly on Android 4.0 or up. Still here's another way to watch anime and manga on your Android device - a Google Play Store APP called JP Anime.
To achieve stable KissAnime download in 720p/1080p, 5KPlayer is still a top-of-the-line choice.