How to Transfer Beats Music Songs Playlist for Local Storage Free
Now that apple has shut down Beats Music service, leaving our Beats Music stragglers at sorrow, where can they go on this issue? Abandon Beats Music app/APK right away for Apple Music? Subscribe to other music streaming services? Or not! Choose standalone 5KPlayer, the ultimate solution to move Beats Music songs locally for free listening without registration or subscription.
5KPlayer – The Best Free Beats Music Songs Savior
Still wasting you time trying to migrate Beats Music songs to Apple Music? Well, 5KPlayer is here to free you from all those troubles. This free Beats Music songs downloader offers you a 100% clean and fast platform to free download Beats Music playlists for local storage with 100% quality reserved.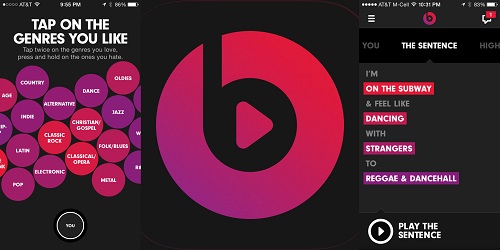 Best Way to Transfer Beats Music Songs
Though Beats Music has been shut down on Nov.30th, people can still migrate their music playlist from Beats Music to Apple Music before the deadline –Jan. 19th 2016. However, those who are angry with Apple Music's acquisition have every reason to resist the adoption of Apple Music. Even though Apple is using its 3-month trial as an incentive to drive acception, many problems rise along with this substitute - Having no clue how to even make a playlist; Annoyed by Apple's automatic subscription; Transferring Beats to Apple music and end up in vain; Upgraded to a Family Membership and get nowhere...
So here we first recommend you the most reliable choice - Transfer Beats Music playlists locally
You can stick with your current Beats Music until Jan.19th if you don't like Apple Music, and in the mean time, make the most of 5KPlayer to free download your Beats Music playlist from online Beats Music sources and fuck off those music streaming service subscriptions and the change of hands. You can build your own local music streaming empire/server by yourself for FREE! 5KPlayer allows you to download Beats Music songs from over 300 online music sites like VEVO, Dailymotion, YouTube and convert them to MP3, ACC for listening on the go with your iPhone, Apple Watch, Windows Phone etc. You can also customize your own playlist, tag your favoriate Beats Music songs, and add subtitles to them.
Choice 2: You can turn to other music streaming services like: Spotify, Google play music, Pandora etc and build up new playlists instead of moving Beats Music Playlists. These are also trustworthy music streaming services that can offer music enjoyment in their own ways and hopefully they won't shut down one day.
Choice 3: It seems that you are left to obediently port your Beats Music songs to Apple Music and swallow the 3 month free trial.