Best Free Alternative to Keepvid Without Java
Keepvid, Keepvid, Keepvid. When we want to download online videos, we typically think of Keepvid, but there are some things that Keepvid fails to do, or can't do well, that's why Keepvid alternative makes sense. 5KPlayer capable of downloading videos from over 300+ sites in a matter of seconds is a great choice. As one of the best Keepvid alternatives for Mac and Windows 10/8/7, it is totally free and clean, no safety issues, no Java needed.
How to Download Online Videos with Top Keepvid Alternative?
If you are sick of Keepvid not working problems or Keepvid virus, spam, adware, etc., try 5KPlayer! 5KPlayer tops all alternatives to Keepvid owing to its amazing stability, fast speed and multiple functions. Literately, it's much better than Keepvid.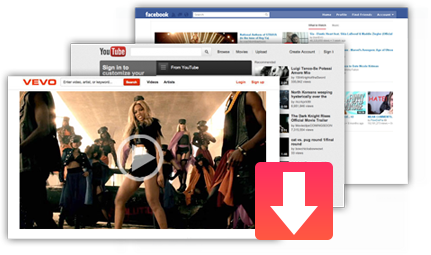 Why is Keepvid Alternative Needed ?
I quit Keepvid and switch to Keepvid alternatives for the following three reasons. First, Keepvid not working problem occurs unexpectedly and is hard to solve. Second, Java trouble is inevitable. What's more, Keepvid safety issues, like Keepvid virus, spyware, malware, spam, etc. drive me crazy. No offence, but a Keepvid alternative without java and virus is preferred.
What Makes 5KPlayer the Best Keepvid Alternative?
What makes the recommended alternative to Keepvid - 5KPlayer superior to others is that it downloads videos in batch from over 300 online sites including YouTube, Facebook, Vimeo, Vevo, Metacafe, Dailymotion etc. With amazing stability. The efficient Keepvid alternative, meanwhile, does a great job in HD videos download with various video formats supported, like AVI, MOV, AVI, MKV, WMV, FLV, MP4, to name just a few and solves Keepvid not downloading youtube videos perfectly. Moreover, It is perfectly compitable with both Windows (10) and Mac OS X(El Capitan). The nifty free alternative to Keepvid needs no Java, plugins or third party help. It is 100% clean with no spam, no virus, no spyware, no malware, and no adware.
How to Download Videos with the Best Keepvid Alternative 5KPlayer?
Step 1: Free download and launch the marvelous Keepvid alternative for Mac or Windows. Click "YouTube" button to start downloading online videos. Though the main interface only shows YouTube, in reality, you can click the button to download videos from more than 300 sites.
Step 2: Copy and pate the URL of online videos to the box frame correctly. And detailed information of the video will be analyzed automatically.
Step 3: Click "Download" button to save the video.
Note: 5KPlayer is also the best free Keepvid alternative when referring to Keepvid MP3 download.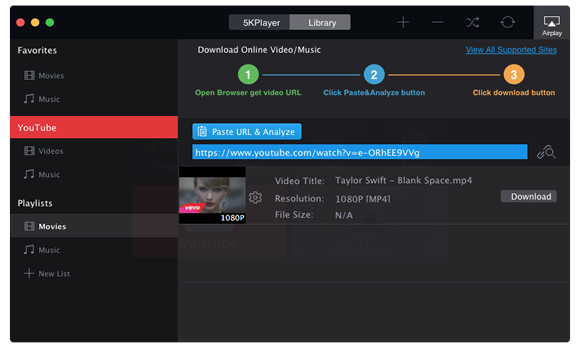 Bonus Features of the Free Keepvid Alternative
To save videos from various sites, you are not restricted to Keepvid, the Keepvid alternative - 5KPlayer provides a hassle free way to download videos in any format from 300+ sites. Better yet, it comes with features of playing video audio file and any region DVDs, be it in MP4, MKV, AVI, FLV, WMV, MTS, or MP3 music, FLAC, AAC and other audio files. This powerful Keepvid alternative also serve as an AirPlay receiver & sender that offers you a way to stream movies, videos and music from iPad, iPhone to Mac or from Mac to Apple TV, AirPlay-enabled speakers, etc.