What Are We Going to See in the First Episode of New Star Wars Trilogy?
- Just for the old fame's sake or for the Star Wars 7 alone?
To rethink about the Terminator, which also has been highly praised for over thirty years from 1984 to 2015, yet its newest movie sequel (free download Terminator Genisys 2015) barely satisfies us terminator-philes because of style change and significant drop in the quality of special effect. Farewell to its classic bloody scenes so that they may (or not) take younger people's fancy, and meanwhile make us disappointed. Then how about Star wars 7? With Lucas Film being merged by Disney, will its authentic style be kept?
Star Wars the Force Awakens Director: Trustworthy
Now that Lucas is totally out of the project, Hollywood producer J.J. Abrams, the director of Star Trek into darkness, the highest-grossing movie in 2013 North America, might be the most convincing director to take up this task. Though failed in box office of Mission Impossible 3, we still believe that he has the insight and capability to make Star Wars 7 a great success.
It is reported that J.J. Abrams, in order to press the style close to oldest Star Wars trilogy in 70s, stuck with 35MM film shooting (maybe cross use IMAX for IMAX 3D) and employed many flight models and VFXs. The original set for 1977 Star Wars New Hope in Morocco was even recommissioned for this cause. After watching Star Wars 7 trailer, you'll get aroused by a strong sense (or maybe too much) of deja vu. May the force be with you.
Predicted Star Wars 7 the Force Awakens Plot: Novel
30 years after Galactic Empire was defeated, Sith was dead and so as Jedi warriors. Luke turned out to be the last Jedi. For the fear and love of the Force, Luke hided himself from people for decades. Years later, our two new characters encountered the map of Luke's location and his lightsaber. They set out to find him. The major villains of this episode are well crafted. The rivived Sith? Luke himeself? Gwendoline? Han Solo and Leia's son? Or, all of them? There should be a war between the Inquisitors of First Order and the resistants since the First Order has built a Starkiller Base as their base camp with a super weapon to destroy stars and Solar. How can we stop them? Now you can free download Star Wars 7 trailer for plot deduction with those hidden clues before going to cinema or directly downloading Star Wars the Force Awakens Movie for enjoying at home. Click for official Star Wars 7 plot.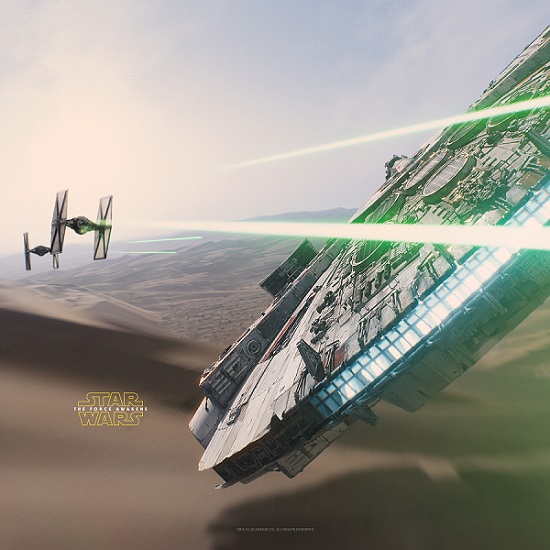 Star Wars the Force Awakens Starring: Natural Transition
Our old dudes like Harrison Ford (Han Solo), Carrie Fisher (Princess Leia), Mark Hamill "R2-D2" Kenny Baker, "C-3PO" Anthony Daniels, Peter Mayhew (Chewbacca) will be back this time. New stars like John Boyega and Daisy Ridley will become the hero and heroine of this trilogy. Besides, Gwendoline Christie, the warrior Brienne of Tarth in GoT, will also join in the Star Wars family. Can you recognise which charater Gwendoline takes in Star Wars 7? Go find her yourself.
Star Wars 7 the Force Awakens Brief Review [Spoilers Contained]
It seems that this time, Star Wars 7 still unable to avoid criticism and complaints of our Star Wars fans: "It cribs too heavily from George Lucas' original trilogy." "Though i liked it, it's obvious a total rip-off!" Same confrontation between the two sides - Dark and Light (the resistants army led by Leia, only that she is getting old now); same circumstance that you and your father are ended up on opposite sides; same way of delivering important message - relying on a robot and it always gets away. And the heroine - Rey seems to be overwhelmingly capable in this episode, capable of flying almost anything (a natural pilot), knowing Falcon better even than Solo, defeating Kylo Ren using the Force by self-teaching(strong in the Force), which lead us to question the identity of Rey. Luke Skywalker's daughter? Kylo Ren's sister? Kenobi's granddaughter? Phasma's daughter? Discover who is Ray here. Maybe this is what J.J. Abrams intends to do - salute the franchise's past while paving the way for its future, e.i. "to go backwards to go forwards." However, the good new is that the Star Wars VIII directed by Rian Johnson will not be like anything in the franchise before.