Free Download Pandora Songs in MP3 with High Quality
Why download Pandora Songs? Music lovers, especially those who love to listen to music on the go, they like Pandora music radio. When it comes to good music discovery, music station creating, music playlist making, Desiinger Pandora gives its best. You can also listen to the most up to date music free like Drake one dance, Desiigner Panda, 7 Years and Meghan No on Pandora as well. However, you can't listen enough Pandora music unless your upgrade your Pandora account, that's a top reason why you need to download Pandora songs but how to download music from Pandora?
Top Free Pandora Music Downloader Free Download
5KPlayer offers free access to download MP3 M4A music from Pandora, YouTube, SoundCloud, etc on Mac and PC and it is also the best Pandora music downloader to download Pandora songs and transferred to iPhone Android. Free download this Pandora music downloader now and fed up your music list.

>>>How to Download Top Songs of 2015: MTV VMA Billboard Music Awards
Pandora music downloads method 1: Free Download Pandora Songs with Chrome
Guide on using google chrome to download Pandora Songs free.
Step 1: Open Google Chrome and then type "Pandora.com" on the address frame to go to the Pandora official site to download Pandora songs.
Step 2: Select your favorite Pandora song and set it play.
Step 3: Right click on the blue board on the side of the Pandora music information, select "Inspect".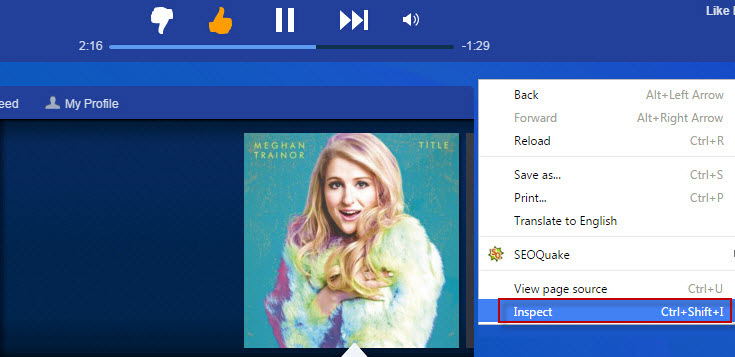 Step 4: Free download Pandora songs in a little bit confusing process.
a. From the list options, click "Internet".
b. Click the cross out circle to clear previous data.
c. Make sure your Pandora is running and then click to switch to the next Pandora song or just wait for a few seconds for the audio to show in the real time board.
d. From the list, you can find your audio file by distinguishing the file size or file type. By file size, just simply click the "size" option to put the files in descending order and just go to the top to select the largest one.
e. When you find the Pandora audio file, right click the target Pandora song to be downloaded and then choose "open in a new tab".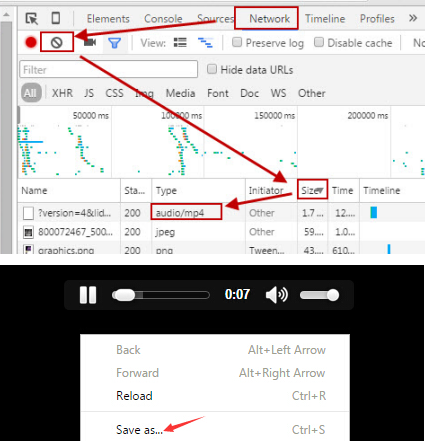 Step 5: You will come to a window where playing the target Pandora audio, just right click it and choose "save as", the Pandora music will be downloaded in M4A though Chrome and saved in your preferred music file.
Got it? A little bit confusing but indeed helps, you just need to try and you will find it is an absolutely free and clever solution to download Pandora songs with Chrome. Is there any other way to free download Pandora music? You bet there is, which is to use Pandora music downloader – 5KPlayer.
5KPlayer - Ultimate Free Solution to Download Pandora Music
Unlike some Pandora music downloader software, 5KPlayer is 100% free and safe to download Pandora, YouTube, Vevo music with no plug ins. The music downloaded from Pandora are often in M4A which is not so commonly used, but 5KPlayer is able to download YouTube, Pandora to MP3 audio for free.
Top reasons why you should choose 5KPlayer as your default music downloader.
☆ This Pandora music downloader not only download music from Pandora, but also from YouTube, Facebook, Vine, Soundcloud and 300+ online music video sites.
☆ As the best free Pandora music downloader, 5KPlayer fully supports download music in different audio format, it is very easy and free to convert YouTube music to MP3 or AAC to set Pandora music as ringtone.
☆ 5KPlayer is not only a Pandora music downloader or YouTube music downloader, it is also an excellent free music player to play music in 180+ audio formats such as MP3, OGG, AAC, M4A, FLAC, etc.