YouTube to AAC Converter: Easiest Solution to Convert YouTube to AAC
Written by Kaylee Wood | Last updated: April 27, 2020
With AAC relaying MP3 to be the next generation of popular music format, how to convert YouTube to AAC gets in the way of many like they used to wonder how to convert YouTube to MP3. One small question to make clear before trying to find a YouTube to AAC converter is that whether or not your device supports the device – Most PCs and Mac with appropriates AAC player works fine with AAC. Well if yes, first take a look at the free standalone YouTube to AAC converter recommended below.
A Potent Free YouTube to AAC Converter – 5KPlayer
The free 5KPlayer features 1-click convert videos, music videos downloaded from YouTube to AAC, MP3 as fast as dear. Indeed a creative idea to help you build up a whole music library of AAC (Advanced Audio Coding), click to download it right now.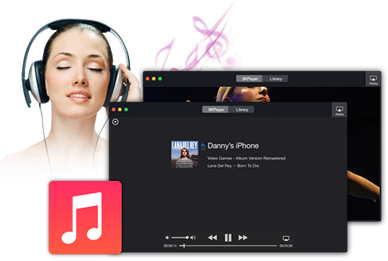 Why We Need to Convert (Download) YouTube to AAC?
Back in May 12th when news from Engadget indicated that the big name MP3 in traditional sense is no longer and that AAC hopefully will dominate for at least the near-future with its better-off sound quality and transparency. The demand to convert YouTube to AAC picked up overnight with hundreds of thousands of users on their quest for a reliable and relatively permanent YouTube to AAC converter.
Method 1: 1-Click Convert YouTube to AAC Music File
Choosing a free AAC player for Mac (macOS High Sierra) & PC (Windows 10) with built-in YouTube to AAC convert function is a creative solution to extract AAC audio from any available YouTube videos online.
Unlike the YouTube to AAC webpage download tools, which requires manual upgrade from the developer side when the YouTube to AAC tools not working, the free 5KPlayer sports a dynamic analyzer to automatically download YouTube to MP3, AAC – even under circumstances of script adjustments. It intelligently helps you: (1) Download YouTube videos, movies directly into AAC and MP3; (2) Convert MP4, MKV, AVI, etc to AAC 1-click only; (3) Create personal playlist & put music into shuffle-play. Here's how you can 1-click convert YouTube to AAC in 10 seconds.
Step 1: Free download, install and launch 5KPlayer for Windows 10 or Mac, click on "YouTube" on the main panel to visit the smart online YouTube to AAC download board.
Step 2: Visit YouTube, search for the music title to download, find the URL of a valid playback page, and then copy the address.
Step 3: Hit on the "Paste URL & Analyze" button, when the video thumbnail shows, click on the gear icon > Show All > Slide all the way to list end > check "Quality: Audio, Format: m4a (AAC)" > Click on "Done".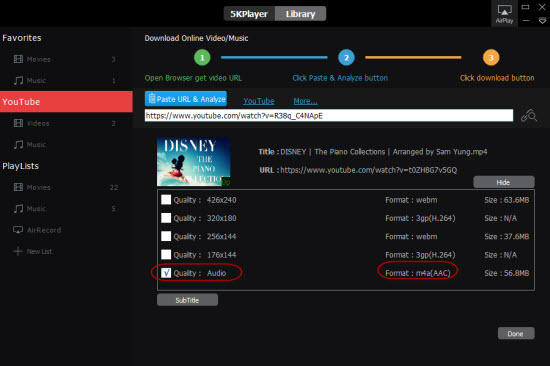 This process involves AAC music extraction from YouTube videos, by default music files will be saved to C: > Users: > Videos: > Downloaded Videos. The other way round, this YouTube to AAC downloader can also help with local video files, steps shown in Method 2.
Method 2: Convert Local Videos to AAC with Free AAC Converter – 5KPlayer
As long as you drag-n-drop a video to 5KPlayer, you may go with its built-in converter to replicate an AAC copy out of the video. Here's how you can do that:
Step 1: Visit the YouTube panel through 5KPlayer's main UI.
Step 2: Click on the very YouTube video to convert to AAC, click on "Convert", then "Convert to AAC".
A small red circle with "1" will show on the top-right corner of the "Music" tab on the left-hand task bar when YouTube to AAC conversion is finished.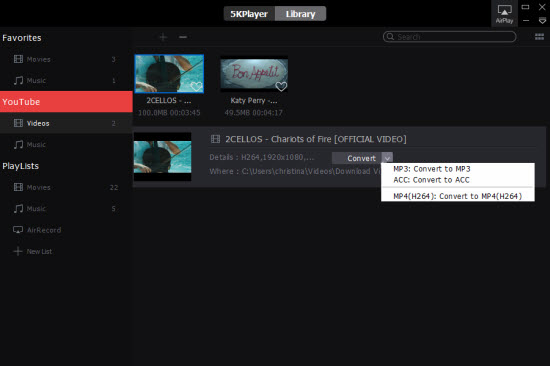 [Solved] YouTube to AAC Not Working (www.youtubeto.com)
Generally considered as the relay of MP3, AAC sports better-off audio quality and transparency when codec at the same bit rate. AAC is a lossy digital audio compression standard, taking up less space on computer, thus popular among many.
For those who want to convert YouTube to AAC online, www.youtubeto.com isn't a bad choice as it's currently free of any bundle-ware. However, if you run into the following cases as Lucas do,
"Tried numerous songs that I'm trying to convert using youtubeto.com, it's giving me" the service is not available from your jurisdiction.
Any ideas why? I believe this converter can work with YouTube to AAC well, could this be my WiFi or is it a website issue?"
By and large, YouTube to AAC not working happens when the video hosting is adjusting scripts for better performance, in that a dynamic analyzer is absent, which can quickly adapt itself to latest download tasks.
That been the case, just consider 5KPlayer – the standalone free YouTube to AAC converter with batch download functionality, while also download YouTube to MP3 if you devices just won't recognize AAC. Click to free download it below!
Home | About | Contact Us | News | Privacy Policy | Agreement | Site Map
Copyright © 2021 Digiarty Software, Inc. All Rights Reserved.
5KPlayer & DearMob are brands of Digiarty Software, Inc. All other products or name brands are trademarks of their respective holders. All logos, trademarks and images relating to other companies that may be contained wherein are applied in the Internet that are not used for commercial use. Digiarty's software is not developed by or affiliated with such companies.