Hipped on Marvel super heroes' movies and wanna know what to expect in the upcoming Marvel Movies aside from Captain America: Civil War? Here you'll find the top-rated Marvel flicks coming soon in 2016-2017 and some already released Marvel super heroes films to catch-up in 2014-2015.

What Are the Upcoming Marvel Comics Movies 2016-2017 to Look for?
1. Thor: Ragnarok (Nov 3, 2017)
2. Spider-Man: Homecoming (2017)
3. Untitled Wolverine Sequel (March 3, 2017)
4. Deadpool 2 (2017)
5. Guadians of the Galaxy 2(May 5, 2017)
6. "Luke Cage" (2016)
7. Doctor Strange (Nov 4, 2016)
8. X-Men: Apocalypse (May 27, 2016)
9. Captain America: Civil War (May 6, 2016)
Best All Marvel Movies Free Download Here in Full Length
To free download all Marvel Movies/super heroes' films, 5KPlayer offers the wrapped-up solution to get Spiderman/Avengers/Hulk movie 1080P HD MP4 saved in your local storage and streamed to big HDTV.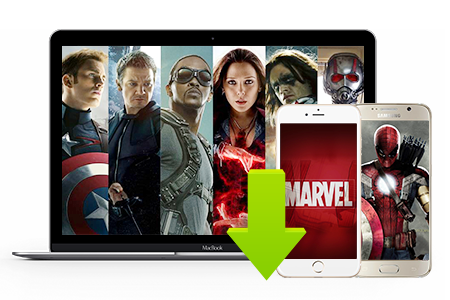 Stand Alone Marvel Movies Free Download
Black Panther (Feb 16, 2018)
Ant-man (2015) IMDB 7.4
Daredevil (2003) IMDB 5.3
Elektra (2005) IMDB 4.8
Man-thing (2005) IMDB 4.1
Howard The Duck (1986) IMDB 4.6
Marvel Super Heroes Movie Franchise Round-up
All Marvel Movies Free Download 1080p HD MP4 3GP
Download 5KPlayer for Windows

or Mac

.
Step 1: Find the Marvel movies in full length on the web and copy the URL;
Step 2: Paste the Marvel movie URL to this free downloader;
* Click YouTube button and go to movie download UI. Paste the URL of a Marvel film in the analysis box and then click "paste & analyze".
Step 3: Click download button to have Marvel movies MP4 3GP downloaded in a flash.
* Upon the completion of analysis, you can select target format/resolution of the Marvel movie by clicking the setting button.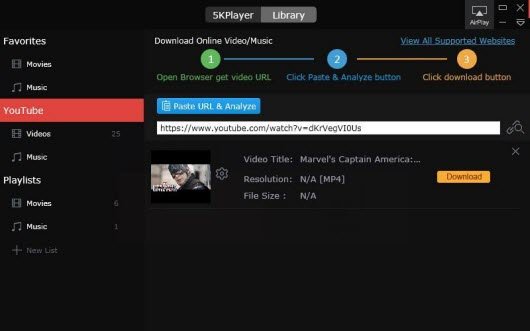 Now you can free download Marvel movies and watch Marvel super heroes fighting fiercely on screen, then what are you waiting for? Arm your computers with 5KPlayer to let all those facinating movies on board now!