How to Watch/Download IPTV M3U with VLC on Mac/PC?
Posted by Kaylee Wood | Last update: April 15, 2021 | 3 Min Read
VLC is a well-known open source player capable of playing types of media files, say downloaded files or live streaming. Speaking of live streaming, VLC IPTV ability outshines that on other open source media player by allowing everybody live streaming IPTV .m3u/.m3u8 channels playlists on iOS, Android, Mac, Windows, Chrome OS, Apple TV. Here, we will specifically teach you how to use VLC to run and stream IPTV, the IP-based television service, to watch live TV programs worldwide.
Warnings: Government and ISPs across the world monitor their users' online activities. If you are found streaming copyright contents, you may get into serious legal trouble. So, do not stream copyright contents and use any contents for commercial purposes.
5KPlayer - Free VLC IPTV/M3U Playlist Player Alternative
Actually, VLC IPTV player is not that all-powerful to play every IPTV .m3u/.m3u8 link but often gives you error message "VLC is unable to open the MRL". So, you are suggested to try 5KPlayer, a versatile IPTV player, to play IPTV .m3u/.m3u8 live links and .m3u/.m3u8 downloaded files successfully.
Before we start the step-by-step guide, let's know something about VLC media player IPTV function:
VLC plays .m3u/.m3u8 live links directly of IPTV playlist.
VLC plays downloaded .m3u/.m3u8 file.
VLC also lets you download and record IPTV programs.
Besides free IPTV streaming, VLC is also capable of live streaming HLS (http live streaming) rtp, mms, rtsp and YouTube.
As long as your IPTV playlist M3U/M3U8 links are working, VLC handles them well in different languages (English, French, Japanese, Korean, Chinese, Russian, Spanish, Italian, etc), and from different categories (Business, Comedy, Education, Entertainment, Fashion, Food, etc).
How to Watch IPTV on VLC Media Player?
Preparations: Set up IPTV in VLC to make the streaming smoother.
1. Open VLC media player > Tools > Preferences > click on &All& in &Show settings& at the bottom left corner of VLC > choose &FFmpeg& under &Video codecs& in the subgroup of &Input/Codec& in the right part, and choose &Disable of Hardware decoding&.
2. Then, go back to &Input/Codecs& and just click on it > set the number of &MTU of the network interface& into 1,500 and set the &Networking caching& into 3,000 > click on "Save".
3. Now, go back to the main UI of VLC media player > click on &Media& on the top bar > choose &Quit& to save the settings about VLC IPTV.
4. Open your VLC player again to start streaming IPTV channels.
Method 1. Play the live .m3u/.m3u8 IPTV playlist URLs
Step 1. Click on &Media& on the top bar to choose "Open Location from clipboard".

Step 2. Input the .m3u playlist URL you want to play and hit "Play" to start playback.

• To make things easier, we have found some IPTV .m3u playlist links worldwide for you.

For example: https://iptv-org.github.io/iptv/categories/entertainment.m3u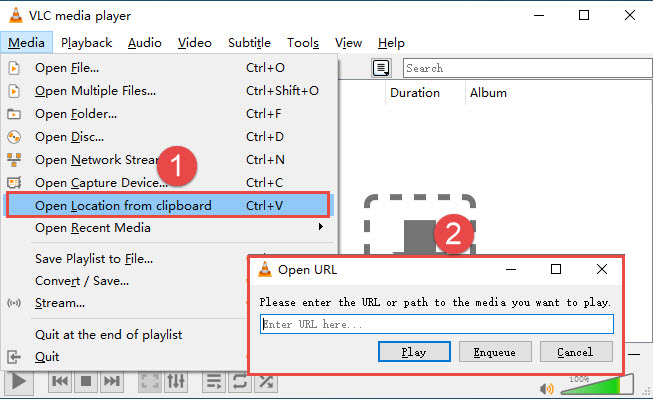 Step 3. After analyzing the .m3u IPTV playlist URL, VLC will automatically play the first IPTV channel in the list. If you want to switch to another channel, you can click on "View" on the top bar and click "Playlist". On the interface, you can see a list of IPTV channels, just double-click one to play.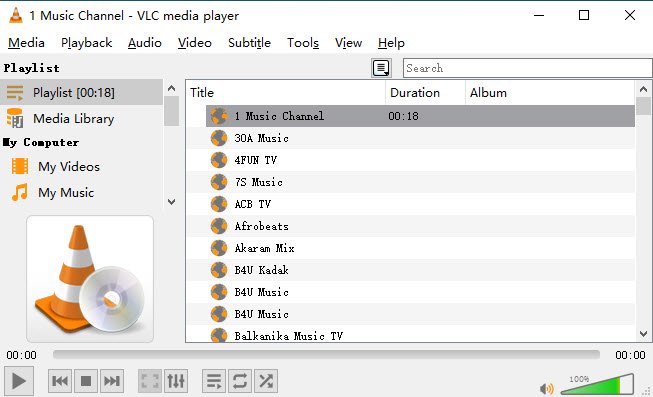 Notice: You can input the .m3u8 IPTV link that stands for a single channel to "Open Location from clipboard" to stream. Also, you can click on "Media" on the top bar to choose "Open Network Stream" to input the IPTV playlist URLs.
Method 2. Play the downloaded .m3u/.m3u8 file
Way 1. Drag and drop the .m3u/.m3u8 file to VLC to play.
Way 2. Right-click on the file and choose "Play with VLC…".
Way 3. Click on "Media" on the top bar to choose "Open File…" to add a single file.
Way 4. Click on "Media" on the top bar to choose "Open Multiple Files…" to add more than one file. This is especially suitable for adding multiple .m3u8 links to play a playlist of IPTV channels.
How to Download IPTV Videos with VLC IPTV Player?
Kindly remind, you'd better download .m3u8 file standing for a single content with VLC as a .m3u playlist URL often contains hundreds of .m3u8 IPTV channels which has incalculable contents that VLC hardly analyze and download them.
Step 1. Open VLC and click on "Media" to choose "Open Network Stream…".
Step 2. Input the .m3u8 file link to the box and then click on "Convert" from the drop-down menu of "Play" at the right bottom.
Step 3. Choose the output format as MP4 from the drop-down menu of "Profile". Then, click on Browse to choose the destination folder and rename your file.
Step 4. After saving, just click on "Start" to converting the .m3u8 stream to MP4 with VLC media player.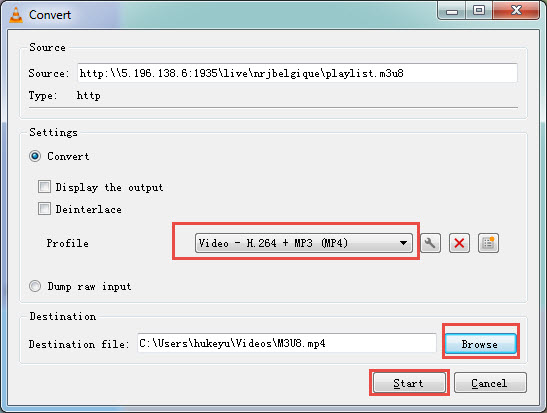 How to Solve VLC Media Player IPTV not Working Problem?
Due to the fault of inaccessible sources, overprotective firewalls or the VLC media player itself, VLC IPTV player often encounter "VLC is unable to open the MRL" error. That is to say, VLC media player can't play the URL you input.
Besides that, VLC sometimes fails to load very huge playlist. Only by decreasing channels or removing unwanted categories can VLC play it successfully. However, you may not want to cancel anything and want to smoothly play any IPTV playlist link. To save your time, you are recommended to try IPTV player 5KPlayer.
Try 5KPlayer When VLC IPTV is not Working
5KPlayer is a powerful IPTV playlist player that plays live .m3u/.m3u8 IPTV streams as well as the downloaded files. As an ideal VLC IPTV player alternative, it speedily and accurately recognizes and loads live IPTV channels playlist to let you watch IPTV live very smoothly.
Step 1. Free download 5KPlayer, install and launch it on your computer.
Step 2. If you want to play a downloaded .m3u/.m3u8 file, you can simply drag and drop it to 5KPlayer to play. If your target is an IPTV .m3u/.m3u8 playlist link, just click on the "Live" icon on the main UI of 5KPlayer, input the URL and hit Play to start streaming.