How to Play M3U/M3U8 Playlist URL Free on Computer with 5KPlayer?
Online M3U8 video player or M3U8 web extension would be a good choice to play M3U8/M3U links directly, but it is never easier than a desktop M3U8 player that can play a bunch of downloaded M3U8 files and live streaming M3U8 playlist URLs free from IPTV, sports channels, movie channels and so on. No need of any third-party help, you can enjoy hundreds of M3U8 contents with your default media player on computer.
Luckily, 5KPlayer is the ideal free media player that can help play M3U8/M3U IPTV playlists URL free on Windows and Mac computer directly and with minimal delay. As a HLS-based streaming media player, 5KPlayer also supports RSTP streaming.
Step 1. Get Free IPTV Player 5KPlayer
Click on the download button on this page to free download 5KPlayer, install and launch it on your computer.
Step 2. Live Stream M3U/M3U8 Playlist URL Free
Method 1. Drag and drop a .m3u file you download online to 5KPlayer to play. (Take the .m3u URL on this page as an example, copy the .m3u link to your browser and hit Enter to download an .m3u file.)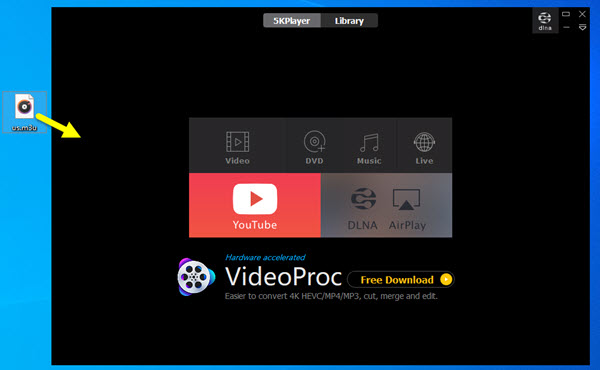 Method 2. On the main user interface of 5KPlayer, click the "Live" icon > input the M3U8 playlist link and then click on Play. It may costs you seconds to preload the playlists so that the M3U8 videos could be streamed very smoothly. (To get an .m3u8 link, just copy one on this page, or open your .m3u file with Notepad.)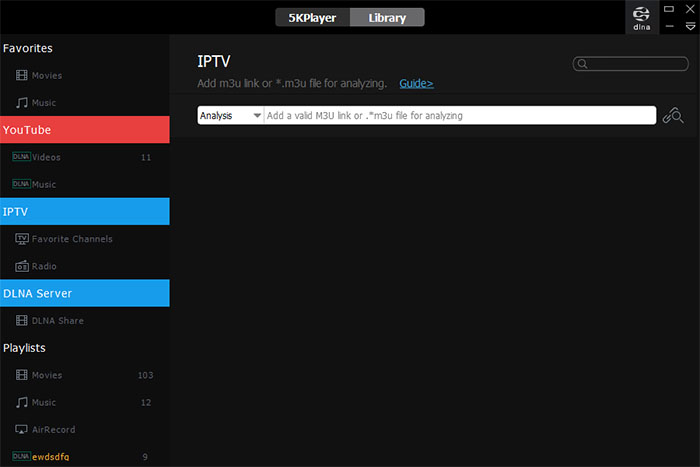 Besides direct playback, 5KPlayer also offers you the other way to play M3U8/M3U playlists URLs free. That is, first download M3U8 videos from the IPTV/M3U/M3U8 playlist URL to MP4 or TS, MKV FLV, etc file and then play with 5KPlayer on computer. As a free multimedia player, there are more of 5KPlayer for you to explore including 4K/HD/360-degree video playback and streaming, iOS AirPlay Mirroring and video music DLNA stream.