Table of content:
1. What Is IPTV?
2. Why Is IPTV Legality Important?
3. Is IPTV Legal or Illegal?
4. Is IPTV Legal in the USA?
5. Is IPTV Legal in Canada?
6. Is IPTV Legal in the UK?
7. Is IPTV Legal in Europe?
8. Is Kodi IPTV Streaming Legal?
9. How to Protect Yourself If You Stream Illegal IPTV Accidently?
10. Legal IPTV Providers Worldwide
11. How to Play IPTV on Computer?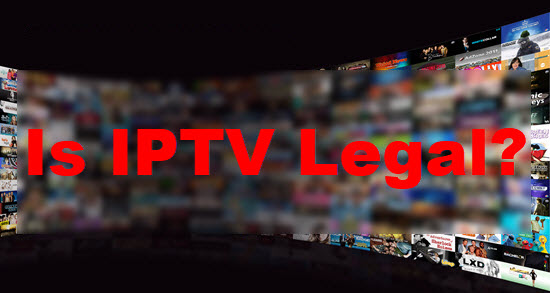 What Is IPTV?
IPTV, aka Internet Protocol television, is TV streaming over the internet rather than through conventional ways like cable, OTT antennas or satellite dishes. Combining Internet, multimedia and communication technologies into one, IPTV lets you get ordinary and premium TV channels, as well as VOD contents like movies and TV shows which you can stream whenever you want.
Actually, IPTV is no difference from most of the streaming services like the titan of online libraries that is YouTube, Netflix or Amazon Prime Video. There are different forms of IPTV, say:
1. Online-only TV providers like Sling TV and Direct TV.
2. Online-only TV channels such as Cheddar TV.
3. Websites that offer free live TV.
4. Plugins for apps like Kodi, Plex, and Emby.
5. Third-party subscription IPTV services.
Among them, the first two kinds are legal as they are licensed but the last three IPTV streaming ways depend which we will explain the reasons below. Without regard for the IPTV legality, IPTV is really an ideal way to watch live TV in a cheaper price. Good IPTV streaming services usually provides not only contents in your country or region, but also the worldwide resources. Also, you are allowed to stream IPTV channels on smart TV like Samsung, LG and Apple TV, PC, Mac, Apple iPhone and iPad, and so on. Besides, you can customize the channel list and get the M3U IPTV playlist links directly from some IPTV streaming services.
Why Does The Legality of IPTV Matter?
According to a research from Research And Market [1], the IPTV market was valued at USD 40.85 billion in 2019 and is expected to reach USD 104.25 billion by 2025, at a Compound Annual Growth Rate (CAGR) of 16.9% over the forecast period 2020-2025. And Grand View Research [2] gives a report showing that the number of global subscription-based IPTV users is followed closely by the subscription-free IPTV users. What does that mean? It indicates that more and more people is on the way to use IPTV streaming services. So, if there is no relevant rules for this market, the revenue will face much loss, of course. Especially to the traditional cable or satellite TV, and the content holders of big names, the unrestrained IPTV market will influence their developments, or more precisely, money-earning.
Is IPTV Legal or Is IPTV Illegal?
As a matter of fact, IPTV itself is legal. Most of the time, the basis of judgement is the content itself. However, in our daily life, it is really hard to recognize whether the IPTV service is legal or not based on the contents. Besides, not all countries have corresponding Internet and Copyright laws to define the legality of IPTV services when they are operating abroad. Even in some countries that Copyright laws can determine something, it is hard to conclude a certain IPTV service is illegal if it is not storing the contents on its server and redistributing or selling them. For example, if an IPTV service only provides links to where the content is being streamed and updated the links frequently, it is really difficult to track indeed. If IPTV legality must be defined, it depends.
When is IPTV legal?
As mentioned above, there is absolutely no issue to use YouTube, Netflix, Amazon Prime Video, and several other famous online streaming platforms under the umbrella of IPTV. In other word, IPTV is legal as long as it follows and obeys the rules of Copyright infringement laws. As for some IPTV streaming services you are not so familiar with, if they offer their own applications and streaming platforms with minimal on-page advertisements and a typical tiered subscription plan, they are much more likely to be legitimate. And, legal ones often link to their partners and offer live channels direct from the providers. If you are getting access to an unknown IPTV streaming service alone at home, there is usually no risk.
When is IPTV illegal?
Often the case, the illegal IPTV services set up off-shore servers or even on-shore in some cases to gather TV signals, and then re-streaming the digital feeds to you. As implied earlier, the Copyright laws matter. But, there are many other factors to help you figure out the illegality of an IPTV service, and we will list them as many as possible.
1. The IPTV is not legitimate if it is associated with the act of streaming or downloading of television contents over the internet without permission or authorization of the original content owner.
2. The ones with "free" options are often illegal as they often acclaim that they are "ad funded" but totally not mentioning their partners.
3. If you are suggested to use a VPN to make your experience more secure, you should be aware that is a sign of illegality. Why? A VPN will hide your IP address so that the police won't track you.
4. Similar to VPN, Bitcoin is also untraceable. So, be careful if the service promises to offer you more discount if you pay with Bitcoin.
5. IPTV platforms are not legal if they are reproducing contents they do not have the rights to as stipulated by DMCA laws.
6. Illegal IPTV are often quite cheap for HD and premium channels, but the truth is that legal IPTV cost much. How to distinguish them? Often the legal one like YouTube or Netflix has typical tiered subscription plan, while the illegal IPTV services asks for one-time payment. The illegal ones usually advertise as follows:
"1 Year Subscription for $132 gets you 500+ channels."
"'Why pay more when you get it all for less!!!!' says a competitor, offering an even better deal — more than 3,000 channels for just $15 a month."
7. As for an IPTV box, if it is advertised as "fully loaded" or something along those lines, it is likely it is compatible or preconfigured with illegal IPTV plans.
8. As for an individual, the act is not legitimate if the person redistributes and broadcasts the IPTV to an audience. More precisely, viewing contents from an illegal IPTV service is technically not disobeying the DMCA, however, downloading the contents and then sharing with others would.
Furthermore, based on different forms of IPTV, you can better understand the legality of IPTV.
1. Online-only TV providers like Sling TV and DirectTV: They are totally legal as all of the channels are fully licensed from their respective sources.
2. Online-only TV channels like Cheddar TV: Legal.
3. TV networks' own apps: Legal. However, you should notice that it is not allowed if you try to jump over the apps' geo-blocking efforts, and often the case the act results in a ban.
4. Websites that offer free live TV: They are often not legitimate, especially the sports streaming.
5. IPTV plugins for Kodi, Plex or Emby: They are downright illegal in most times.