How to Play USA IPTV Playlist URL Free on Computer with 5KPlayer?
5KPlayer is an M3U and M3U8 player that you can drag and drop the .m3u file to it or paste the .m3u8 link to it to play. Whatever, it is a great IPTV player for you to watch live TV online.
Step 1. Get IPTV Player 5KPlayer
• Click on the download button on this page to free download 5KPlayer, install and launch it on your Mac or Windows.
Step 2. Play USA IPTV List
Method 1. Drag and drop the downloaded .m3u file directly to 5KPlayer to play. (To download the USA IPTV list as an .m3u file, just copy the .m3u URL to your browser and hit Enter.)
• An .m3u file often contains list of .m3u8 IPTV channels. When you play a .m3u link, it will play each channel one by one from top to bottom, so you can't directly watch the IPTV channel you want most. Therefore, you are suggested to use method 2.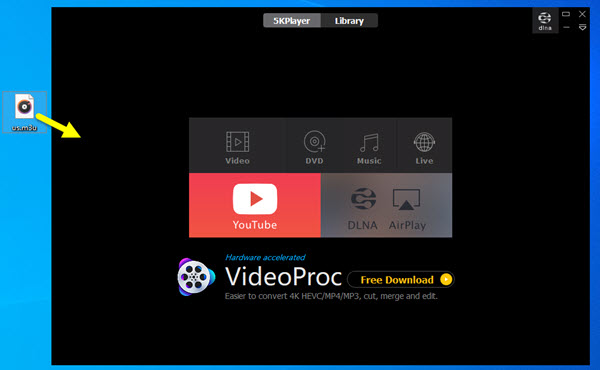 Method 2. Click on the "Live" icon on the main UI of 5KPlayer to access the playback window. Then, input the USA .m3u8 link (like: http://161.0.157.9/PLTV/88888888/224/3221226825/index.m3u8) copied on this page to the box and hit Play to start playing specific channel.
• To find the USA .m3u8 link from an .m3u file, download the USA M3U URL as an offline .m3u file > open the .m3u file with Notepad > then, copy the .m3u8 link to play.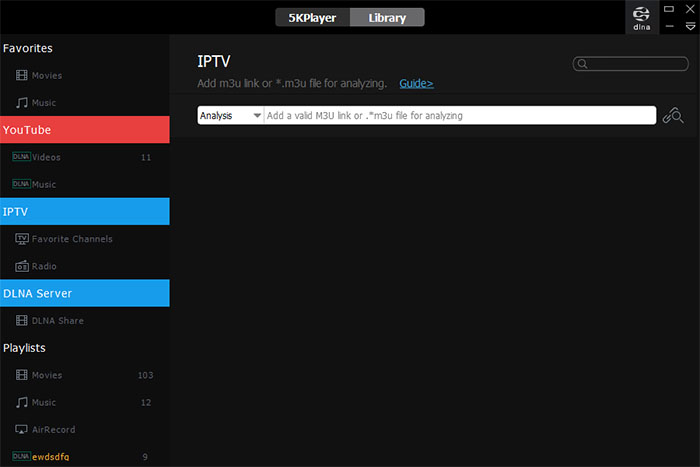 Notice:
• When you input a link to play, 5KPlayer will load the link for a few seconds to make sure the later playback performs smoothly. So, wait patiently.
• Sometimes, the video playback may get choppy because of your weak network, contact your network server for help if necessary.
• The image quality of IPTV streaming is based on your network and IPTV will automatically choose the best network to enable smooth streaming. Put simply, if your network is weak, IPTV shows low-quality image, and if the network is strong, the HD and even 4K IPTV streaming is available.
As a solid free IPTV/M3U/M3U8 playlist player to help watch IPTV on computer, 5KPlayer never ends with handling IPTV M3U/M3U8 playlist from USA. As long as your IPTV link is ended with .m3u8/.m3u extension, no matter it comes from UK, Canada, France, Italy, Germany or Japan, South Korean, Spanish, etc, 5KPlayer digests it very well.