Top 3 Best Video Player for Mac (2016) Free Download
What is the best video player for Mac that not only with an up-to-date user interface, slick performance, but also plays HD/Ultra HD videos in any format? That's not a hard question, today you are going to meet the top 3 world-class best video players for macOS Sierra and Mac OS X (El Capitan/Yosemite/Mavericks) which bring the best visual enhancement for your movie enjoying.
No. 1 Best Video Player for Mac 2016-2017 - 5KPlayer
As the top-notched video player for Mac (macOS Sierra included), 5KPlayer is a comprehensive video player for Mac which integrated with three main functions: video music playback, online video downloading (YouTube), and media free streaming. 5KPlayer is specifically designed to be the default video player on Mac and take advantage of everything your Mac is capable of. As a new style video player for both macOS Sierra, Mac OS X (El Capitan/Yosemite/Mavericks) and Windows 10 in 2016, 5KPlayer not only satisfies the basic requirements listed above, but also possesses a slew of extra features.
Highlights of this best video player for Mac:


Best multi-region DVD player: Plays both homemade DVD and commercially encrypted DVD. No matter CSS-encrypted DVD or region code enhanced DVD, this best video player or Mac will easily load it to present the best quality.


Best 3D movie player: Delivers spectacular 3D experience combined with a slick performance and this best video playe for Mac has the ability to play and save Netflix 3D movies at 1080p, 720p in MKV, MP4, ect.


Best 4K/5K/8K UHD player: with the power to playback ultra HD videos in AVI (Divx/Xvid), MKV (H.265) and MP4 (H.264) on iMac, MacBook Pro, etc, 5KPlayer is worthy to be the best video player for Mac in 2016.
No. 2 Best Video Player for Mac 2016-2017 – VLC Player
VLC media player is one of the most stable, flexible and lightweight video players for Mac around today, especially when compared to others in playing unusual video formats. This best video player for Mac simply handles tons of formats, from MPEG to FLV and RMBV files. V10 bit codes plus multi-threaded decoding for H.264, MPEG-4/Xvid and WebM, as well as the ability to play HD and BluRay. But VLC audio delay problem still needs to be solved as soon as possible to give back the ultimate video audio enjoyment for its users.
Highlight of This Video Player for Mac:

Wide supported Operating System: VLC media plaer s an open-source multimedia player which compatible with Mac OS X, Windows, Linux, Android, iOS, etc, over ten operating systems.

Integration with web channel streaming services: Just right-click or CMD-click on the playlist, select Services Discovery and Channels.com. Channels.com will then appear in your VLC media player playlist.

Plays blu-ray: This best Mac video player also plays DVD, CD, and VCD including Blu-ray DVDs. This is the first free video player for Mac and Linux that can playback encrypted DVDs.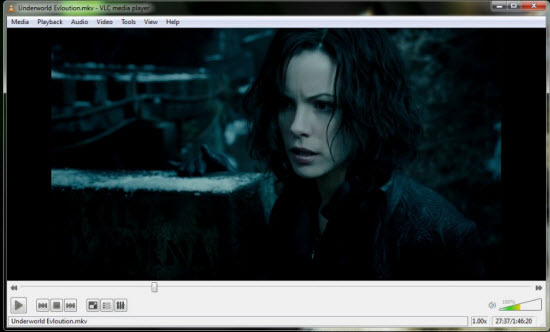 After reviewing the best 3 video player for Mac, sure you have decided to download which best video player for your Mac OS. But if you are looking for an all-in-one video player for Mac, 5KPlayer can be your very best choice, as this best video player for Mac not only player video and audio, but also downloads 4K videos from YouTube and from 300 more online video sites. Besides, 5KPlayer can also work as an AirPlayer server as well which streams videos from Mac to Apple TV wirelessly.