Watch IPTV on Plex with Plex IPTV Plugin & M3U Playlist
Posted by Kaylee Wood | Last update: May 31, 2021 | 3 Min Read
Wouldn't it be wonderful if you can combine Plex with IPTV? With the most popular media server out the market and the new way to watch live TV programs, you will have a lot freedom to enjoy VODs, time-shifted media and live TV channels on various platforms whenever you want. So, here is the detailed Plex IPTV guideline to help you set up IPTV on Plex to watch live broadcastings.
What is Plex? A Home for All Media
Plex is a media server that collects various media files including movies, TV shows, home videos, music and photos from all users. Simply put, after you setting up the Plex Media Server, you can upload your media files to Plex server and then access them on different devices (including smart phones, tablets devices, TVs, streaming devices, game consoles and personal computers) running the Plex app anywhere anytime. Also, you can share these media files with others.
What is IPTV?
IPTV, aka Internet Protocol television, is a way to deliver television contents over Internet Protocol (IP) networks instead of via the traditional cable, OTA or satellite way. Besides providing digital live television programs, IPTV also allows for watching network VODs and time-shifted media resources.
Does Plex Support IPTV?
Yes, it does but only if it is set up properly. When watching IPTV on Plex, you do not need a separate IPTV box. After ransacking the internet, I have found that there are two mainstream methods to set up Plex IPTV feature and below are the detailed explanations.
How to Set up Plex IPTV to Let Watch IPTV on Plex?
Caution: Because of the legality issues of IPTV that may cause lawsuit, this guide is only for information purpose if you intend to get IPTV services from unknown providers. This page also does not recommend any IPTV service that infringes copyright.
Method 1. Watch IPTV on Plex through Plex Free Live TV Section
On July 23, 2020, Plex launched free live TV channels with 80+ programs that worldwide Plex users can get access to. Including free users and subscribers alike, any Plex visitor can get the most comprehensive and least expensive streaming TV services covering popular TV shows, movies, news and more coming soon. The channel lineup includes fubo Sports Network, Toon Goggles, Yahoo Finance, AFV Family, Cooking Panda, Reuters, etc, but none of these are big names. Besides the limited channel numbers, you can't record anything either. For more advanced features like pausing and recording your favorite HD broadcast channels, you are suggested pay $4.99 USD/month plus a home tuner and antenna for a premium Plex.

Method 2. Get Plex Pass for More TV Channels
After upgrading to Plex Pass by paying some fees plus a digital antenna and tuner connected to the Plex Media Server, you can get access to more local channels and major networks like NBC, CBS, ABC, Fox, CW and PBS. At the same time, you can have more manual controls over your TV programs including capture and record live TV, cast live TV stream via Chromecast, Picture-in-Picture watch live TV, etc.
Step 1. Get a Plex Pass
Plex gives you three choices of getting Plex Pass including $4.99 USD/month, $39.99 USD/year and $119.99 USD/lifetime options. It may sacrifice your pocket but it is much cheaper than the cable way indeed. Besides accessing the popular TV channels, Plex Pass also allows you to access more amazing Plex features.

Step 2. Install Your Hardware
Plex supports a wide variety of tuners and antennas which you can choose the one you prefer here. The officially suggested ones will cost you some, if you need free ones, xTeVe and TVTelly are the two most popular TV tuners at the moment that are free and open source.
Step 3. Set up Live TV & DVR
After the aforementioned two steps, you can start customizing your guide and adding IPTV to Plex.
• Plex official guide: https://support.plex.tv/articles/225877347-live-tv-dvr/
1. Go to Settings > Live TV & DVR in Plex Web App.
2. Click the DVR Setup button, which will open the wizard to guide you through the setup of a DVR.
* If it is the first time to open the wizard, your server will automatically search the network to try and find the compatible devices. If your DVR device isn't automatically detected, you can click the link to manually specify the device's location.
3. After that, select the DVR and you will see channels that have been found. You can also choose to Scan Channels manually here. In addition, you can choose whether the input is via Antenna or Cable as well as set your country.
4. Once you have the channels scanned and you continue on, you will need to specify your location so that an Electronic Program Guide (EPG) can be found for you. Select your language and input your postal code, then continue.
5. It will quickly search and find the best program guide to match your channels and location.
6. Once the appropriate program guide is located, you will see a mapping of the channels from your device alongside the channels from the program guide. You can uncheck a channel to not include it for your DVR as well as adjust which IPTV channel from the program guide maps to which channel from your DVR.
7. Once you save, your server will begin downloading data for your Program Guide. You can wait until it completes here or you can close the wizard and continue using your server as normal.
Now that you have set up DVR for Plex IPTV, you can feel free to browse your Program Guide and access different TV channels.
• xTeVe setup guide: https://github.com/xteve-project/xTeVe-Documentation/blob/master/en/configuration.md
You have different options to run xTeVe, and here we will take running xTeVe on Windows as an example.
1. Download NSSM from https://nssm.cc/release/nssm-2.24.zip.
2. Unzip and copy NSSM to C:\windows\System32 folder.
3. Open a command prompt.
4. Use the following command: nssm install Xteve.
5. Path C:\PathToXteve\xteve.exe.
6. Startup directory C:\PathToXteve.
7. Arguments (If any) : -config=C:\PathToXteve\Config or -port="XXXX" (For XXXX use the port you desire).
8. Click Install service..
9. From the command prompt run this command: nssm start Xteve.
10. Xteve should now start as a service.
• TVTelly setup guide: https://github.com/tellytv/telly/wiki/Adding-Telly-to-Plex
Kindly remind, Plex itself does not provide XMLTV data to users. If you need the EPG guide, you can prepare the XML EPG data yourself but it is not explicitly required.
The reward of this way is the ability to watch IPTV on Plex on every major media device including PS4 and Xbox One. Costing much lesser than that of the regular cable, you are allowed to watch live TV shows as many as possible around the world. Though the Plex Pass is cost-effective, the investment in additional hardware is hard to say. Besides, I have to say the setup process is quite complicated and time-consuming, let alone the IPTV legality issues in some cases.
Method 3. Install Plex IPTV Plugin – Free Way but not Officially Supported Anymore
Notice! Plex had ended the support for Plugins in September 2018. That decision was made may because the free live TV channels would conflict with Plex's goal to stream ad-supported content and make paid channels available.

Once upon a time, installing Plex IPTV plugins was a good way to watch IPTV on Plex. Based on the fact, if you have any decision to watch IPTV through plug-ins, you can try Kodi IPTV function. And if you are thinking about adding M3U8 IPTV streams to Plex to play, you will be disappointed either, as M3U8 streams can only be played by plugins on Plex and plugins are end-of-life in Plex as of September 2018. To watch IPTV through .m3u8 or .m3u links, you can try 5KPlayer.
5KPlayer – Free Alternative to Plex IPTV Function
5KPlayer is a desktop media player for multimedia playback (including 4K, 360-degree, MP4, MKV, etc) that can also allow you to watch IPTV channels through IPTV .m3u/.m3u8 playlist links. Simply put, as long as you can find the .m3u or .m3u8 links, you can throw them at 5KPlayer and 5KPlayer handles them very well. That also means you can extract the .m3u8 URLs from Plex and Twitch to play with 5KPlayer on computer. The inconvenience of 5KPlayer is that it lacks EPG guide and it doesn't allow you to share your media to different IP users while Plex IPTV does. But if someone is using the same network as yours, 5KPlayer's DLNA function will let you stream IPTV to him or her.
Step 1. Free download 5KPlayer, install and launch it on your Windows or Mac computer.
Step 2. Click on the "Live" icon on the main UI of 5KPlayer. Then, input the .m3u or .m3u8 link to the "Input a URL" box and hit Play to start playback.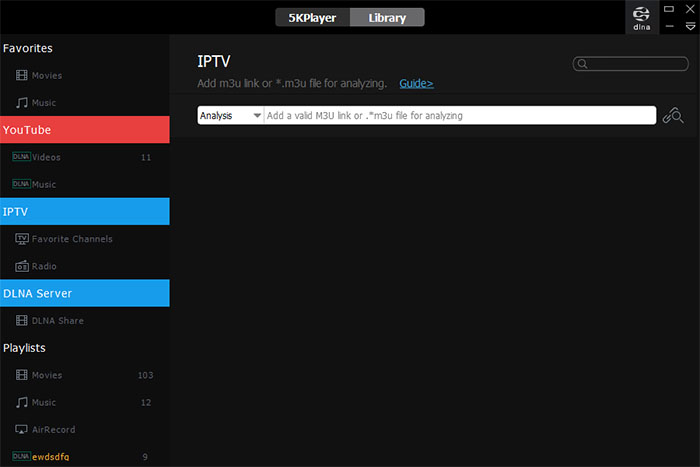 • To make things easier, we have found some .m3u and .m3u8 URLs instances online for you to copy directly to 5KPlayer for the test. However, please keep in mind, I'm not associated with them and not responsible for their contents, just try it at your own risk. 5KPlayer does not endorse, promote or encourage any illegal activity tied to streaming copyrighted works, so you are highly suggested to get .m3u/.m3u8 IPTV links from legal IPTV providers.
.m3u links:
https://github.com/iptv-restream/iptv-channels/blob/master/channels/au.m3u
https://github.com/iptv-restream/iptv-channels/blob/master/channels/ca.m3u
https://github.com/iptv-restream/iptv-channels/blob/master/channels/us.m3u
Step 3. Cast IPTV to big screen.
If you like Plex IPTV "Cast…" function, 5KPlayer can also give you the same experience. When 5KPlayer is streaming your IPTV, you can click on the "DLNA" icon and then choose the device you want to cast streams to. Remember, keep both devices under the same network.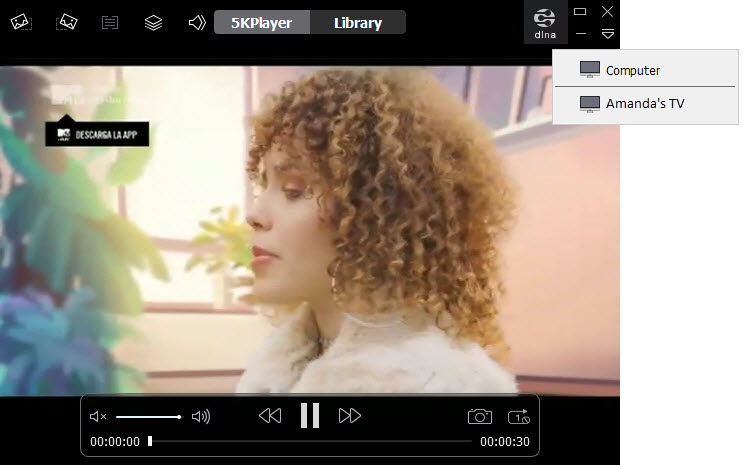 Warnings: Government and ISPs across the world monitor their users' online activities. If you are found streaming copyright contents, you may get into serious legal trouble. So, do not stream copyright contents with 5KPlayer and use any contents for commercial purposes.