Table of contents:
1. Watch IPTV on Kodi with IPTV M3U URL
2. Watch IPTV on Kodi with Kodi IPTV Add-ons
3. Watch IPTV on Kodi with M3U8 Link
4. Kodi IPTV not Working Solution
Method 1. Watch Free IPTV on Kodi with Kodi IPTV M3U Function
In simple terms, this way means streaming IPTV on Kodi with IPTV M3U URL links. As many IPTV services don't provide a standalone Kodi add-on but grant access to their M3U URL for IPTV streaming, you can watch IPTV through M3U URLs on Kodi with the help of Kodi PVR IPTV Simple Client add-on.
PVR IPTV Simple Client is a Kodi add-on that lets you stream live TV channels. It offers no contents of its own, but it works with your existing IPTV subscription. Simply put, as long as you have an M3U playlist URL or XMLTV EPG URL from an IPTV provider, you can watch IPTV with Kodi as easy as ABC.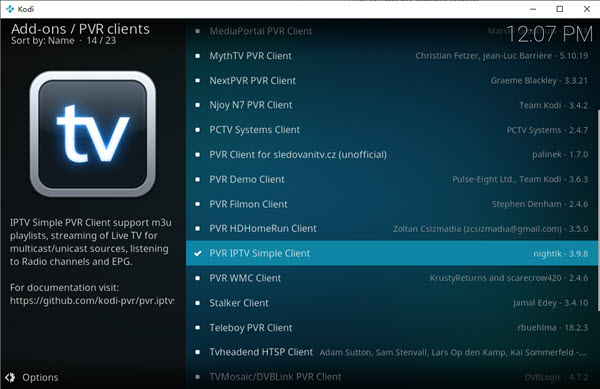 Step 1. Free download Kodi for Windows 10 or Mac, and install it.
Step 2. Launch Kodi and select Settings. (If you find that Kodi has occupied the whole desktop of your computer, you can configure Kodi to run in windowed mode by going to Settings > System > Display and choose "Windowed" in Display mode.)
Step 3. Click on "Add-ons".
Step 4. Choose "Install from repository".
Step 5. Scroll down to choose "PVR clients".
Step 6. Scroll down and choose "PVR IPTV Simple Client".
Step 7. Click Install and then wait for PVR IPTV Simple Client Add-ons to be installed.
Step 8. Click on PVR IPTV Simple Client again and click "Configure".
Step 9. Under General, hover over and select "M3U Play List URL".
Step 10. Enter your IPTV M3U link and click OK.
• It is suggested to put into M3U URL from your IPTV provider like this: http://xxxxx.org:86/get.php?username=xxx&password=xxx&type=m3u plus&output=ts , which contains your user name and password. However, if you get the M3U link online without your personal information, you can also stream IPTV through Kodi as long as the M3U URL is working.
Step 11. Hover over EPG Settings and choose XMLTV URL if you have such a link.
Step 12. Type the EPG M3U URL for your TV guide and click OK.
Step 13. Click OK again.
Step 14. Click OK when there is a popup with Needs to restart message.
Step 15. Force close Kodi and then re-open it. Wait for PVR Manager to start and channels to download (This process often takes you a few minutes). When that is done, you will see Simple Client Channels loaded message.
Step 16. You can now access the IPTV contents by clicking on Channels or Guide.
However, the cons of this method are also obvious.
Most of the time, you have to wait for a very long time to import all the TV channels. And every time when you want to input a new IPTV M3U URL, you have to do the above steps one by one which indeed costs much time. Kodi crashing problem also happens during the process. Besides, the subtitles do not work properly within Kodi IPTV. Worse still, sometimes this way is not working with the M3U IPTV URL you find online, but luckily there is 5KPlayer to help you out.
Worth mentioning, Kodi officially suggests you to disable all PVR add-ons before installing this IPTV Simple Client add-on, and also tells that the authors of any IPTV add-ons are not responsible for any failed playing, incorrect EPG times or any other undesirable effects.
5KPlayer - Best Free Kodi IPTV Alternative to Play IPTV M3U/M3U8 URL
With only a mouse of 2 clicks, you can watch live TV channels through M3U/M3U8 links easily. 5KPlayer is a powerful live streaming software for Mac and Windows to allow for direct M3U8/M3U streaming from IPTV channels, Twitch site, Vimeo, Twitter and more.


Method 2. Watch IPTV on Kodi with Kodi IPTV Add-ons
Besides IPTV M3U URL for IPTV streaming, there are also various excellent Kodi IPTV add-ons out the market for you to choose from to help watch IPTV on Kodi. Kodi IPTV add-ons are just like Android applications that you can install within Kodi and then access TV channels, movies and PPV events at your pleasure.
Among them, a few add-ons are recommended by users including CCloud TV, BBC iPlayer, Pluto.TV, USTVNOW, SGTV Live TV, Live 24/7, Falcon Ultra IPTV, Skynet, Cerebro IPTV, Ultra IPTV, Goodfellas, Chronos, and Milhano IPTV. Of course, you should install legal ones to get rid of lawsuit.
Here, we will take Pluto.TV as an example to teach you how to watch IPTV on Kodi with Kodi IPTV add-ons.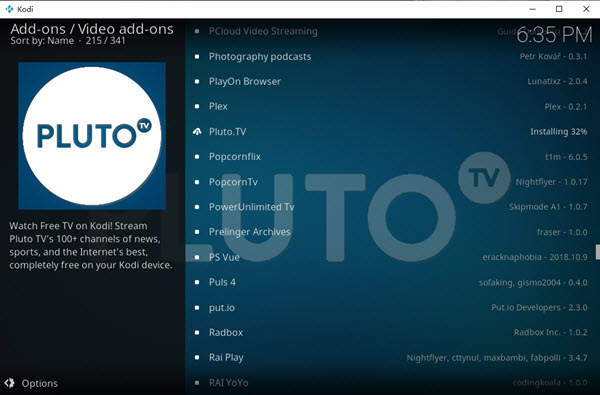 Step 1. Free download Kodi on your computer, install and launch it.
Step 2. Open Kodi > Settings > Add-ons > Install from repository > Video add-ons.
Step 3. Scroll down to find Pluto.TV and select it.
Step 4. Click on Install and click OK.
Step 5. Wait for the Pluto.TV add-on to be installed.
Step 6. Go back to the main UI of Kodi, scroll down to select Add-ons and then you will see the Pluto.TV add-on.
Step 7. Click on it and choose the channel you want to watch.
You may find some add-ons could not be found on the user interface of Kodi, you need to install them manually. Simply download the zip file and then look for the "Install via zip file" option to install the add-ons. However, you have to know that the unknown add-ons may access to your personal data stored on your device, and you are solely responsible for any loss of data, behavior or damage to your device. Under such circumstance, you are also suggested to use IPTV player 5KPlayer to watch any unknown IPTV programs by inserting the M3U/M3U8 IPTV links, and 5KPlayer would never track your personal information.
Method 3. Watch Free IPTV on Kodi with M3U8 Link
What Kodi add-on is needed to support IPTV playlist in M3U8 format? After ransacking the internet and the Kodi forum, some people suggest that use the PVR IPTV Simple Client add-on and the method is the same as that mentioned above. As for me, Kodi PVR IPTV Simple Client add-on doesn't work well with my M3U8 links. So I turn to another M3U8 player to play the M3U8 playlist URLs.