5 Best iPhone iPod Music Managers in 2020
By Joakim Kling - Last Updated: Contact Author

Looking for a non-iTunes way to manage iPhone files like transferring downloaded songs from iPhone to computer? There are 5 outstanding iPhone iPod music managers can help you make it easier.
Introduction
Since it is not workable to access music files on the computer via simple drag & drop, Apple developed an iOS data manager called iTunes to help. But it seems that iTunes did not do a good job in music managing. It can help you to sync music library from computer to iPhone, create a playlist, download podcast and more. But clearly, it also has some limitations so many iPhone users are searching for non-iTunes ways to manage music on iPhone/iPod. For example, iTunes might not be helpful if you want to:
• transfer downloaded music from iPhone to computer
• sync songs from computer to iPhone selectively
• manage OGG and FLAC format music files
• sync music without removing existing ones
• restore selected files from iTunes backup
At this time, a comprehensive third-party iPhone music manager is exactly what you need. So what is a good iPhone music manager and what are our criteria to select those 5 iPhone iPod music managers?
Part 1: The Criteria of Good iPhone Music Managers
1. 100% Safe: Safety is a factor that users concern most. Nobody wants to lose any files or leak any private information during the process.
2. Powerful Functions: Abilities to manage music files on the iPhone or iPad in an easier way like two-way transfer, no-erasing sync, and selective restore.
3. Entire Compatibility: Fully compatible with all iOS versions of iPhone, iPad or iPod, and can work on both Windows and Mac computer.
4. Easy-to-Use: Known-at-glance interface with handy features for everybody to manage iPhone music instinctively.
Part 2: Top 5 iPhone iPod Music Managers in 2020
1. DearMob iPhone Manager
DearMob iPhone Manager is an impressive iPhone Music Manager, which offers fabulous features as well as a neat interface to help users manage iPhone music easily. What makes it win so much reputation in music managing? Check it below:
• The two-way transfer makes it more convenient to manage iPhone music, and it will never remove your existing songs or other data on the device.
• Whether you want to selectively transfer music or restore iTunes backup, DearMob will always be a good helper.
• You can manage your iPhone music like classify music files, delete unwanted songs in batch, and edit the information of iPhone music.
• Supports removing DRM from Apple Music to make you music truly yours.
• It also supports making custom ringtone and text tone.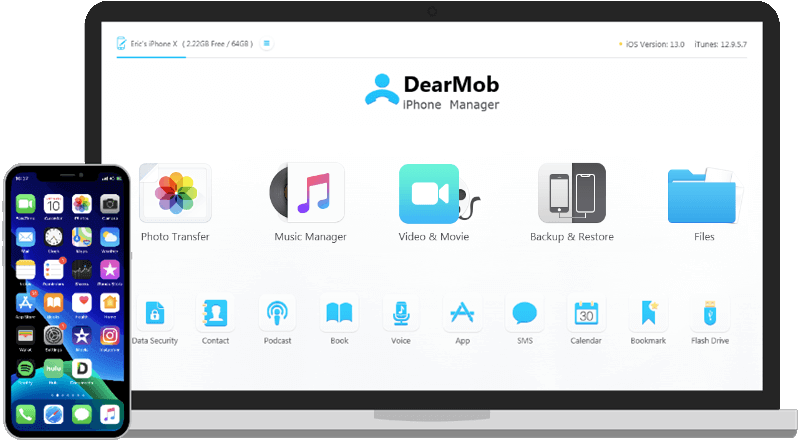 1.1 DearMob iPhone Manager - Add Music from Computer to iPhone
Go to the main screen > click Music Manager > choose Add Music to import music or add folder > click Sync.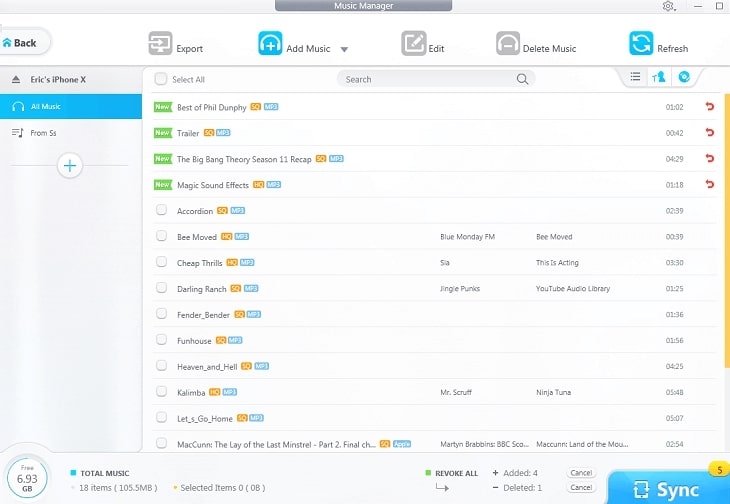 1.2 DearMob iPhone Manager - Transfer Music from iPhone to Computer
On the main screen > click Music Manager > select the music you want to transfer > click on Export.
2. MediaMonkey Standard
Media Monkey Standard is designed as a great iPhone music manager, which packs a lot of power to manage your music files on iOS devices. It's able to manage 100,100+ music and video files and can effortlessly sync android, iPhone and iPod. If you want to throw a party, it can help you create a playlist and let Auto-DJ & Party Mode take care of your party. Though its default layout requires some learning curve, it is fully customizable.
3. MusicBee
MusicBee is an ultimate music manager and player on Windows, which makes it super easy to play, manage and find music files on your computer. It can auto-fill the information of the songs, supports customizing layout and skin, and able to convert the media, but it crashes and freezes a lot and repetitively play some skipped songs.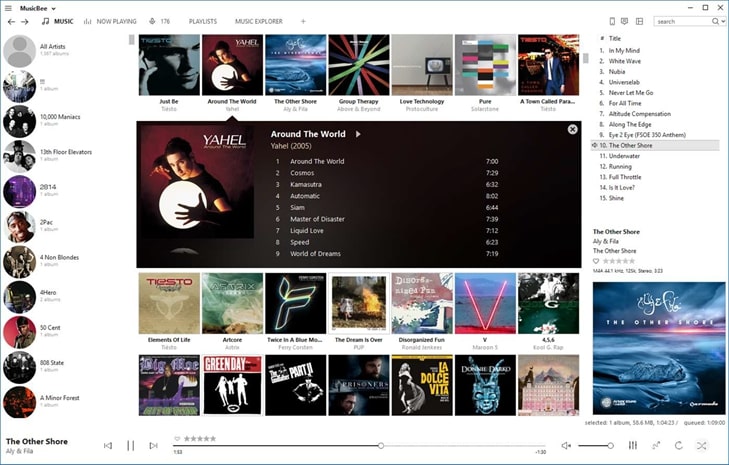 4. Xilisoft iPhone Transfer
Xilisoft iPhone Transfer is also a decent option to manage your iPhone or iPod music, which can copy your files from iPhone, iPod, iPad to PC and vice versa. This software always works like a portable hard disk to manage your iPhone iPod music on the computer without any barrier.
5. Syncios iPhone Transfer
If you are tired of tedious iTunes and looking for an alternative, Syncios iPhone Transfer may help you out. It allows you to manage iPhone music files and access iTunes backup with ease. You can transfer your iPhone music data and other files between iPhone and computer. But you need to turn off iCloud before using some features.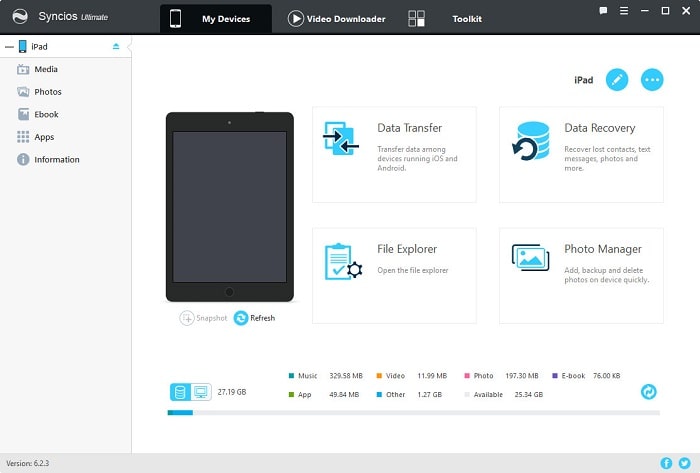 Final Words
That's all for the top 5 iPhone iPod music managers in 2020, and you can choose one to start managing your music files freely. According to our multiple tests, those 5 iPhone music managers can all help you transfer music between iPhone and computer freely. But if you want more useful tips like making custom iPhone tones or making Apple music sharable, DearMob iPhone Manager is exactly what you need.