5 Best iOS File Managers for iPhone & iPad to Enhance Productivity
By Joakim Kling - Last Updated: Contact Author

iOS file managers are productivity apps that help us explore content on iPhone and iPad devices, open up various format documents including compressed ZIP and RAR files, edit file names, curate data into folders and share content to others.
Remember how you manage iOS files before the release of the default File apps in iOS 11? Struggling to mark a PDF send from a friend via Facebook messenger, staring in vain at a zip file download from Safari, or fumbling for certain document among various cloud apps because you don't remember where you have stored it.
Productivity has been enhanced by the default Files app, but it's still not omnipotent. Below is a list of 5 best iOS file managers that cater for you different needs, moving a step forward to do "real work" on iOS devices.

Top 5 iOS Files Managers for iPhone Review
1. Documents by Readdle
This iOS file management tool does everything the default Files app can, and takes things to next level with features that Files app lacks. Besides managing multi-cloud content from iCloud, DropBox, Google Drive and Microsoft OneDrive, you can also read and write documents in NAS and other home servers.
What makes Document great is its Wi-Fi transfer feature, with which you can access iPhone and iPad files from desktop browsers. That's like Airdrop magic for Windows users who can't enjoy iPhone to Mac seamless communication. The ability to browse Photo albums and share it via Wi-Fi is also Readdle-unique. And most importantly, it's completely free.
Highlighted features:
• Browse default photo albums and share them via Wi-Fi or USB
• Scan and manage document when paired with Readdle Scanner Pro add-ons
• Playback mainstream videos and audio files
• Access WebDAV Server, FTP Server, Window SMB, Cloud servers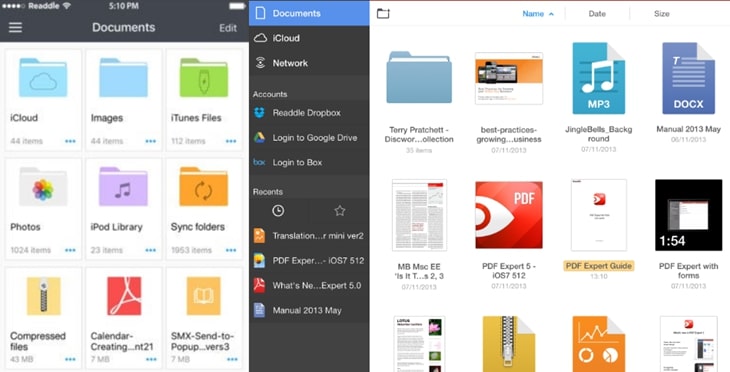 2. File Explorer
Formerly Known as iVault, File explorer is the lightest iOS file manager among all, yet powerful and fully fledged with all the essential iPhone data managing utilities. Apple handset holders can open files in File Explorer from other Apps, edit, paste, delete and unzip documents flexibly as operating on desktop explorers. Multimedia playback is also possible, making it easier to enjoy your own collections other than from iTunes store.
Highlighted features:
• Support old iOS 7.0 and later
• Lightweight with only 20MB
• Manage and transfer iOS files via Wi-Fi
• Import camera photos to edit and share
• Peer-to-peer blue tooth file transfer
• Compress files and send as email attachment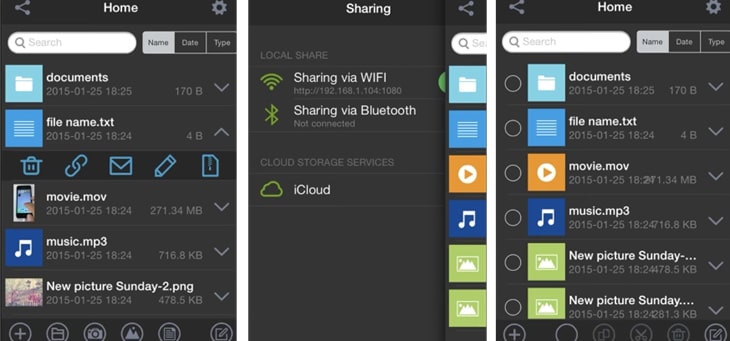 3. File Manager & Browser
As its name suggests, this iOS based iPhone file manager helps you manage and explore file on iOS handsets. You can store documents, play music from non-Apple Music resources, and read PDF files. Good news for PDF gobblers, this App auto-detects downloadable files in built-in browser, making your digital reading life much easier and more effective.
Highlighted features:
• Create ZIP files with existing documents
• Serve as a virtual USB drive to store iOS data
• Read PDF and compressed RAR and ZIP files
• Access Dropbox, iCloud, Box, Webdav, FTP etc.

4. File Master
File Master for iOS is an all-in-on iOS data manager with built-in browser, downloader and video & music player. It saves your effort in searching files in iDevices, and offers a simple to use text editor to quick word processing. ZIP and RAR extraction is also available. Playing 4k videos within the app could be laggy sometimes.
Highlighted features:
• Remotely access iOS files with a password
• Peer-to-peer file sharing via bluetooth
• Support avi, rmvb, rm and other video formats
• Suppot multi-selection mode when managing files & folders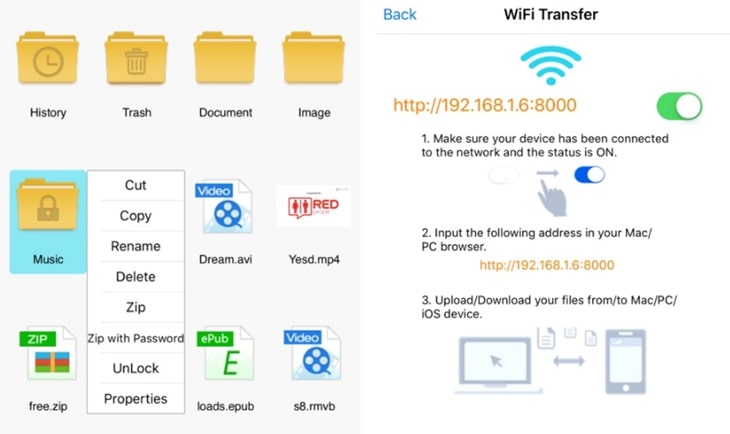 5. iExplorer Mobile
iExplorer Mobile (known as Awesome file before) is the iOS version of iExplorer. Like most iOS file managers, it has all the basic file managing utilities to browse, edit, copy & paste iPhone and iPad files, ability to communicate with your Windows and Mac browsers via WebDAV and FTP, and playback music and movies. With 3.4 version, the PIN option is back to lock up the app for security reasons. Please note, this app require purchase to enjoy full features.
Highlighted features:
• Stream music from Cloud service like Dropbox
• Create playlists with you own music collection
• Create photos, text file, record and edit voice memos
• Set PIN to encrypt your iOS data
• HD version for iPad users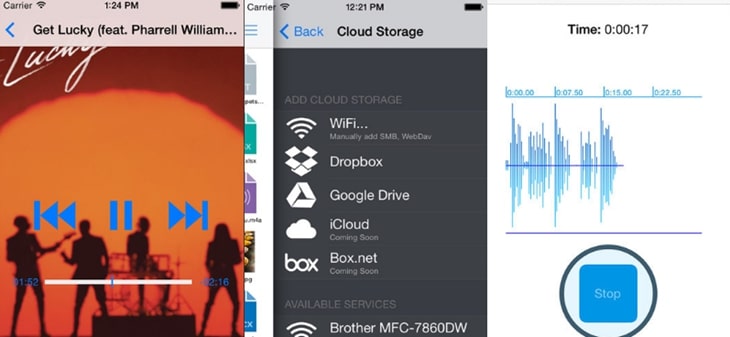 What if iOS File Managers Cannot Fulfill iOS Data Managing Tasks?
iOS file manage tools is convenient for "file handling on the go" tasks, where you instantly share and edit document wirelessly. When it comes to batch processing job or managing maximum type of iOS data, iOS-based file managers could fall short.
Why? Apple's sandbox mechanism entails that each App is isolated from the file system directory of other apps by design. Each iOS app has its own application sandbox so other applications cannot access it ensure data security. That is to say, it's merely impossible to manage all kinds of your iPhone data with iOS-based file manager apps.
That's why you will need a desktop-based iOS file manager for iPhone and iPad to accomplish certain tasks, such as batch managing contacts card, calendar events, voice memos, podcasts, unlock DRM protected music and movies, and transfer all these iOS files to computer to free up iPhone storage.