Watch Microsoft's Build 2016 Keynote Sessions Live on TV
We're sold out. Please join the waiting list. If you can't join Build 2016 in San Francisco, keep in mind that keynotes and select sessions will be streamed live starting at 8:30 am on Wednesday, March 30. — From the Official Site of Microsoft Build 2016
Now that tickets to Build 2016 Developer Conference have sold out in one minute this year, Microsoft promise to be live streaming the opening keynote and some sessions of its Build 2016 starting at 8:30am on March 30. Here we show you how to watch Microsoft Build 2016 live on big screen and give you an idea of what to expect from this big event.
Watch Microsoft Build 2016 Live Stream Must-have Tool
Watch, stream and download! Versatile 5KPlayer lets you watch Channel 9 livestream of Microsoft Build 2016 on big screen TV using the streaming tech - Airplay. Also, downloading and watching Microsoft Build 2016 Highlights videos from the whole Internet are well supported. Just give it a try.
How to Watch Microsoft Build 2016 Live
This year, Channel 9 will continue to support streaming live Build 2016 on March 30 to April 1, meaning you are able to watch this exciting Microsoft event live on your Mac/PC or mobile phones directly. Besides, The Verge's live blog will post up-to-the-second updates, commentary and pictures from the venue, and @Verge on Twitter will provide the latest headlines and details. If you prefer to celebrate Build 2016 conference with your colleagues or friends, watching Build videos on big screen TV with 5KPlayer will also be a good choice.
>>> See how to watch Microsoft Build 2016 on TV with 5KPlayer
Note:
5KPlayer is also helpful to free download videos of Microsoft Build 2016 keynote/sessions from the Internet for offline playback, in case you want to re-watch the videos anytime or save them for other uses.
Watch Microsoft Build 2016 Preview & Rumors - What to Expect
We have to admit that Microsoft does so very well in keeping secret!!! Till now, what we know exactly is that the San Francisco meetup is to cover "the future of Microsoft and technology", according to Microsoft's vice president of Developer & Platform Evangelism Steven Guggenheimer.
Even so, we can still forecast the trend of Build 2016 for column after column has been written about Microsoft's confidence in redefining both software and hardware categories. Below are some big Microsoft events might dominate the headlines in March 30 and beyond!
Windows 10 Improvement
Now that Windows 10 has gained great popularity since its commercial release last summer, Microsoft will likely focus on the improvement of the platform in 2016 Build conference before it hits its goal of "putting Windows 10 on 1 billion devices" by 2018. Hopefully, we'll also have a chance to take a sneak peek at Windows 10 "Redstone"! That's obviously a wild guess.
HoloLens VR Technology
As virtual reality (VR) became one of the biggest winners in MWC 2016, Microsoft will be sure to make its mark in VR market with the release of Holographic platform and the HoloLens virtual reality headset before Build 2016. Possibly, we'll also learn much more about how Microsoft fits HoloLens into the Windows 10 ecosystem during the event.

Besides, Microsoft will undoubtedly talk about Windows 10 mobile, Could service, Visual Studio, .NET, Azure, Xbox and everything in between. And there will also be a few surprises, as is typical with Microsoft's Build conferences.

、
Microsoft Build 2016 Event Agenda
Microsoft do not finalize the full agenda of sessions & events. Please note that the exact timings of the keynote and sessions are not available till the time of publication. Here we just provide you a preliminary agenda from https://build.microsoft.com/.
Wednesday March 30
7:00am-6:00pm Registration
8:30am-6:00pm Sessions
6:00pm-8:00pm Welcome Reception
Thursday March 31
7:00am-7:30pm Registration
8:30am-7:30pm Sessions
7:30pm-11:00pm Attendee Party
Wednesday March 30
8:00am-3:pm Registration
9:00am-3:00pm Sessions
5:00pm- Saturday 9:00pm Post-Build-Hackathon
Watch Microsoft Build 2016 Starting Time:
San Francisco: 8:30AM / New York: 11:30AM / London: 4:30PM / Berlin: 5:30PM / Moscow: 6:30PM / New Delhi: 8:30PM / Beijing: 11:30PM / Tokyo: 12:30AM (March 31st) / Sydney: 2:30AM (March 31st).
Note:
Besides Build 2016, Microsoft continues to hold its top tier conferences throughout 2016. Each of these Microsoft events will focus on making difference in the cloud-first, mobile-first world, and reveal new technologies and dive deep in smaller group sessions. If you are interested in learning more about Windows, Office, Azure or any other IT, developer or business techs, follow any of the Microsoft events below:
Convergence: April 4-7, 2016 in New Orleans
WPC: July 10-14, 2016 in Toronto
Microsoft Ignite: September 26-30, 2016 in Atlanta
Microsoft Cloud Roadshows
Tip: You can use 5KPlayer to download, watch and stream Microsoft events videos at free will.
Watch Build 2016 Keynote & Sessions Must-see Highlights (CTU)
There is a ton of interesting, aspiring news to come out of the Mircrosft Build 2016 keynote, but a great part of it is speaking directly to developers, not the average Joe. So, here's what happened during Microsoft's Build 2016 that would excite you.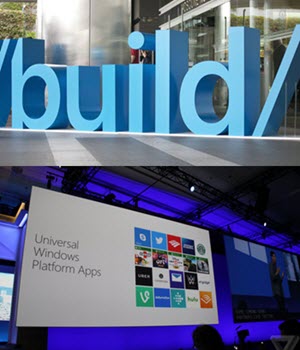 How to Watch Microsoft Build 2016 on TV with 5KPlayer
To watch Microsoft Build 2016 keynote or session videos on TV, you need 5KPlayer. 5KPlayer is a perfect combination of Build 2016 video downloader, player, and Airplay server. It enables you to free download Microsoft Build 2016 videos from 300+ sites including YouTube, Facebook, etc. and mirror videos from Mac/PC to Apple TV.
Step 1: Free download and launch 5KPlayer on your Mac/PC. Click "YouTube" button on the main interface to enter into Microsoft Build 2016 video download page. Copy and paste the URL of the Build 2016 video you desire to watch into URL box and press "Download".
Step 2 : Go back to the main interface of 5KPlayer and click "Airplay" on the up right corner.
Step 3. Choose your Apple TV to activate the streaming service.
Step 4. Play the downloaded Microsoft Build 2016 video on your Mac/PC and you will find the video is now displayed on your big screen TV.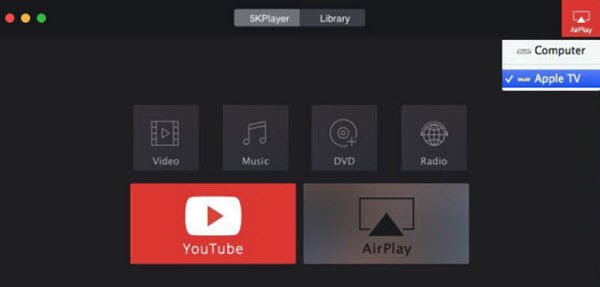 Home | About | Contact Us | News | Privacy Policy | Site Map
Copyright © 2017 DearMob, Inc. All Rights Reserved.
AirPlay®, iPod®, iPhone®, iPad®, iTunes® and Mac® are trademarks of Apple Inc., registered in the U.S. and other countries. DearMob's 5KPlayer is not developed by or affiliated with Apple Inc.