How to Stream Movies on iPad Pro/3/2/1 to Mac/PC?
Sunday afternoon a beautiful movie downloaded to iPad Pro/Mini/3/2 at the cafe, and over it you had a sweet time with friends. But what if you want to stream this movie on iPad Pro to Mac/PC to get its details more vividly? But the USB cable is simply not at hand, while downloading all that again is too time-consuming. To get a better visual feast at a bigger Mac/PC screen, you really need 5KPlayer, for it helps stream movies on iPad Pro/Mini/3/2 to Mac/PC without copying a single byte, applying a single cable, or delaying a single minute.
How to Handle More Tasks When Streaming Movies on iPad to Mac/PC?
How to play Doodle Jump while streaming the iPad Pro movies to Mac/PC? 5KPlayer easily handles the multi-task running on iPad/iPad mini. You won't have to worry about the iPad viewing screen being interrupted by an urgent e-mail to respond to, or a flight ticket to book.

Film-watching, game playing and news browsing on iPad Pro/Mini/3/2 really differ from such experience on any other device, for you can finish every operation with natural finger taps. The electronic mouse now seems totally surplus, because you are born to know how to make everything work on iPad screen.
Obtain More Movies to Stream from iPad Pro/Mini/3/2 to Mac/PC
5KPlayer is anything but a mere transmission pipe. It sets up such a broad platform of movies and music. Not to mention that you can definitely stream everything you get on iPad to Mac/PC. Specifically speaking, it enables you to download movies to your iPad from a total of 300+ websites including YouTube, Dailymotion, Vimeo, or you can get plenty of hours from Moviebox for iPad (the biggest movie streaming APP for iPad). Even more strikingly, you can stream online movies you are currently viewing on iPad directly to Mac/PC. There's no need to download at all.
How to Stream Movies on iPad Pro to Mac/PC?
Download 5KPlayer, install and launch it on your Mac/PC. The whole streaming process preserves the original image quality of movies on your iPad, no blurs or compression, for 5KPlayer is totally reliable with its loyalty to the original vision and audio.
Step 1: Download this free TV streaming software and install it;
Step 1: Connect iPad Pro and Mac/PC to stream movies on iPad
* Please check through the General > Settings > Network on your iPad to see if the two devices are connected to the same Wi-Fi or Ethernet.
* Slide from the bottom of the iPad screen to call up the Control Center, tap AirPlay and choose your Mac/PC name.
* The above steps work perfectly if your also want to stream movies on iPhone/iPod to Mac/PC, please refer to the tutorial on how to AirPlay from iPhone to Mac.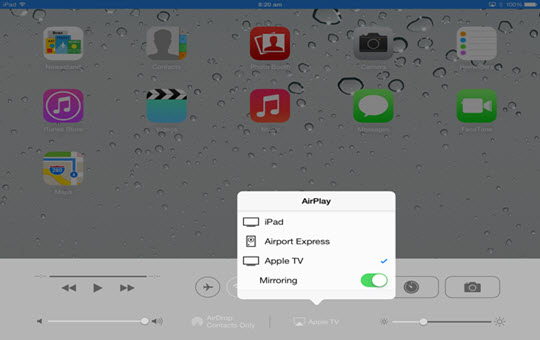 Note: Besides receiving movies streaming from iPad, 5KPlayer can also serve as an streaming sender, which means you can directly stream the movies from Mac/PC to Apple TV or other surround stereo. Such an integrated streaming sender and receiver saves you the trouble of downloading two respective software to perform the two functions. Furthermore, this software itself can do the troubleshooting work when movie streaming on iPad doesn't work. Turn back to this page and you never need to solicit the web for tutorials on how to fix streaming service, which often doesn't cut to the point at all.
Home | About | Contact Us | News | Privacy Policy | Site Map
Copyright © 2017 DearMob, Inc. All Rights Reserved.
AirPlay®, iPod®, iPhone®, iPad®, iTunes® and Mac® are trademarks of Apple Inc., registered in the U.S. and other countries. DearMob's 5KPlayer is not developed by or affiliated with Apple Inc.