Spotify vs Apple Music 2017|Which Music Streaming Service to Choose?
Spotify Vs Apple Music is a combat that every music listener will be concerned with. In the wake of blooming music streaming services, Spotify & Apple Music are two juggernauts that share a lot in common despite some minor differences. However, it is exactly those nitpicks that might influence your choice of the most suitable one. Here, let's give them a close and clear comparison to make things easier for you to choose.
Spotify vs. Apple Music vs. Free Music Streaming Service
While lingering between Spotify & Apple Music, have you ever considered about a free music streaming service - 5KPlayer that offers free music stream from 300+ music sites including Spotify/SoundCloud/Songza/Beats Music/VEVO etc with 5.1/7.1 surround sound support .
Spotify vs Apple Music 2017: Catalog
*Apple Music Might Have More Artists to Offer
Though both Spotify and Apple Music acclaims to tout about/more than 30 million songs in their catalog, if you are fans of the Beatles, Radiohead, Garth Brooks, Tool, Bob Seger, Spotify & Apple Music won't get you anywhere near their voices or rhythm. However, AC/DC songs, Taylor Swift's oeuvre alongside Dr. Dre's debut album The Chronic are available on Apple Music, yet absent from Spotify. Users can buy artists' singles/albums in Apple app store or rip a purchased CD for listening and broad searches in Apple Music library while Spotify may lag a bit behind, providing Adele, Coldplay, Radiohead and some Black Keys's albums.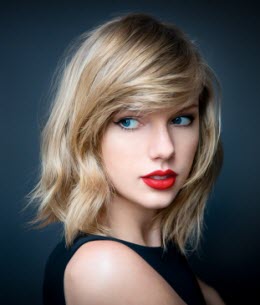 Spotify vs Apple Music 2017: UI Design & Attached Features
*Spotify Comes A Bit Better
As a piece of software, we also want it to be easy-to-use and sleek as hell. Spotify score a big coup in this UI competition by striking a perfect balance between simple and garish. See their interfaces below: Spotify also supports Chromecast and Facebook, whereas apple music fails to achieve at present.
As for attached features, Apple Music coordinates with iOS very well as it contains many tricks and tips. It can mate with Siri, stream songs to alarm clock etc, however, you'll need third-party software/app or jailbreak you iPhone to enable Apple Music to display song lyrics while listening. Spotify, on the other hand, updates recent music tours, allows you to host a listening party online, combines with Firfox for music searching etc. However, It is reported that Spotify's Karaoke-style music lyrics are gone at end of May 2016, since its partnership with Musixmatch was due. Will they go on with a future collaboration? It is yet to be known. For more tricks of Spotify, refer to useful tips about Spotify.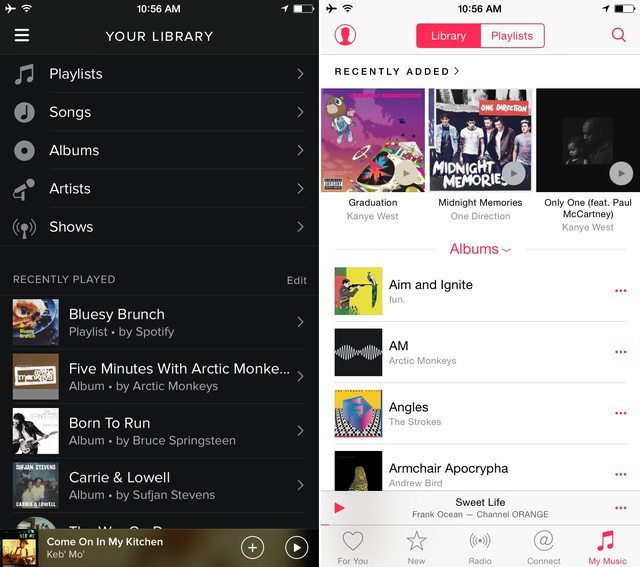 Spotify Vs Apple Music 2017 Verdict Updated:
Since the pricing of both music streaming services is very close and similar, it is their minor differences that will result in your choice.
Choice 1:If you are more concerned with music discovery and songs of certain artists like Taylor, AC/DC, Dr. Dre, we recommend you Apple Music over Spotify;
Choice 2: If you want to get free music streaming enjoyment (ads-bearable), better design and more advanced features, choose Spotify over Apple Music.
Choice 3: If you desire both Spotify & Apple Music features and do not give a shit about subscription fee, you can subsribe to them both at the same time!
Choice 4: If you are still hesitating to make further desicions regarding Apple Music vs Spotify respective merits and vices, or want to get a supplement to the one you've choosed without paying extra, you can resort to add-free 5KPlayer freeware - one of the best music streaming apps to get lifelong entirely free music streaming services from Top 6 Free Streaming Sites and more with 100% fidelity reserved. You can have those songs saved in your local storage as your own private treasures. Why not give 5KPlayer a try now?
Spotify Or Apple Music? Best Free Music Streaming Player Alternative
Instead of getting perplexed between Spotify & Apple Music, you can free download 5KPlayer on your Windows PC or Mac to use 5KPlayer alone or pair it with Spotify or Apple Music to unleash more utilities. This best free music streaming server can beam your music from PC/Mac to Apple TV and AirPlay compatible speakers with precise fidelity and enables your computer to receive music from iPhone/iPad/Apple Watch.
Step 1: Click the AirPlay button on the top right corner of this free music streamer.
Step 2: Click the video or music button on the main UI of 5KPlayer to start free streaming music.
Step 3:Now you can remote control the Apple TV from PC and playback music streams directly from PC to Apple TV connected speakers.
Note: Comparing with Spotify and Apple Music, 5KPlayer offers more customized functions such as A/V sync and soundtrack/subtitle insertion. Refer to more remote control options from the guide on how to edit videos.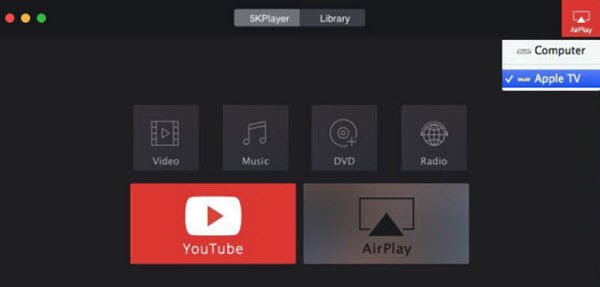 Related Articles
5KPlayer VS X-Mirage VS AirServer: Top 3 AirPlay Servers Review Top 3 AirPlay receiver & sender: 5KPlayer VS X-Mirage VS AirServer [Price: free, $16, $13 respectively] can stream your video music from iPhone iPad to Mac/PC, or from Mac/PC to Apple TV without hassle. This top 3 AirPlay receiver & sender review gives an overall picture of the 3 software.
Google New Chromecast "AirPlay" from iOS 9/8 Devices to HD TV Since Google baked 'AirPlay' into Chromecast 2, Apple is now facing the most elite rival that is not only dirt cheap but diversifies the wireless steaming ecosystem as a whole where Android devices, iPhone, iPad, Mac, Windows are all able to coexist.
AirPlay YouTube Music APP iPhone Android: Enjoy YouTube Music OnlyAirPlay from YouTube Music APP on iPhone Android to Windows,Mac speakers gives you a new YouTube music adventure. This YouTube Music APP Android iOS handles the problem how to play YouTube in background well, and AirPlay YouTube Music APP renders lossless music even better.
Home | About | Contact Us | News | Privacy Policy | Site Map
Copyright © 2017 DearMob, Inc. All Rights Reserved.
AirPlay®, iPod®, iPhone®, iPad®, iTunes® and Mac® are trademarks of Apple Inc., registered in the U.S. and other countries. DearMob's 5KPlayer is not developed by or affiliated with Apple Inc.