iOS 10 Update - Most Common Errors That Locks Up iPhone iPad
Before writing this article, I still don't suggest people to rush to update your iPhone, iPad to iOS 10. Because when a new iOS version is released, there are always bugs and problems need to be fixed. You should wait to upgrade to iOS 10 at least till they have fixed the major bugs, such bugs that makes your iPhone 6S/6/5S end up in repair store.
Anyway, still plenty of people can't wait for iOS 10 updating on their iPhones so that they could brag about it right in front of their friends or colleagues. Once iOS 10 update error occurred, they will tend to find the fix solution. Here listed some things you should do before upgrading to iOS 10 and some common iOS 10 update errors and fixes, hope it could be helpful!
1. Back up your iPhone before Upgrading to iOS 10
It's not new that iOS updating could cause you lose your important iPhone data, some are probably learned the harsh lesson from the previous iOS 9 updating, iOS 8 updating, etc. Hence, to avoid the problem of losing your data again after iOS 10 updating, you must back up your photos, music, videos, apps, contacts, etc. from iPhone to computer with iTunes, iCloud or other iPhone backup tool – WinX MediaTrans.
Plus, to make sure you have sufficient space to install iOS 10, you should back up your iPhone as well, and then delete some apps, pictures or videos.
2. Charge iPhone and Connect to Wi-Fi before Upgrading to iOS 10.
Make sure the battery of your iPhone or iPad is enough or sufficiently charged, because the iOS 10 updating is very battery-consuming and do yourself a favor - don't upgrade your iPhone to iOS 10 by using cellular data, because after that you will be regret and don't ask me how do I know that.
3. Get Your Apple ID & Password Ready before Installing iOS 10
Apple makes users to automatically login to Apple account, so you are probably not familiar with your Apple ID and password any more. Well, think about it, recall it, or even write them down, because you will be asked to fill your login info during iOS 10 installing.
4. Find the Fix for Potential iOS 10 Updating Errors.
You have to prepare yourself with the solutions in case you run into some iOS 10 updating errors which causes that your iPhone won't be able to swipe, tap only to show you a freezing screen. It's like an insurmountable hurdle stops you to use your iPhone again. Well, check the Top 5 iOS 10 installing errors below and the associated solutions.
Top 4 iOS 10 Update Errors Are Likely to Occur during iOS 10 Updating
Top 1 iOS 10 Update Error: "Unable to Install Update"
- "When I click on install iOS 10 an alert pops up and says: "Unable to Install Update" and "An error occurred installing iOS 10".
Solution:
1. Check if you have enough space to download iOS 10, if not, then you should go delete some apps or restore your iPhone via iTunes.
2. If you are updating to iOS via iTunes, check if there is any security software running in the Mac/PC background, go disable them temporarily.
3. Check your iPhone USB cable, see if it's working properly.
If none of the above situation happens, then you should try remove and download the iOS 10 update again.
Step 1: Go to settings > General > Storage & iCloud Usage.
Step 2: Tap Manage Storage.
Step 3: Find iOS update there > Tap iOS Update > Delete Update.
Step 4: Go to Settings > General > Software Update and download the iOS 10 update to try it again.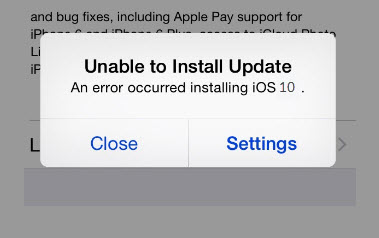 Top 2 iOS 10 Update Error: Stuck on "Slide to Upgrade Screen"
- "Just got the iOS 10 updated on my iPhone 6, but when the screen says 'Slide to Upgrade' and I slide, nothing happens. It's just stuck there, frozen."
Solution: when your iPhone comes to a frozen screen no matter it's on "Slide to Upgrade", "Verifying Update" or stuck in recovery mode or Apple logo, you need to reboot your iPhone or put it in recovery mode.
Step 1: Press and hold still both Home button and Sleep/Awake button for at least 10 seconds to reboot your iPhone.
Step 2: Let go of both buttons when the Apple logo shows up.
Step 3: Connect your iPhone to computer with USB.
Step 4: Press and hold the two buttons again at the same time for another 10s and then release the Power button only.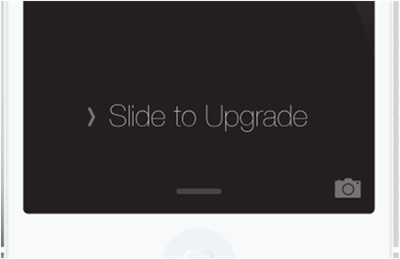 Step 5: When you see it shows "Connect to iTunes" screen then you can release the Home button.
Step 6: Restore your iPhone with iTunes and try to upgrade to iOS 10 again.
Top 3 iOS 10 Update Error: Software Update Failed
When you are rush into downloading iOS 10 on your iPhone as soon as it was released, there are chances you will encounter the iOS 10 updating error of Software Update Failed. Actually this is a Content Distribution Network error caused by too many people trying to install iOS 10 at once. If this is the issue.
Option 1: you might as well wait for a couple hours and try to update to iOS 10 later. And in the meantime, you can reboot your WiFi router and iPhone to try to avoid this iOS 10 updating problem happens again.
Step 2: Let go of both buttons when the Apple logo shows up.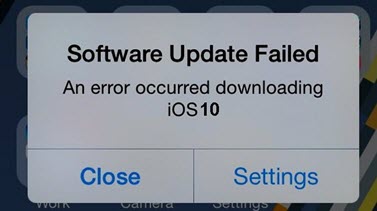 Top 4 iPhone won't AirPlay after Update to iOS 10
Even though you don't have problems during iOS 10 updating , it is still annoying that you might also have to face the iOS WiFi connectivity problems, iOS 10 iTunes not syncing, contacts not shown up, or Apps on iOS 10 keep crashing, etc. and most important, iOS 10 AirPlay not working. But don't worry, because the free 5KPlayer is gonna fix iOS 10 AirPlay not working problem.
Step 1: Free download 5KPlayer on your Mac/PC.
Step 2: Make sure your computer and your iPhone both are connected to the same WiFi.
Step 3: Swipe the control center of on the bottom of your iPhone, and tap to enable iPhone AirPlay.
Step 4: Choose the target Windows/Mac devices, you will find your video, music will be easily streamed on Mac/PC.
Note: 5KPlayer also supports iOS 10 AirPlay mirroring to mirror games, movie playbacks, and mirror iPhone/iPad/iPod full screen to Mac, PC and Apple TV 4/3/2.
Home | About | Contact Us | News | Privacy Policy | Site Map
Copyright © 2017 DearMob, Inc. All Rights Reserved.
AirPlay®, iPod®, iPhone®, iPad®, iTunes® and Mac® are trademarks of Apple Inc., registered in the U.S. and other countries. DearMob's 5KPlayer is not developed by or affiliated with Apple Inc.